12 May 2023
Two Farmers' Speciality & Fine Food Fair journey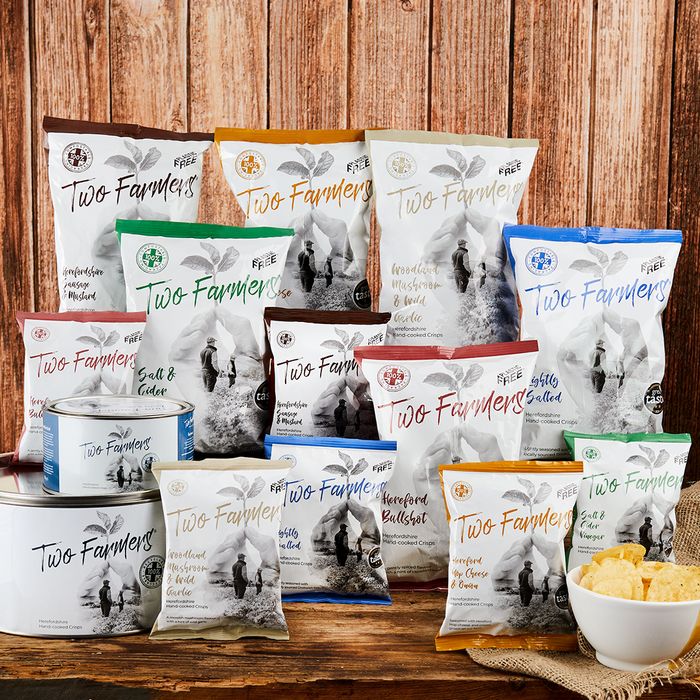 Speciality & Fine Food Fair catches up with long-time exhibitor Two Farmers to hear about the company's history at the Fair and their latest exciting new products - including a tin perfect for festive gifting.
What do Two Farmers do?
We are the UK's first plastic-free crisp brand producing delicious hand-cooked crisps using potatoes we grow, harvest, store, cook and pack using renewable energy that we generate on our farm in Herefordshire. Our packaging is 100% plastic-free and compostable, and our crisps are flavoured with the best local ingredients to keep our food miles low.
Tell us about your first time at the Fair
Our first time at the Fair was in 2018. It was at the event that we actually launched our brand directly to retail, on-trade and food service. However, at the time, we didn't have any product - so we launched our concept and showcased our plain film packets, which had tiny oak tree seedlings planted inside them. The idea here was to demonstrate how the packet could be planted straight into the ground, it would biodegrade and the oak tree would grow.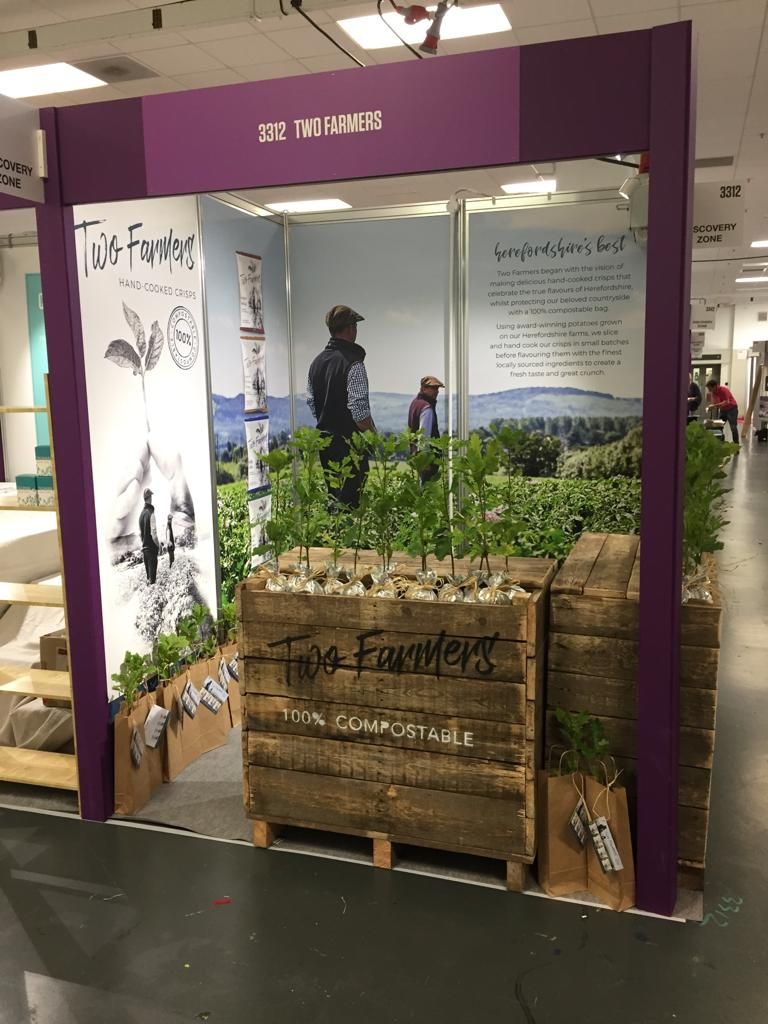 Pictured: The Two Farmers stand in 2018
Our 100% plastic-free and compostable packaging made us the UK first for the crisp market. As such an innovative and new product to the market, we drew lots of attention (particularly with the oak tree packets) and made many connections which led to some fantastic opportunities for us. In addition, attending the Fair allowed us to drive build-up and raise awareness ahead of launching the full range.
How has your business evolved since then?
Since our first time at the Fair, we have launched two new Herefordshire-inspired flavours and, most recently, a 100g recyclable tin which is perfect for gifting (especially Christmas hampers). We have continued to invest in our production by way of a second fryer to meet volume demands.
In 2021, we rolled out our next-generation plastic-free packet, which ensures a longer-lasting crunch and increases the shelf life for our crisp-loving consumers. In addition, we are constantly driving development in how the business works in terms of its sustainability practices - this is so important to us.
Why is the Fair a good fit for your brand?
We knew from research and recommendations from other brands that attending this event provided access to not only a great network of connections who can help you get the listings you want but also the best place to meet likeminded brands, research others in your market and develop strong relationships within the artisan, fine food and drink industry.
The Fair aligns well with our values and ethos and also offers an opportunity to learn about the latest market trends which are very relevant to our business, particularly around the theme of sustainability. We have returned every year since our launch in 2018 and plan to continue to do so.
Do you have any new products that you'll be showcasing at this year's event?
This year will be the first time we take our 100g tin with us. With the show being in early September, it's a really good way to access potential Christmas listings. With the new tin being perfect for gifting and hampers, we're quite excited about this one!
Do you have any examples of listings you've gained through taking part in the Fair?
If it weren't for the Fair, we wouldn't have some of the fantastic listings we have today - including that with Bayley & Sage. They visited us in 2018 and we discuss the oak tree seedlings which were planted in our packets on our stand; they then became one of our first customers when the packaging was developed in early 2019.
What would you say to a business considering exhibiting for the first time?
Go for it! From booking the stand to packing it away, the whole process is straightforward. Each year we have a great time at the event and make fantastic connections with buyers and other exhibitors.
Keep up to date with all the latest news, insights and interviews from Speciality & Fine Food Fair by subscribing to our newsletter.