18 May 2022
Whey to go! Keen's Cheddar crowned Supreme Champion at the Virtual Cheese Awards 2022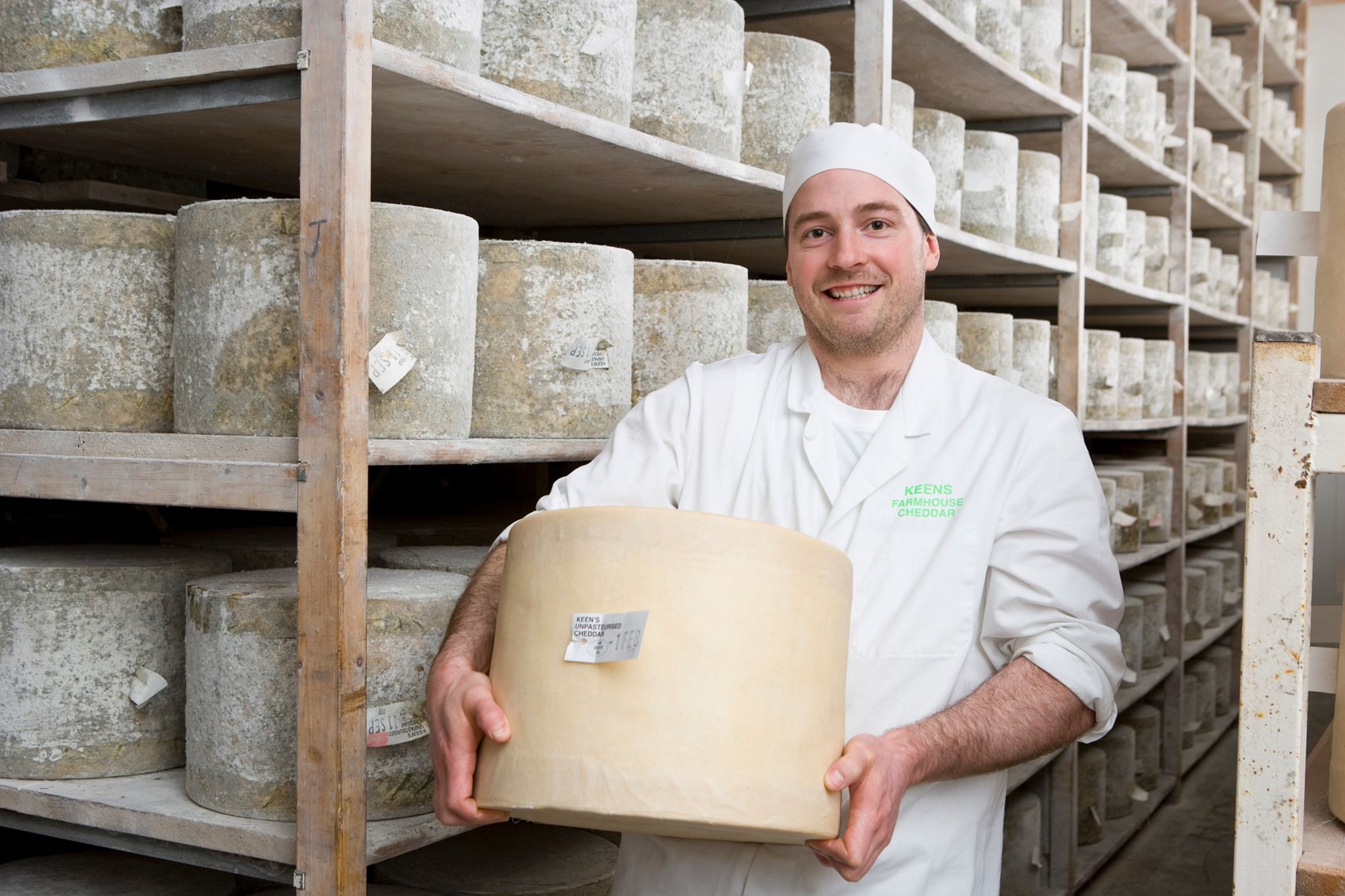 In a gripping final filled with good-old fashioned cheese intrigue, Somerset-based Keen's Cheddar fought off over 200 British cheeses to be crowned Supreme Champion and Best of British Cheese at the Virtual Cheese Awards 2022.
This was the third year of the UK's only online cheese awards. The final was held on Friday 13th May 2022, unlucky for some but not for Keen's Cheddar's traditional raw milk extra mature cheddar which went through three separate judging rounds to be named the top cheese of the year.
Keen's Cheddar is made by James Keen and family using milk from their own herd of cows fed on the lush pasture around their Somerset farm. The clothbound cheddar is matured for at least 12 months giving it a rich creamy flavour.
The Extra Mature ages for at least 20 months, that impressed the judges. Judges noted that the cheddar was a "fantastic example of a mature cheddar which ticks all the boxes. It is beautifully balanced with complex flavours. Superb job."
James Keen, head cheesemaker at Keen's Cheddar said; "Winning the prestigious Supreme Champion Award at the 2022 Virtual Cheese Awards has, without a doubt, made our year! 
"The concept of having live virtual judging is simply a genius idea. It creates a unique opportunity for anybody to peak behind the curtain and learn the intricacies of the industry from a first-class line up of judges who know their curds from their whey."
Silver was awarded to Blackwood's Cheese Company for Edmund Tew, a washed rind raw milk soft cows cheese made with organic milk farmed on a regenerative system and Cropwell Bishop's Classic Blue Stilton was awarded bronze.
The Virtual Cheese Awards was created in 2020 by Sarah de Wit to celebrate and support Britain's world-leading cheese industry. It aims to demystify cheese awards by making the judging process completely transparent and open to everyone. This unique process helps celebrate creativity and gives cheesemakers valuable feedback from some of the most influential cheese experts in the country.
The five-and a half hour LIVE final took place on Friday 13th May 2022 hosted by BBC broadcaster and local food and drink champion, Nigel Barden and was beamed online to 1000s of cheese fans who watched the cheese action unfold.
Sarah de Wit, co-founder of the Virtual Cheese Awards and Cheese & Dairy consultant said: "It was such a thrilling final and it was wonderful that Keens Cheddar won Supreme Champion and Best of British cheese with its iconic extra mature cheddar. 
"We only started the Virtual Cheese Awards as a one-off in the pandemic so it's so amazing to see how its grown in its third year. The passion, prowess and perfectionist nature of the British cheese industry was woven into every aspect of the 2022 awards and was a showcase for how our industry is the best in the world bar none".
The final featured seven final cheese categories which were all judged by a panel of cheese experts who work at supermarkets, cheesemongers and in the cheese industry. The categories included Cheddar, Speciality, Artisan Hard and Soft, Territorial, Enhanced and Blue cheese categories.
James Keen, head cheesemaker at Keens Cheddar adds; "Our flagship mature cheddar is aged for 12 months in our cheese stores to produce a smooth creamy cheese. It carries a multitude of delightful flavours that develop into a cacophony of savoury, grassy and herby notes, and sometimes into a wonderfully surprising fruity flavour. As skilled artisans, we can spot which cheddars have the potential to become outstanding when aged for longer. 
"However, cheddar cheese in its cotton cloth needs care to bring out the best characteristics, and this is where the skill of the affineur comes to play. We use our five generations of experience to ensure our Keen's Extra Mature Cheddar maintains the smooth texture and the flavours grow to an almost-lost-forever traditional cheddar experience. Lingering for a long while on the tongue but lasting forever in the memory."
The panel of expert judges included Alan Kirby, cheese buyer from Booths, Russell Haggata, cheese technical manager from Morrisons and Chris Dawson, Marks & Spencer's cheese buyer. Along with cheesemongers and affineurs from Neals Yard Dairy, Rennet & Rind, Clarks Speciality Food, Paxton & Whitfield along with Emma Young, The Cheese Explorer and Ruth Holbrook from The Newt, Somerset.
The 2022 Virtual Cheese Awards Best of British cheese prize includes:
Free editorial features and digital coverage in Speciality Food magazine and Great British Food magazine worth £4,000
Opportunity to have the winning cheese showcased at the Speciality & Fine Food Fair by the VCA team worth approximately £5,000
A Level 1 Academy of Cheese courses and a year's subscription worth over £200
A pair of return Eurostar tickets
Potential opportunity to be listed in Booths – subject to accrediations.
The winners of Best of British cheese across the final seven categories were;
Best Enhanced
Hartington Creamery, Peakland White with Chocolate and Chilli
Best Speciality sponsored by Speciality & Fine Food Fair
Blackwoods Cheese Company, Edmond Tew              
Best Territorial sponsored by Booths
Mrs Kirkham's Lancashire, Mrs Kirkham's Tasty Lancashire
Best Artisan Hard sponsored by Neals Yard Dairy
Lynher Dairies, Traditional Cornish Yarg
Best Cheddar sponsored by Harvey & Brockless
Keens Cheddar, Traditional Raw Milk Extra Mature Cheddar
Best Blue sponsored by The Cheeseman & The Cheese Hut
Cropwell Bishop, Classic Blue Stilton
Best Artisan Soft sponsored by Neals Yard Dairy
Tenacres Cheese, Hebden Goat
Regional awards:
Best Regional cheese of Northern Ireland sponsored by Invest NI

Triple Rose made by Ballylisk of Armagh

Best Regional cheese of Wales sponsored by Food and Drink Wales

Heritage Teifi made by Teifi Cheese

Best Regional Cheese of England sponsored by the Cheese Merchant

Keens Cheddar, Traditional Raw Milk Extra Mature Cheddar

Best Regional Cheese of Scotland

Connage Aged Gouda made by Connage Highland Dairy    
Recognising Excellence Awards
Cheese Hero
WINNER: Rhonda Grant, Dale Farm
HIGHLY COMMENDED: Chiswick Cheese Market
Young Cheesemaker of the Year
WINNER: Sam Guinness, Four Brothers
HIGHLY COMMENDED: Heather Taylor, Nettlebed Creamery
New Cheesemaker of the Year sponsored by the Newt in Somerset
WINNER: Jenny Lee, The Torpenhow Cheese Company
HIGHLY COMMENDED: Juan Regatti, The Buffalo Farm
Sustainability Trophy sponsored by Wyke Farms
JOINT WINNERS: The Ethical Dairy and Sharpham Dairy
HIGHLY COMMENDED: Godminster
The Live final and all the class judging can be watched on the Virtual Cheese Awards website and YouTube page.
For more information on the Virtual Cheese Awards log on to: www.virtualcheeseawards.com
Social pages:
Facebook - Virtual Cheese Awards
YouTube – Virtual Cheese Awards
Instagram - @Virtualcheeseawards