05 May 2022
UK's only online cheese awards announces cheesetastic line-up for 2022 final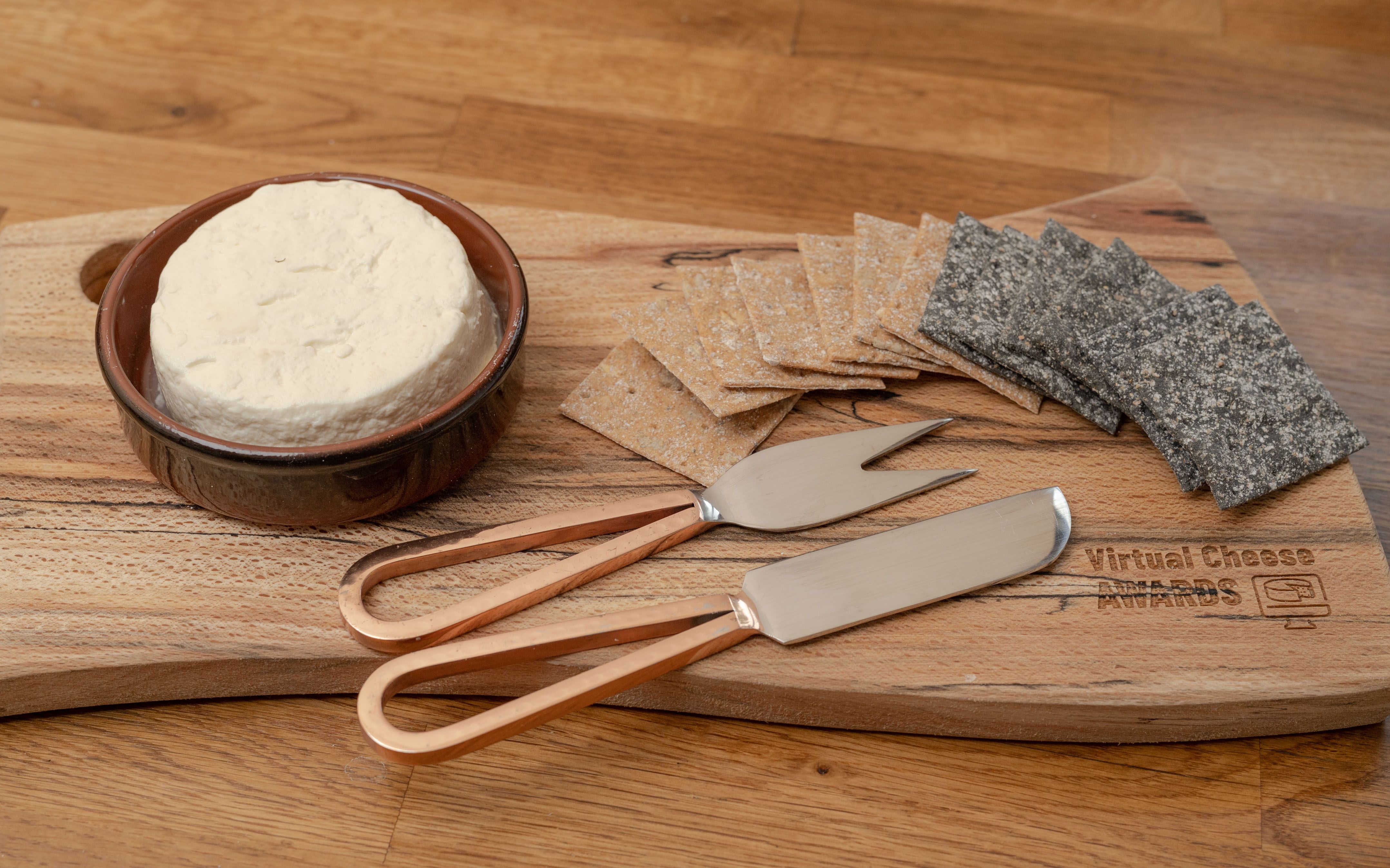 The UK's first and only online cheese awards, the Virtual Cheese Awards which supports and celebrates the best of British cheese, is gearing up for its third big LIVE final on Friday 13 May 2022. 
The LIVE final will be held from 10.30am to 5pm and will be hosted by broadcaster and local food and drink champion, Nigel Barden. The final will be broadcast live on the Virtual Awards website - https://www.virtualcheeseawards.com/vca-2022-live-stream - and on Facebook and YouTube live.  
The awards can be viewed for free and it offers a unique opportunity to see behind-the-scenes of how cheeses are judged which usually happens behind closed doors. It's a great way to learn about different types of cheese and how they should taste and be enjoyed.  
The final cheeses have already been whittled down from over 200 to around 35 by an expert panel of cheese judges. The cheeses that won their Classes (also available to watch online) will be judged across seven final categories including Best Speciality, Best Territorial, Best Blue, Best Cheddar and Best Artisan (hard and soft) and Best Enhanced cheese, along with the Supreme Judging where the winners of each category are judged together and the winner is announced.  
The final British cheeses will be judged, tasted, sniffed and rated by a panel of the UK's most experienced cheese professionals who will be deciding who deserves to be crowned Virtual Cheese Awards Supreme British Champion.  
Sarah de Wit, co-founder of Virtual Cheese Awards said: "We are so excited for the final of this year's Virtual Cheese Awards. We are still a very new awards and only in our third year, we are so happy to have received over 200 entries of amazing British cheeses. 
It is going to be a great day full of celebrating the diversity and quality of the British cheese industry and we are thrilled to be welcoming such a wonderful array of experts who are coming on board to judge too!"  
Judges including cheese buyers from supermarkets Booths, Morrisons and M&S along with buyers and experts from Paxton & Whitfield, Neals Yard Dairy, Rennet & Rind and Harvey & Brockless. They will be joined by cheese aficionados Emma Young, aka The Cheese Explorer and Ruth Holbrook from The Newt in Somerset.   
There will also be cheese-related panels, discussions and interviews with people from across the industry. There will be a session on how to sell your cheese, a discussion on the future of the British cheese industry and a big interview with Caroline Bell, joint MD at Shepherd's Purse cheese.  
Holly Shackleton, editor of Speciality Food magazine and media partner of the awards, will announce the winners of the Recognising Excellence Awards which celebrate the people behind the cheese. There are four awards including Young Cheesemaker Award, Cheese Hero and New Cheesemaker along with the Sustainability trophy. 
With over 200 entries into this year's awards, the Virtual Cheese Awards, now in its third year, is yet again doing an extraordinary job to showcase amazing British cheesemakers.  
Nigel Barden, host of the Virtual Cheese Awards, said: "Cheese is something that in this country that we do well, really well in fact. It is an industry full of innovators and inspiring people who are truly passionate about making great cheese and they deserve all the praise we can give them!"  
Unlike last year, ANYONE can join in on the fun by tuning into the free live stream on the day of the event which will be available from the Virtual Cheese Awards website, YouTube and Facebook from 10:30am-5pm. The link to the page is: https://www.virtualcheeseawards.com/vca-2022-live-stream 
Friday 13 May 2022 schedule: 
10.30am Welcome and introductions  

10.35am Best Enhanced Cheese judging 

11.30am Panel: Tips on how to sell your British cheese 

12.00pm Best Territorial Cheese judging 

12.30pm Best Artisan Hard Cheese judging 

1.00pm The Big Cheese Interview: Caroline Bell, Joint MD Shepherd's Purse 

1.30pm Best Cheddar Cheese judging 

2.00pm Best Blue Cheese judging 

2.30pm Best Artisan Soft Cheese Judging 

3.00pm Panel: The Future of British Cheese 

3.30pm Supreme Judging – Best of British 

4.10pm Charity announcement and Recognising Excellence Awards  

4.20pm WINNERS ANNOUNCEMENTS 

5.00pm Close 
The 2021 Virtual Cheese Awards was won by La Fresca Margarita, a fresh young cow's milk cheese produced by Feltham's Farm. Joint silver was awarded to Harvey & Brockless by Cellar Dairy for its goats cheese Blanche and Butler's Farmhouse Cheeses for its oak-fired Red Leicester Smouldering Ember, Wyke Farms was awarded bronze with its Ivy's Reserve Vintage Cheddar.  
The 2022 Virtual Cheese Awards Best of British cheese prize includes: 
Free editorial features and digital coverage in Speciality Food magazine and Great British Food magazine worth £4,000 

Opportunity to have the winning cheese showcased at the Speciality & Fine Food Fair by the VCA team worth approximately £5,000 

A Level 1 Academy of Cheese course and a year's subscription worth over £300 

A pair of return Eurostar tickets 
For more information on the Virtual Cheese Awards log on to: www.virtualcheeseawards.com  
Social pages: