01 Nov 2022
Tesco and newcomer Myth Drinks take major prizes at the second Free From Christmas Awards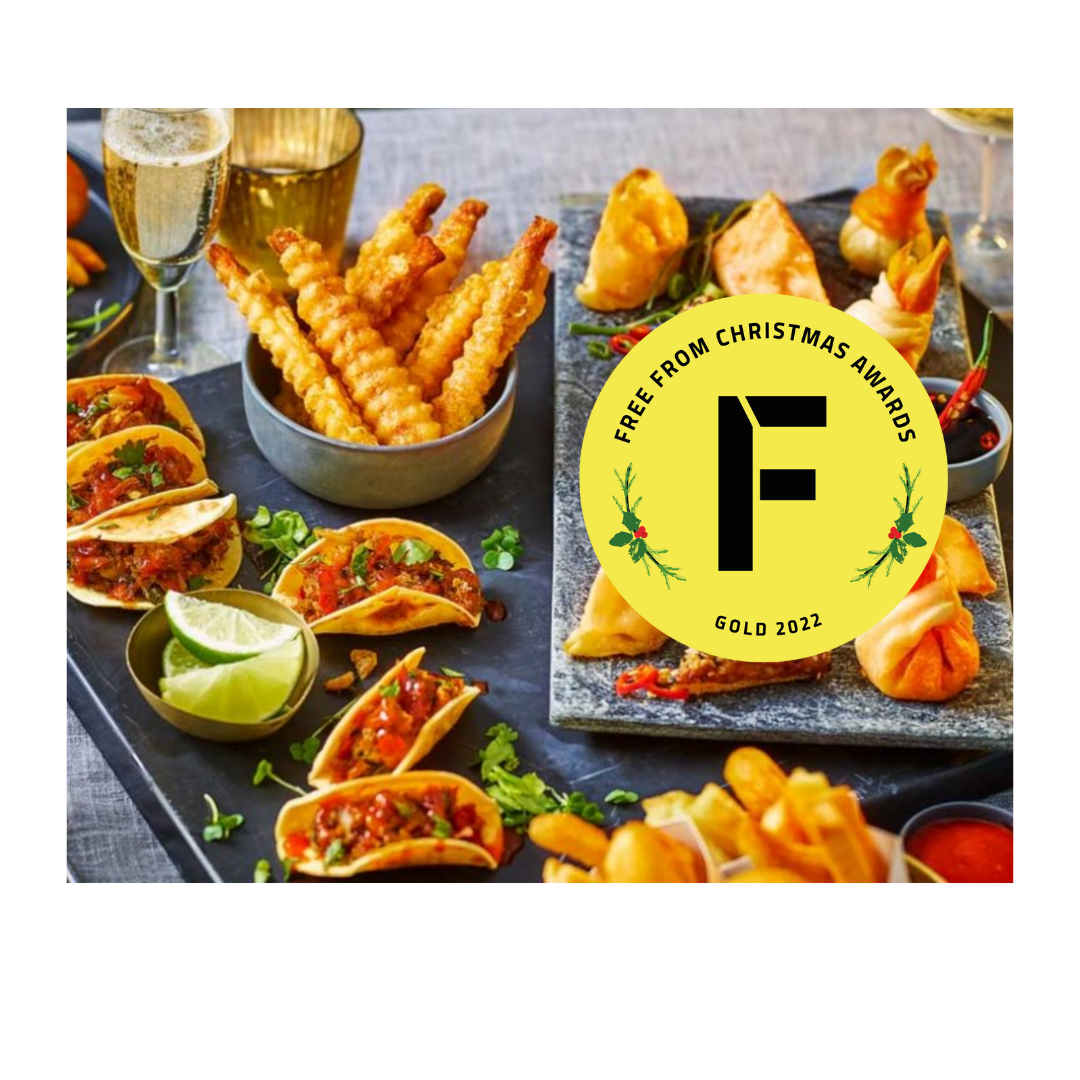 For the second year running, and despite diminishing bottom lines, free from companies large and small returned to compete in the annual Free From Christmas Awards 2022, with Tesco and Myth Drinks who took the top honours, securing Free From Christmas Food Product of the Year and Free From Christmas Drink of the Year respectively.
Myth Drinks Non Alcoholic Coconut White Cane Spirit is "unique for the free from world" and "would hold its own as a 'Malibu' and coke!".
"Perfect if you want that naughty hit but no alcohol", with a "brilliant art deco design!".
Tesco won the coveted Christmas Range of the Year for the second year running, as well as Christmas Food Product 2022 for their stunning Plant Chef No-Prawn Tempura (pictured): "wonderful attention to detail with flecks of carrot for the colour and the poking out tail. A really good addition to the party table that is very inclusive since, of the top 14 allergens, it only contains soya which in party food is a big deal".
Securing Best Small Independent Brand award was Slightly Different Foods, creators of a range of top 14 allergen free condiments that also cater to the low FODMAP consumer. And Kinnerton won Best Large Independent Brand for the second year running for their very well considered and ever expanding top 14 allergen free NOMO Chocolate range. Winners were announced throughout the evening of 1 November via both Twitter and Instagram.
All Gold, Silver and Bronze winners in all categories — which included 'Christmas Dinner', 'Party Foods', 'Drinks' and others - can be found on the Free From Awards website.
"Big and small companies alike impressed our judges, and both were recognised from Tesco's Plant Chef No-Prawn Tempura to Nibsy's DIY Donut Kits," said Free From Awards CEO, Cressida Langlands. "We're glad to have welcomed so many entrants against all odds, as we've seen innovation and many stunning products to bring free from cheer and inclusivity to every Christmas-celebrating household this winter!"
Entry to the Free From Christmas Awards is expected to re-open in July 2023. Meanwhile entry to the Free From Food Awards 2023, for non-seasonal food and drink, and our much-loved Easter Awards will open on 3rd January 2023.