Sustainable Food Trends in 2021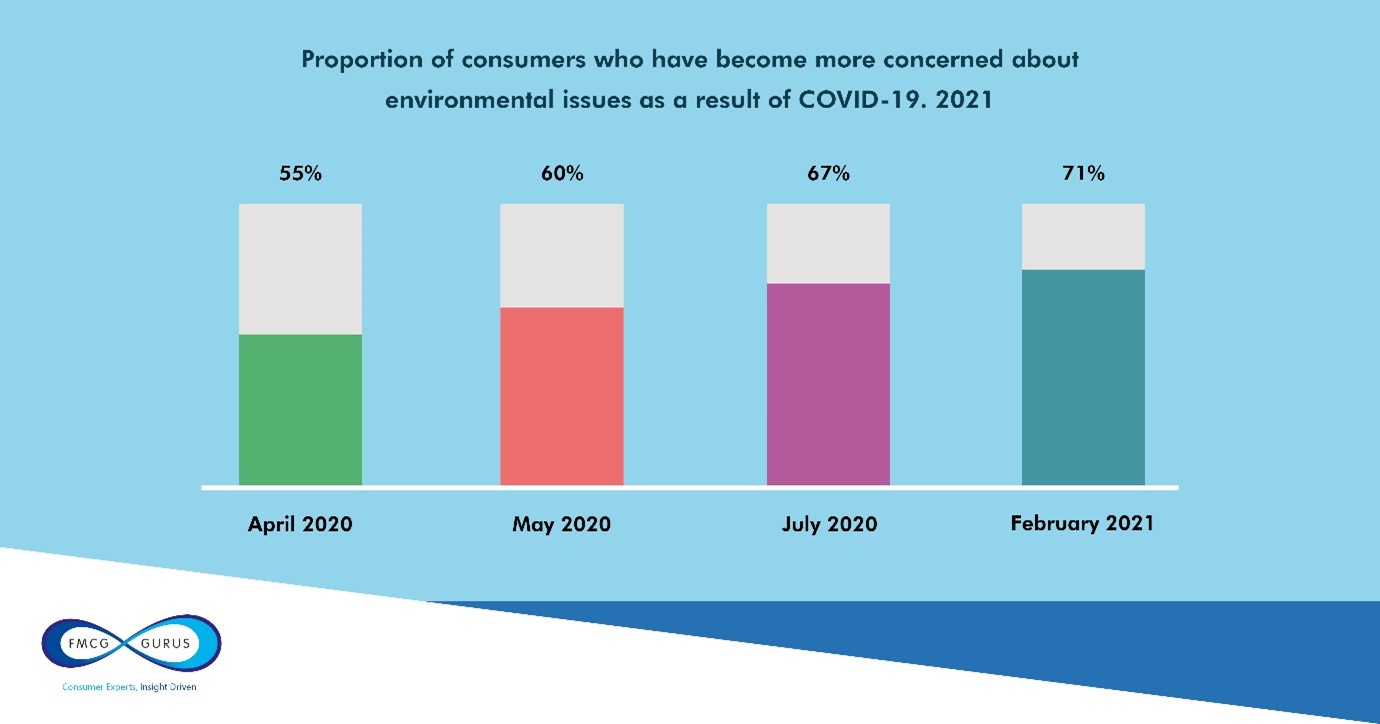 Concerns over the state of the environment are on the rise across the globe, with there being a noticeable year-on-year increase in the proportion of consumers saying this. These concerns relate to many feeling that the state of the environment has worsened over the last couple decades, something that will be attributed to many consumers being exposed first-hand to the consequences of poor environmental practices, such as deforestation, animal extinction, and poor weather conditions to name a few factors.
Environmental Concerns
FMCG Gurus research shows that 74% of global consumers state they are concerned about the environment with 53% suggesting the damage done is permanent. Consumers are pessimistic and believe that damage done to the environment is irreversible. This is something that will lead to concerns over quality of life for current and future generations. These attitudes will in turn lead to consumers taking a more proactive stance on sustainability, looking to make changes to their diets and lifestyles in order to minimize their impact on the environment.
COVID-19 is something that has fundamentally changed the way that consumers address a variety of issues, including the environment. Linked to this, consumers are questioning if environmental factors contributed to the rapid and damaging spread of the virus. However, it is important to understand that consumer concern towards the environment was growing before the pandemic, however COVID-19 has accelerated this trend. This is highlighted within FMCG Gurus, February 2021, COVID-19 survey series showing a consistent increase in consumers becoming more concerned about the environment as a result of the virus.
Attitudes Towards Brands
Consumers believe that big businesses should be doing more to protect the environment. They can often feel that the pursuit of corporate greed is something that is responsible for environmental damage. This is especially true in economies where global brands have faced less restrictions from an environmental perspective over the decades. Indeed, consumers can believe that the pursuit of corporate greed is a reason for environmental damage, with brands prioritizing margins and shareholders over the good of the planet.
It must be remembered that in times of uncertainty, such as a global pandemic and recession, consumers can be even more scrutinizing to the practices and policies of brands and as consumers become more conscious about the environment and make changes to their lifestyles to address this, they will want brands and retailers that they feel mirror their attitudes and outlook on life.
This means that it will be more important than ever before that brands and retailer are seen to be transparent over green policies and deemed responsive to addressing environmental issues – especially if they are also seen to directly impact on health.
Dietary Changes
Over the last decade, much attention has been given to the growing popularity of sustainable products within the food and drink market. This is due to consumers looking to address environmental issues head on by changing their diets. Consumers want products that they deem natural, local, and environmentally-friendly. These product attributes are often seen as interlinked and are associated with making products healthier and tastier.
As a result of COVID-19, there has been a month-on-month increase in the proportion of consumers saying that they are now more attentive to sustainability claims when purchasing products.  Again, this shows that consumers want products that they deem to be real and authentic, and in no way detrimental to their health. It is important that brands look to validate why products are labelled this way, to avoid any risk of being accused of misleading consumers.
FMCG Gurus consumer insights show that 48% of global consumers say that they have made changes to their diets in order to lead a more sustainable lifestyle over the last two years. This highlights an opportunity for brands to target these environmentally friendly consumers with new environmental initiatives and products.
Plant-Based Foods
One of the key change's consumers are making to their diets when looking to be more sustainable is increasing their intake of plant-based products. Plant-based products have grown in popularity over the last decade, and are no longer primarily consumed by those following strict vegan and vegetarian diets. When it comes to meat intake consumers can be concerned about environmental issues relating to cattle farming, such as greenhouse gas emission. These issues have led to a number of consumers to include more plant-based foods into their diets.
FMCG Gurus research highlights that of the consumers who are planning to increase their intake of plant-based food and drink, 59% are doing so as they believe it to be better for the environment. Therefore, there is a major opportunity for plant-based brands to target environmentally aware consumers, however, it is also important that brands are not seen to be making misleading claims around how sustainable products are.
Barriers to Sustainable Living
There are many barriers that consumers feel exist when trying to lead a more environmentally-friendly lifestyle. These barriers relate to issues such as cost and sensory appeal. FMCG Gurus insights show that 61% of consumers feel that leading a more environmentally friendly lifestyle is too expensive. This is an issue in a time where consumers are more cautious about spending due to the coronavirus leaving many consumers feeling anxious about the future. This shows that if consumers are to turn to more sustainable products in the long-term, such products need to be deemed hassle-free and easy to incorporate into daily diets.
Final Conclusions
A number of consumers across the globe are more conscious than ever before about the damage done to the environment and believe that damage done may be irreversible. This is something that will impact on quality of life for current and future generations. These growing concerns have led to an opportunity for brands to rebuild trust amongst consumers by adopting environmentally friendly initiatives which will be more desirable to the modern-day consumer. However, it is important that brands and manufacturers are transparent with consumers and that green credentials must be demonstrated along the whole of the supply chain.
Will Cowling, Marketing Manager at FMCG Gurus
This article is based on FMCG Gurus Sustainability Survey Series and FMCG Gurus COVID-19 Survey series in 2020/21. For more information, please contact Info@fmcggurus.com