25 Aug 2022
Snack brand Taking the Pea to debut new look at Speciality & Fine Food Fair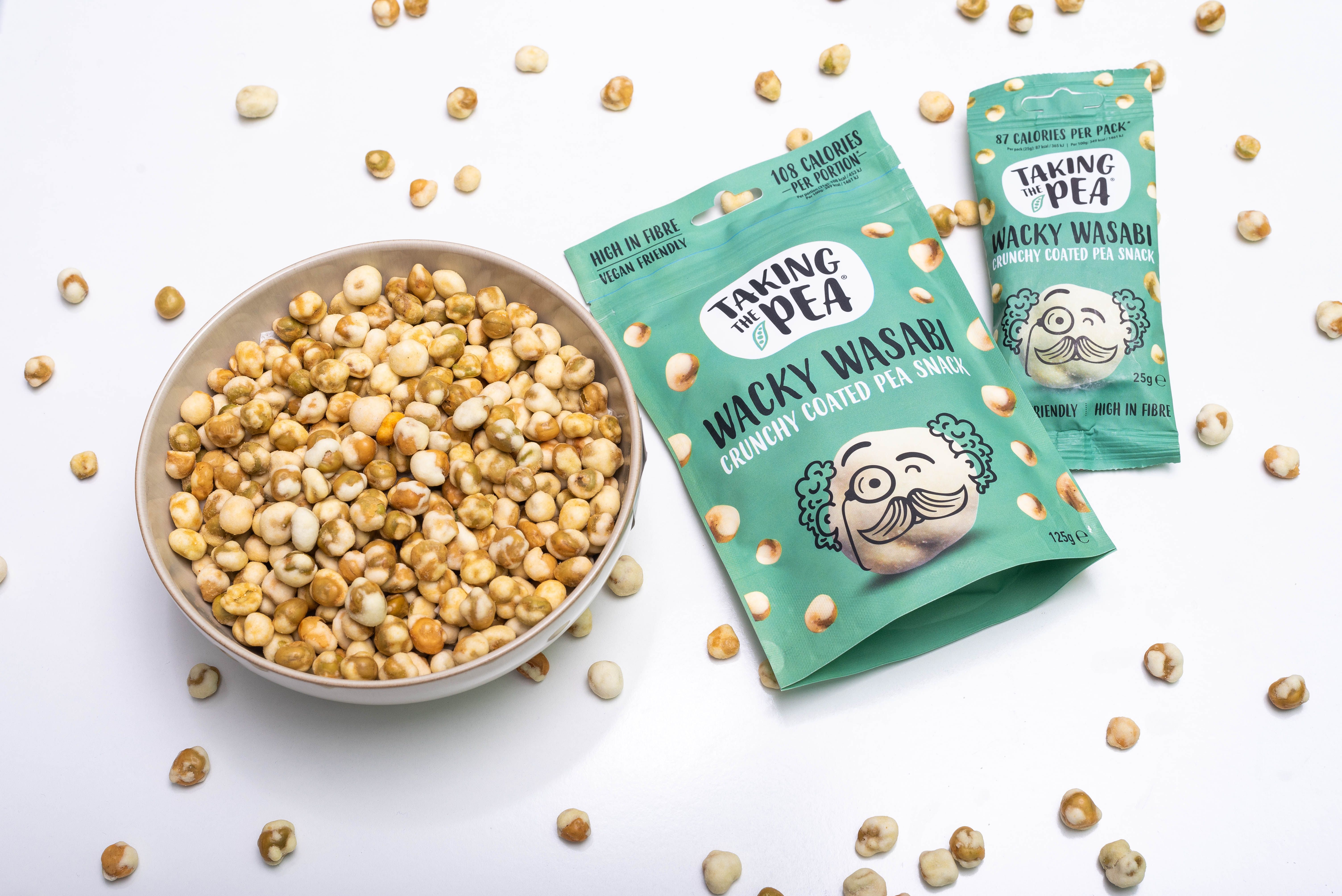 Taking the Pea, a favourite amongst consumers is returning to The Speciality Fine Food Fair in London with a new look on Stand 2525. The gang of four bold characters with even bolder flavours are back!
The original brand, created in 2016 and winner of two Great Taste Awards, has been completely overhauled. All four flavours are now vegan-friendly, the packaging is fully recyclable, and the range is available in two sizes – 125g sharing bags and 25g on-the-go pod packs – perfect for lunch boxes.
The characters and packs have also been redesigned to create an eye-catching, stand-out product on the shelf.
Taking The Pea's core range is four delicious flavours of crunchy coated peas in the nation's favourite flavours: Wasabi, Sweet Chilli, Smoked Ham and Cheesy & Onion.
Made with British grown marrowfat peas and flavoured with natural ingredients, free from GMO's and artificial additives, these snacks are high in fibre, less than 100kcal per 25g pack and a great source of plant protein. They have more protein than crisps and popcorn and less fat than nuts.
Taking the Pea was born when its founder, Mike, was searching for a post-exercise, savoury snack that provided protein and fibre without lots of calories. After discovering a love of Wasabi peas, which had the right nutritional benefits but weren't available in other flavours, he came up with the idea for Taking the Pea, and the four final flavours were selected after running tasting sessions within small focus groups.
Holly, Taking the Pea Business Development Manager, says "Pulse based snack products are becoming an increasingly popular choice for consumers wanting to snack healthily. Our pea snacks appeal to a wide audience, whether that's health-conscious individuals, on-the-go snackers or those looking for a vegan friendly option. As a crisp lover myself, but also being aware of the nutritional value of a snack, I love that I can get the crisp-inspired flavours but in a snack without the guilt!"
A brand with a cheeky, fun personality and a tasty, convenient, yet nutritious product; Taking the Pea is looking forward to exhibiting and sampling the rebranded range at the Speciality Fine Food Fair.