02 Sep 2022
Seggiano to shine the spotlight on festive products at Speciality & Fine Food Fair 2022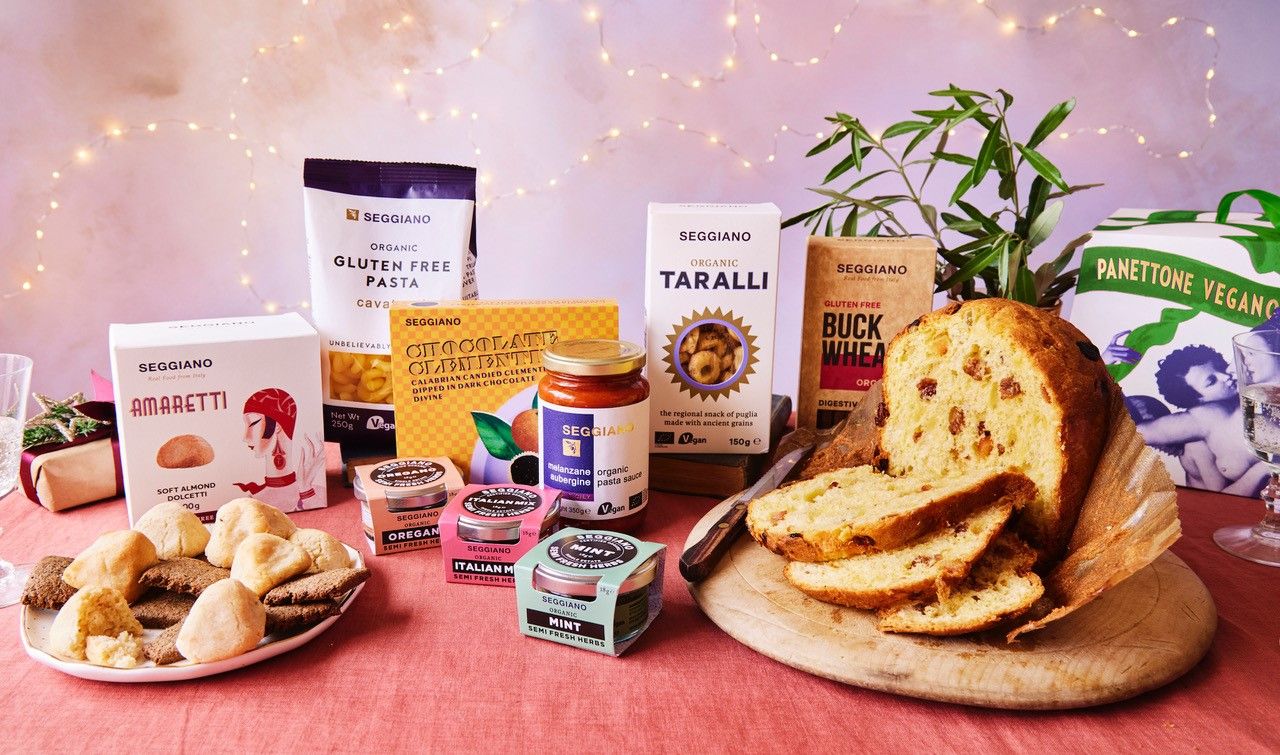 Italian fine food specialist, Seggiano will be showcasing spectacular Christmas offerings in addition to iconic favourites at this year's Speciality & Fine Food Fair.
The brand, which sources and develops the very best authentic Italian food, works with top artisanal producers - who use only the highest quality ingredients and traditional methods - to curate a superior collection of products from all across the country.
The 2022 Seggiano Christmas collection certainly contains the wow factor; from abundant hampers filled with favourites such as panettone, olive oil and balsamic vinegar, to smaller items such as its delicious Chocolate Salame and Fig Balls.
New for 2022 is the Seggiano Vegan Panettone. Beautifully presented in stylish packaging, Seggiano has included a vegan variant to appeal to the growing number of consumers opting for a plant-based diet. Crafted to outclass all other plant-based panettone, it's baked in small batches, made only with natural products and it's the quality of the ingredients – the cocoa butter, vanilla, linseed flour and candied fruit paste, brought to life by the bakery's 33-year-old mother yeast – that give it the distinctive Seggiano quality and luxurious taste.
Joining Seggiano's luxury Premium and Classic Hampers this year are the new Gluten-Free and Vegan Hampers, enabling everyone to join in the feasting regardless of dietary restrictions. A Vegan Gift Set is a popular addition to classic Seggiano favourites such as the Balsamics For Cooks Set,  the Premium Oil and Vinegar Set and the Chocolate Lovers Gift Box .
And to keep Christmas traditionalists happy too, other quintessential favourites amongst the Seggiano gift range return by popular demand – from the indulgent Cioccolateria -chocolate dipped clementines or figs drenched in rum or cherry liquor, to Seggiano Panforte in traditional, chocolate or fig and walnut variants that work so perfectly sliced thinly and served with cheese, right through to the beautiful olive wood kitchenware range of stylish graters and chopping boards.
Seggiano has been sourcing the best Italian produce since 1985. The latest festive range from Seggiano will transport gourmands, bite-by-bite, to an Italian Christmas table, laden with beautiful artisanal delights sourced from producers across Italy who have been perfecting their craft for generations.
Italians identify strongly with their local, regional foods and the Seggiano range represents the crème de la crème  from all over Italy's wildly rich landscape and culinary heritage. Over 30 years on, Seggiano is still sourcing from all over Italy, direct from artisan pioneers who make truly delicious food, with simple quality ingredients.
"We are incredibly excited to showcase our stunning new lineup at this year's Speciality & Fine Food Fair with offerings designed to enable retailers to cater for all their customers' festive buying requirements", says David Harrison, co-founder of Seggiano. "This is a focal point in the speciality food calendar and an amazing platform for us to offer new-to-market products that embody the taste and exceptional quality which Seggiano food lovers expect. Christmas is always a pivotal time for us and this year we plan to bring back the festive spirit and support the growing trend for discovering new products that are lovingly made using the authentic artisan techniques and clean ingredients which are the hallmark of every offering in the Seggiano portfolio."
Seggiano can be found on stand 1518.