01 Sep 2022
Natural Selection Foods launches indulgent Knotty's and functional Nutri Butter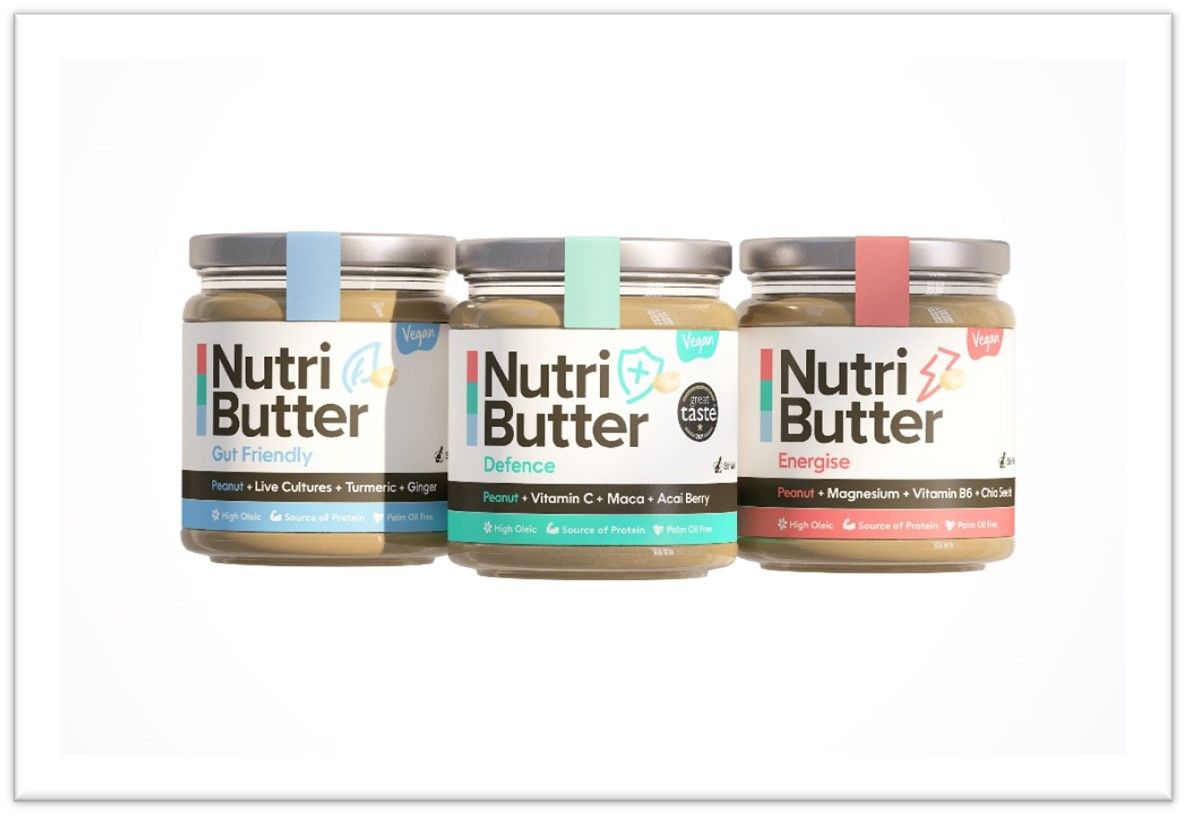 Consumers are often left choosing between healthy and tasty foods, but Shropshire-based Natural Selection Foods (Stand 2930) combats this problem by introducing premium nut butter brands. Featuring its indulgent Knotty's "Eat Wonderful" and the functional Nutri Butters "Nuts that do more" brands, the health foods producer is bringing fresh thinking to the nut butter category, offering ground-breaking flavour and ingredient combinations.
The delicious and nourishing Nutri Butter range of premium nut butters is fortified with natural ingredients to support consumer health, wellness and performance. The first health and fitness brand for this sector is boosted with superfoods, extra vitamins and minerals. Products have specialised functional ingredients tailored to specific consumer health benefits.
The high-protein, high-oleic range of three Nutri Butter peanut butters includes "Defence" with maca, acai berry and cinnamon to support the immune system, "Gut Friendly" with live cultures, turmeric and ginger, and "Energise" with chia seeds and baobab to provide energy throughout the day.
With the forecast value for the global functional foods market at USD 499.55 billion by 2027, a CAGR of 10.10% growth1, and with more than 70% of UK consumers trying to eat more healthily with 80% modifying their lifestye particularly since the onset of the global Covid-19 pandemic, the innovative nut butters are expected to carve out a new functional niche in the market.
Meanwhile, Nutri Butter's fun and indulgent stable mate's brand, Knotty's, takes crunchy and smooth nut butters to the next level with inspirational and mouth-watering flavour combinations, with award-winning Smooth 'Pinch Me Peanut' claiming a Star at the 2022 Great Taste Awards!
From Knotty's Royal Highness jar of peanut butter and popping candy, to the Knotty's Popped rice, the range features classic nut butters and an increasing number of taste fusions to try. The latest Knotty creation, American Style striped peanut butter with jelly or chocolate joins the line-up of cashew, pistachio and almond butters.
Fatma Akalin-McGee, Managing Director at Natural Selection Foods, explains, "We saw a gap in the market for Knotty's to thrive by making the tastiest, healthiest, most innovative, and fun nut butters ever seen!
"With our food knowledge and expertise and a dedication to innovation we have crafted a range of totally unique products alongside the classics. With Nutri Butter, we are truly challenging the assumption that healthy, wellness -supporting foods can't be delicious. We know that nuts can do more, so here they are – nut butters that do so much more for our consumers."
All products contain no added sugars or palm oil, are gluten free, vegan and are loaded up with superfoods like acai berry (natural source of whole food Vitamin C), pro-biotics, ginger, cinnamon and turmeric.
"Natural Selection Foods has taken nut butters to the next level with Knotty's and Nutri Butters. There is more to come from both brands adding to the many flavour sensations on offer now. You'd have to be nuts not to want to indulge," adds Fatma Akalin-McGee.
Consumers can get Knotty's core, American Style & Indulgence ranges online at – www.knottys.co.uk – from RRP £2.99. Nutri Butter is available online at www.nutributters.co.uk - or from Holland & Barrett RRP from £3.99.