19 Aug 2022
Motif launches premium cocktail themed chocolates in time for Christmas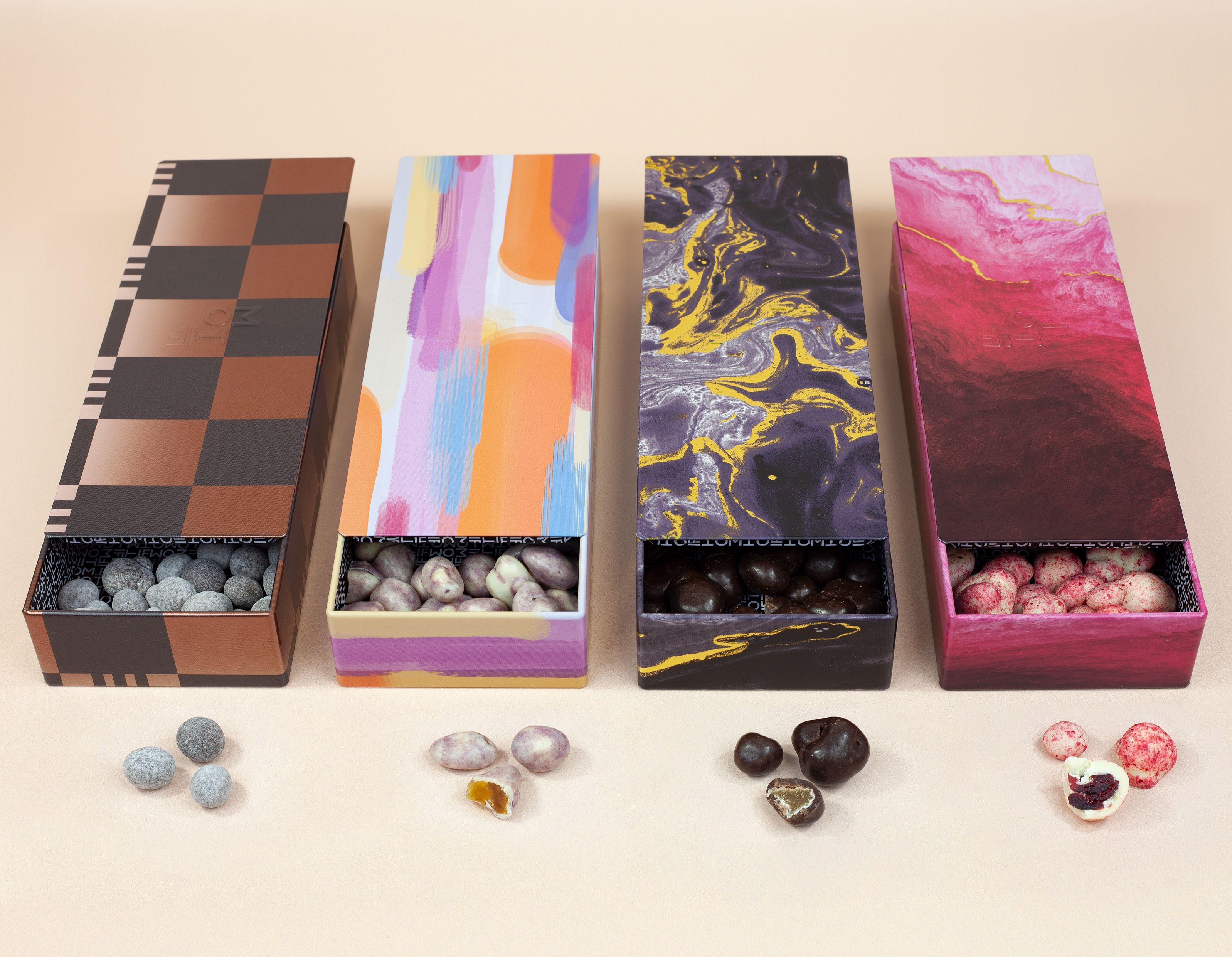 The Silver Crane Company, which specialises in the design and supply of decorative tin packaging and food filled gift tins, has launched a new range of premium cocktail themed chocolates housed in stand-out tins, which come under its Motif brand. The four different tins of Motif chocolates will be available from Selfridges from mid-September (RSP: £15.99) and are designed to capture the gifting market ahead of the Christmas season. Get a sneak peek of the range on Stand 2040 at Speciality & Fine Food Fair 2022. 
Each 200g tin of chocolates is inspired by a different cocktail, and the four different varieties include Sea Breeze, Espresso Martini, Whiskey Mac and Passionfruit Martini. Made with natural ingredients, such as fiery ginger, pea berry coffee beans, cranberries and raisins, the collection is suited to consumers who typically look to trade up over the Christmas period.
As well as being made with the highest quality ingredients, the chocolates are housed in tins which have been designed by artists and illustrators, giving consumers the chance to select a more personalised gift with a tin that suits the recipient's personality. Furthermore, Motif's tins are plastic-free and 100% reusable and the Espresso Martini and Whiskey Mac varieties are also suitable for vegans. 
Motif's brand manager, Robyn Fairweather commented: "We're excited to be launching the new collection of cocktail themed chocolates into Selfridges ahead of Christmas, particularly as cocktails are currently selling in record numbers and we know that the festive gifting season is often an opportunity for consumers to trade up from their current food and drink purchases to more premium options. This year is the first since before Covid that Christmas will have returned to complete normality and although the cost of living is affecting where shoppers spend their money, we expect Christmas 2022 to be a time of celebration and small indulgences. Motif chocolates give shoppers the chance to indulge within a moderate gifting budget and the beautiful reusable tins ensure it's a gift that keeps on giving."   
All of Motif's chocolates are made from natural and sustainability sourced ingredients and are ethically produced. In addition, the chocolate used in production is carbon neutral and free from GMOs.
The new collection of chocolates joins Motif's existing range of mints which are encased in equally stand-out tins and come in eight different designs.
Find the full range at www.mymotif.co.uk.