13 Oct 2022
Meet the Speciality & Fine Food Fair Awards winners: Cobbs Farm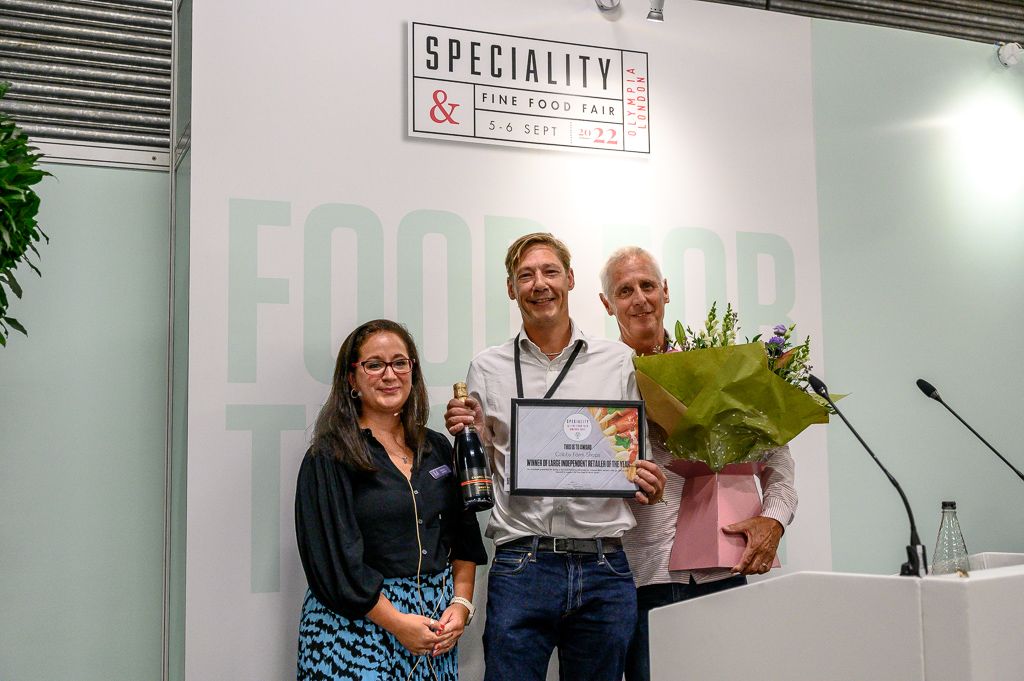 Speciality & Fine Food Fair catches up with the team from Cobbs Farm Shop, winner of the Large Retailer of the Year Award at this year's Speciality & Fine Food Fair Awards on 6 September at Olympia London. The awards take place annually live at the Fair and launched in 2021 to celebrate excellence and innovation in the world of food & drink. 
Tell us a bit about the history of Cobbs Farm Shop
Cobbs was founded on the love and passion for the best quality food. Established in 2007, the group now operates 4 farm shops, cafes, and kitchens. Our shops offer easy access to; fresh local produce and the best staple and culinary delights. Our flagship stores have a restaurant / café and Cobbs Farm Shop has its own production kitchen, which provides freshly made produce for the rest of our sites. We are looking to continue to grow both at our established shops and new shop openings in the coming years.
With that being said, the sites would not be what they are without the people who work with us and our wonderful customers who continue to support us.
What do you think sets independent retailers apart from chains?
The fact people can trust us and know we are here to give them the best produce and products around makes us different. We don't have the buying power of the supermarkets and we are certainly not out to drive down the prices from our suppliers like they do either. Of course, we have margins to try and control but we do it sensibly and with the customer in mind. All our shops form part of their local communities making them the "corner shop" or the "big shop". Recruiting our teams from our local areas also brings a sense of home to customers.
What was it like to win the Large Independent Retailer of the Year award at the Speciality & Fine Food Fair Awards?
Winning this award was amazing. The fact that we have been recognised for all our sites and not just site-specific means everything to us. We were all so happy and proud with this achievement and it really does give a great morale boost to all our teams across the Cobbs group.
What is your approach to sourcing new products and working with new suppliers?
We set product meetings throughout the year where we ask all our site managers to contact suppliers that they like the look of, either local to them or perhaps a little further afield. We then have a great day tasting, discussing, checking pricing of products to decide what will be on our shelves. This is always fun and we always come out excited with the new lines that will be available for our customers
I see you're hosting a Tracklements tasting day in October, how important is it to give suppliers a chance to showcase their products and educate your team?
We can't encourage this enough. We would have a supplier on site everyday giving out tasters and speaking with our customers. The engagement and theatre this creates is great. The supplier will always sell huge amounts of product on these days which in turn means we buy more from them, and their brand gets even more exposure.
Is there anything coming up for Cobb's Farm Shop that you'd like to share?
We always try to have fun things happening at Cobbs. We have pumpkin picking and an open air showing of Hocus Pocus at Hungerford coming up this half term. We also have Pop Up Pizza nights at Englefield in October. After the fun of Halloween its all Christmas where will be stocking up the shops with festive product, opening our butcher's Christmas order books and hosting some Christmas Jazz evenings in our cafes.
All of our events are on our website https://www.cobbsfarmshops.co.uk/
Lastly – thank you for everyone who voted for us. We are thrilled to be winners of the Large Independent Retailer awards