16 Aug 2022
Meet innovative international producers at Speciality & Fine Food Fair 2022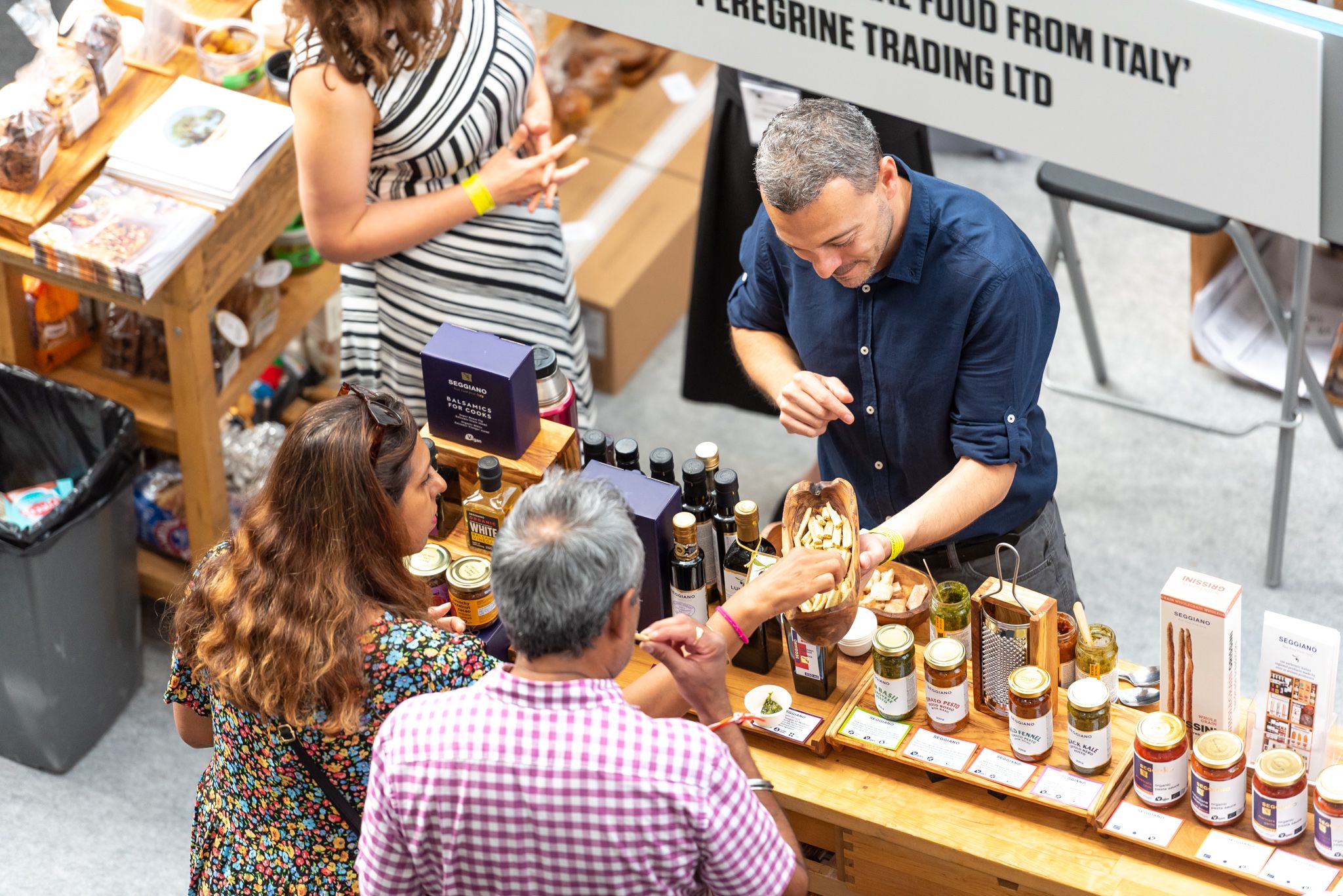 Each edition of Speciality & Fine Food Fair welcomes a wide range of exciting artisanal food & drink brands from around the world and this year is no different, with hundreds of products from Europe, Africa, Asia and more on show. 
Returning to the Fair this year is the International Trade Centre, an organisation offering trade support to growing businesses in developing countries. This year will see the return of companies such as Likkle More Chocolate from Jamaica which produces award-winning artisan chocolates. The company's founder, Nadine Burie, is also the chief pastry chef for the company, promising a delicious selection of chocolates infused with Caribbean flavours on display.
Also returning for 2022 is Fire Mountain – a young company harvesting cacao beans and penja pepper from the volcanic soils beneath Mount Cameroon. Working on the principles of authenticity and sustainability, Fire Mountain's pure dark chocolate is rumoured to improve memory and reduce blood pressure.
Other products on display include coffee and ginger from the Pacific Islands, cocoa from Ghana and the Dominican Republic as well as spices, sauces and condiments from the Caribbean Island of St Lucia.
The Fair will be welcoming a wide selection of Belgian companies to this year's event, from traditional Trappist beers from Brouwerij der Trappisten Van Westmalle and fresh citrus gin from Gentlemen's Craft to Noble Health Food, a supplier of vegan schnitzel, falafel, kofte kebab and more. 
From the Netherlands, visitors to the Fair can meet with Klepper & Klepper a family business making, as they say, The Best Liquorice Ever. Sweet, savoury and with a hint of salmiak, their liquorice comes in three flavours; salty, sweet and honey. Hailing from Amsterdam, Celebrate What You Eat will bring a number of products to the Fair connects by the theme of eating consciously, including 'GinMayo', salsa and cider.
The regional companies set to exhibit at the Fair under the 'Absolutely Caribbean Pavilion' are Naledo (Belize), CariBelle Foods (Trinidad and Tobago), Old Duppy (Barbados), Flauriel (St Kitts and Nevis), Chocolala (The Dominican Republic), Pringa's (St Vincent and the Grenadines), Shavuot (Jamaica), St Lucia Distillers (St Lucia), Kalembu (The Dominican Republic) and the Antillia Brewing Company (St Lucia).  
"We are extremely excited to exhibit our tropically inspired Caribbean ales at Speciality & Fine Food Fair 2022. It is a great way to reboot our exports to the UK after two long years of pandemic disruption. We look forward to meeting new distributors, importers and retailers and sharing a taste of St Lucia with them" shared Andrew Hashey, Founder, Antillia Brewing Co.? 
At I Love Fruit and Veg from Europe, visitors will be able to see and sample the very best fresh and seasonal European produce. From colourful, crisp salads like basil, spring onions, and green lettuce, to succulent fruits including Etna Prickly Pears, Coscia Pears, Blood Oranges, Leonforte and Bivona Peaches, to name but a few. There will also be recipe demonstrations and sampling on stand, so be sure to stop by and taste the delicious produce from Italy and other EU countries.
The Korea Agro-Fisheries & Food Trade Corporation will be joined at the Fair by companies including premium beverage manufacturer Tulip International, Cosmogy, maker of innovative rice flower and ssal kkot makgeolli kits, and Young Poong, a company which offers a number of exciting food & drink products including topokki, tteokguk, rice cakes, vegetable pancakes and more.  
To discover speciality and fine food products from around the world, register to attend Speciality & Fine Food Fair on 5-6 September 2022.