01 Aug 2022
Meet Great Taste Award winners at Speciality & Fine Food Fair 2022!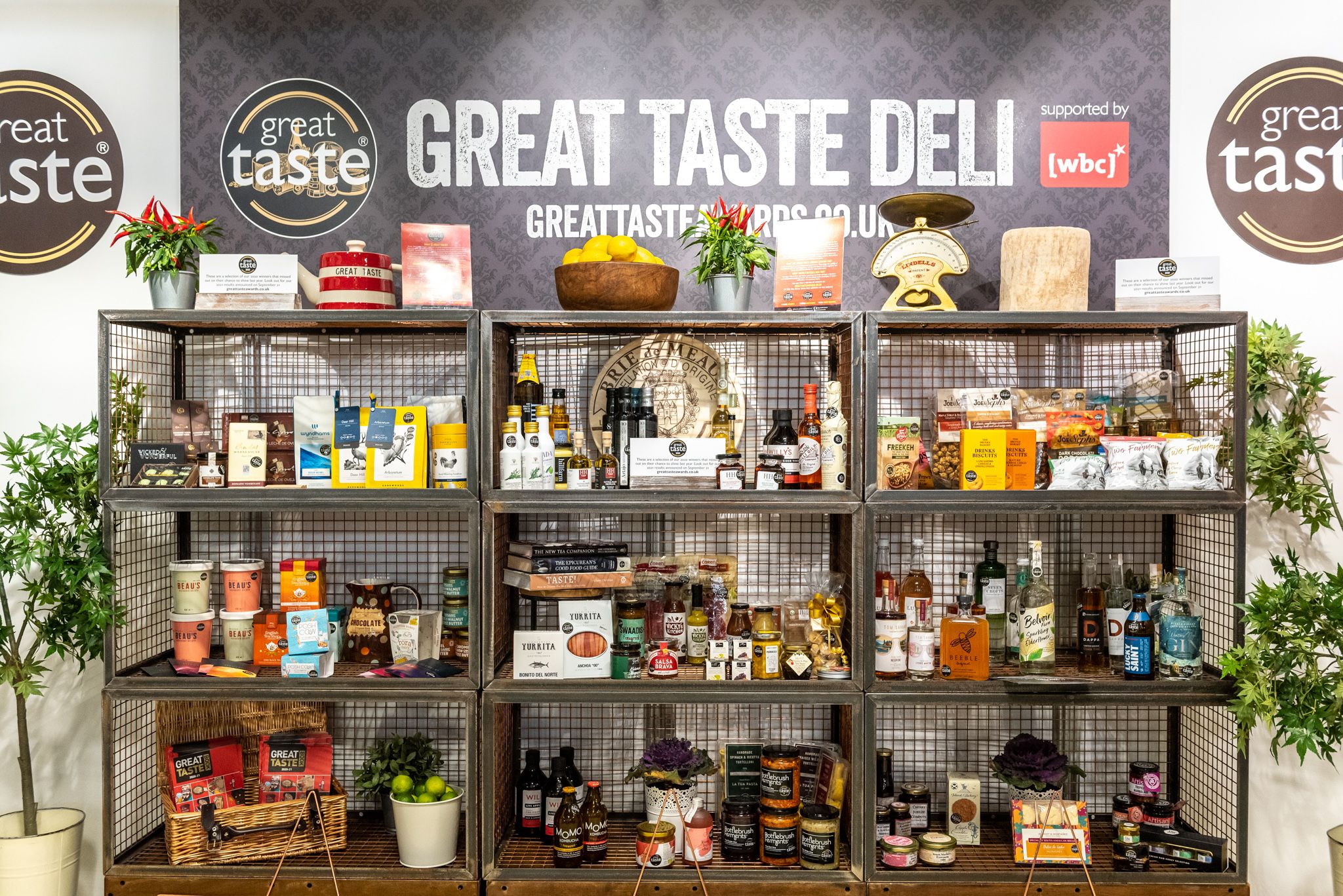 As the Great Taste Awards winners are announced for 2022, we take a look at some of the businesses at Speciality & Fine Food Fair 2022 who have been recognised, and some of the exciting products set to feature in the Great Taste Deli by the Guild of Fine Food. 
Over 2,300 artisan producers from the UK and across the globe will receive their eagerly awaited results, and all-important judges' feedback, from Great Taste. After being blind-tasted by a team of over 500 judges, each producer will receive invaluable feedback on their entries and find out if any of their products have scooped a prestigious 1-, 2-, or 3-star award in Great Taste; the highest global accolade based entirely on taste.
John Farrand, managing director at the Guild of Fine Food comments: "It's been another exceptional year of high quality, innovation, and creativity. We're seeing a steady increase in plant-based products year-on-year and the fermented and functional foods are really starting to hold their own in terms of taste.  
"I was extremely impressed to see that many of the entries have come from businesses which started trading in the last year or two, these are companies who incorporated in the middle of the most challenging period in economic and social history. And they're thriving. 
"It isn't easy doing what these producers do, neither for the start-ups nor the established businesses. Growing a business and a brand in the food industry has so many variables to consider from standards, to policies, learning to sell and market your products, and that's before you think about aiming for excellence in the taste and flavour of your products. I have the utmost admiration for them all." 
Here are just some of the Great Taste awarded businesses you can meet at Speciality & Fine Food Fair 2022:
T&M Artisan Chocolates Stand 2719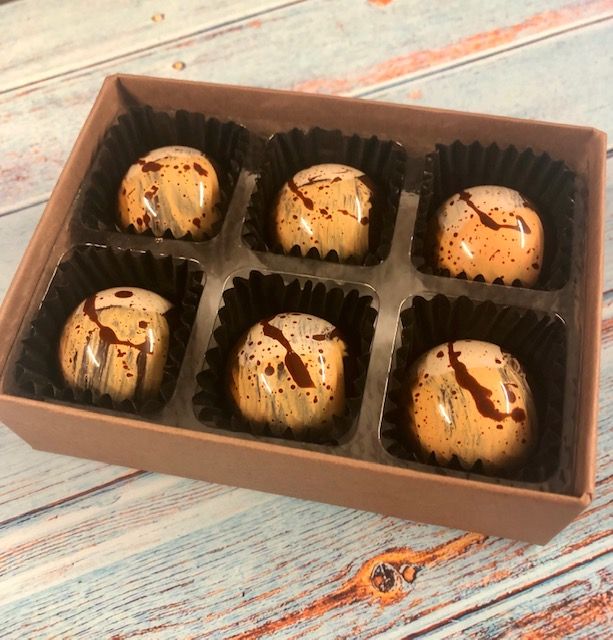 Product: Espresso Caramel Bon Bon
Stars: 3
T&M Artisan Chocolates was established by Mark an accomplished, creative Royal Navy chef with over 30 years of experience. In 2019 he left the Military and put his faith in the business, which has gone from strength to strength despite some challenging times.
 Mark has been awarded Guild of Fine food great taste awards for the past few years. This year, 2022 Mark was awarded 3 stars for his Espresso Caramel chocolate, a fantastic achievement. T&M are becoming well known for their bespoke creations and their Signature gift box and Great Taste boxes are sold widely in gift shops, farm shops, delicatessens and the chocolates are used within the hospitality sector.
PlayinChoc Stand 3040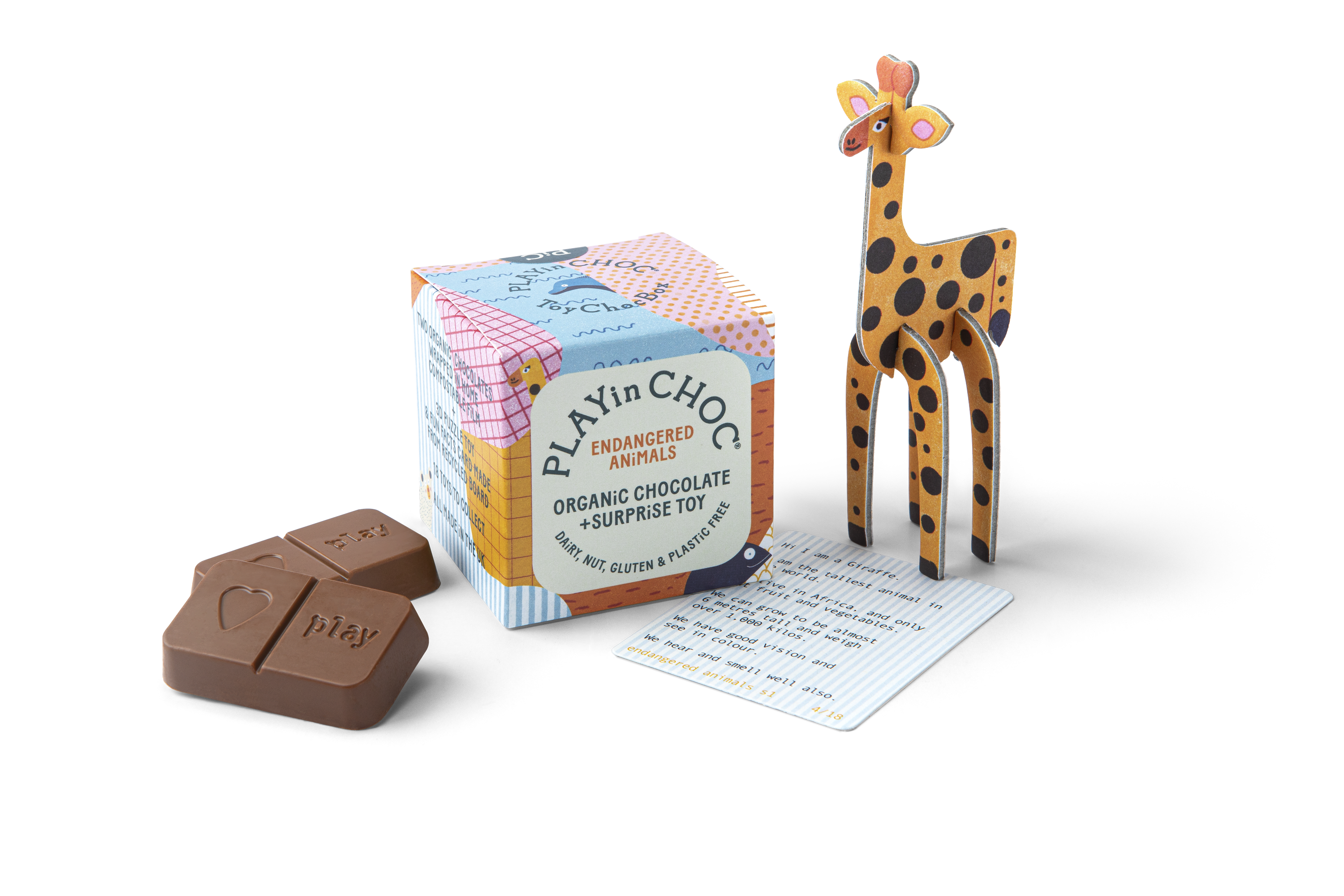 Products: PLAYin CHOC Organic Peruvian Cacao Dark Chocolate, PLAYin CHOC Organic Peruvian Cacao M.lk Chocolate
Stars: 2, 1
PLAYin CHOC have won 32 awards for their sustainable plastic-free design and delicious organic chocolate. Their recipe uses just three plants; cacao, coconut and vanilla, making it vegan and free-from the top 14 allergens. The collection has 66 collectable ToyChoc Boxes, impulse buy JustChoc Boxes and advent calendars. Made in Britain.
Ask Mummy & Daddy, Stand 2504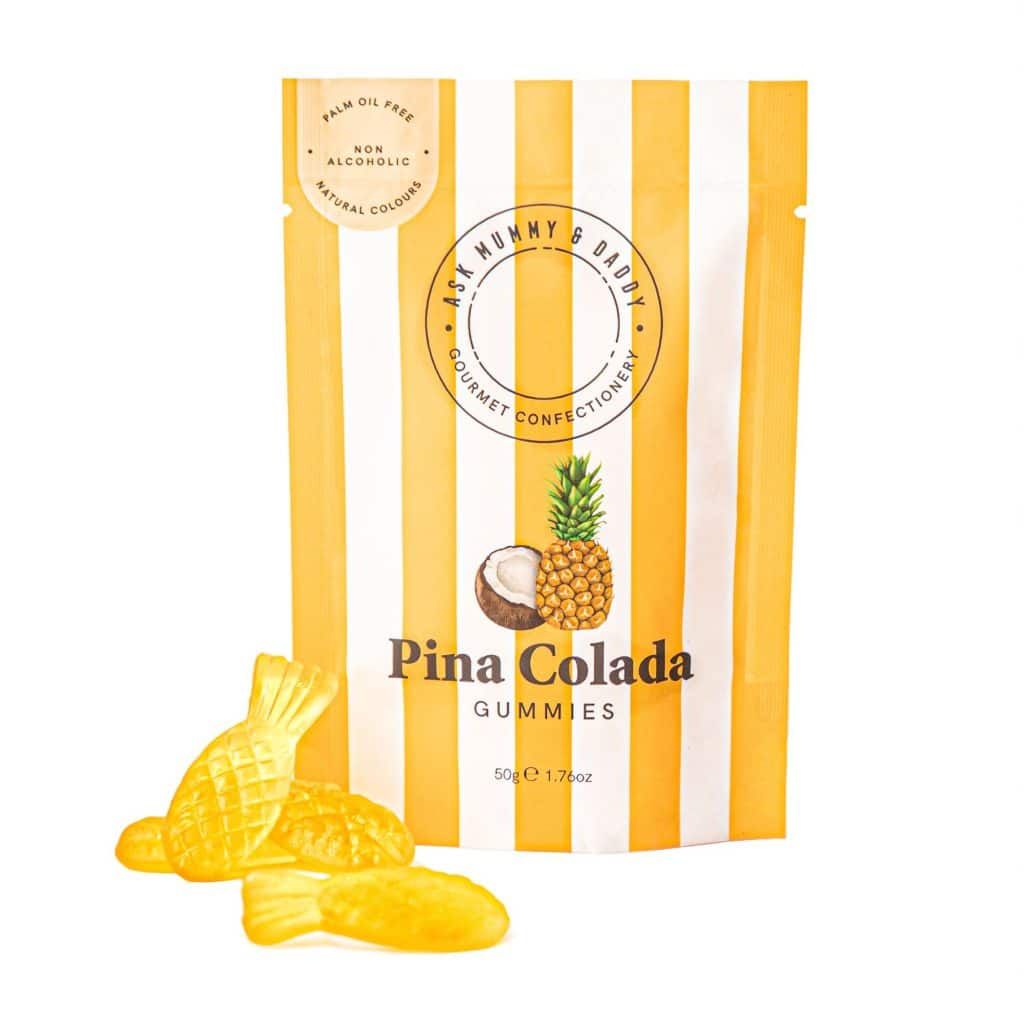 Product: Ask Mummy & Daddy Pina Colada Gummies
Stars: 1
Ask Mummy & Daddy was founded by Kane Dowell, in 2018, Kane left school without a single GCSE, at the age of 20 was in over £15k worth of debt  and suffers from Dyslexia.
Not really knowing the next step he got his head down - found a job at Cath Kidston where he was for 10 years before heading to Biscuiteers and after that he decided he wanted to shake up the confectionery market so decided to create a range of premium, high-concept sweets and develop new flavours and cool nice eye-catching packaging. 
Initially a side hustle, Ask Mummy & Daddy grew organically as word of mouth spread and customer numbers grew but with Kane's drive there was no way it would just plod along. The turning point was a successful meeting with Selfridges about stocking their signature classic lines in their iconic Food Hall – and the rest, as they say, is history. Now the company is a full-time operation with its own production, marketing and events teams. You can find their sweets online and in national outlets as well as family-owned shops across the UK
Pink Salt Shed, Stand 2633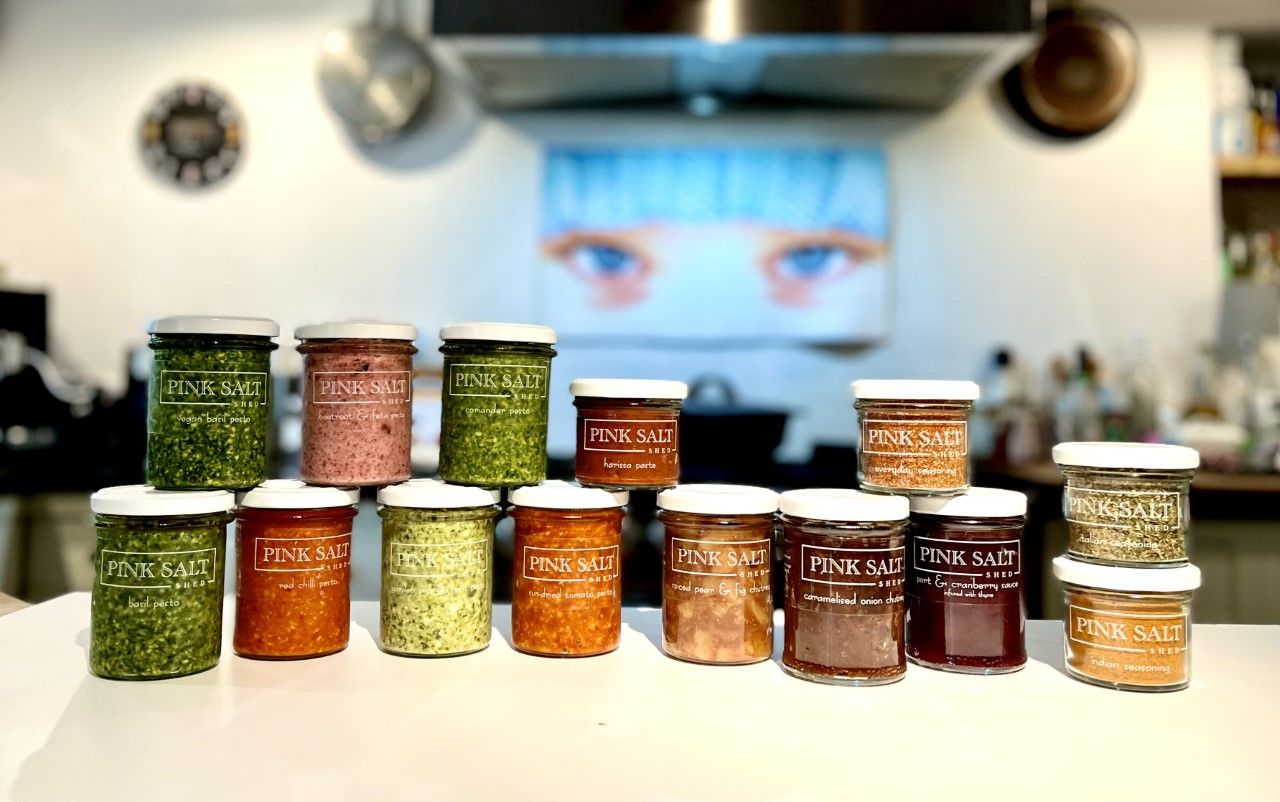 Product: Vegan Basil Pesto
Stars: 1
Award winning Pink Salt Shed was set up in 2021, quite by chance when Kate made too much pesto; she took it to the local honesty shop at the dairy and all 5 jars sold, so she did it again and again and a business was born.  Now venturing further afield deliveries take place in Gloucester, Chichester, Somerset, London, Oxford and more locally to home at Daylesford Farm and Soho Farmhouse, other local delis and cafes love the produce too so there's plenty of outlets to buy it from.
Starting with pestos there's now a range of 10 flavours, there's chutneys too and a variety of seasonings.  Wanting to expand the repertoire the move to new premises is vital to company growth.
There's definitely values in all of these products… using no artificial additives or preservatives is key and part of the reason why Kate things the business has grown; people don't want to eat anything artificial and prefer the home made alternative.  All recipes are Kate's, and all produce are made by hand or blended by hand for that true artisan product.  Many many batches, but she'd rather not have it any other way.  The pestos are a fresh product so rather than having 18 months life on a shelf in the cupboard but when opened just 2-3 days to eat all of the product… Kate's pestos live for a couple of weeks in the fridge, so need to be factored in to a meal plan… and when opened last for at least 7-10 days (if you can not be tempted by spooning it from the jar), one meal one week and another meal the next.  Check out her website www.pinksaltshed.com for recipe ideas.
With a mindful approach to reusing or at worst recycling the packaging, Kate uses glass jars with metal lids and the labels do not have to be taken off before recycling.  The products are taste great, feel great and have been awarded a great taste star for the vegan basil pesto.
COOK, Stand 1218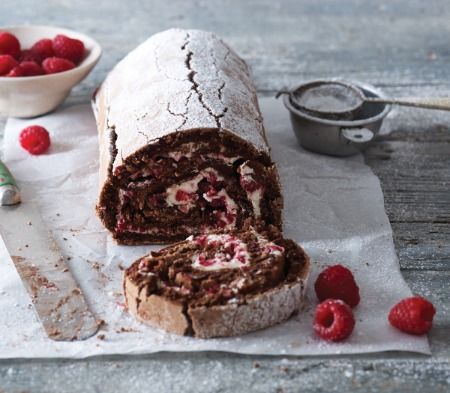 COOK secured over 20 winning products this year, ranging from 1-2 stars, including 2 stars for their Chocolate and Raspberry Roulade (pictured). 
COOK have been making remarkable food that cooks straight from frozen since 1997. It's not a mystery why their Great Taste Award-winning meals look and taste homemade; their chefs prepare everything by hand in their kitchens in Kent, using the same ingredients and techniques as a good home cook. As winner of the Grocer Gold Awards' Employer of the Year 2020 and finalist Concession of the Year 2019, they are looking to work with the best independent and co-operative retailers across the country.
Delicioso - the Spanish food company, Stand 1510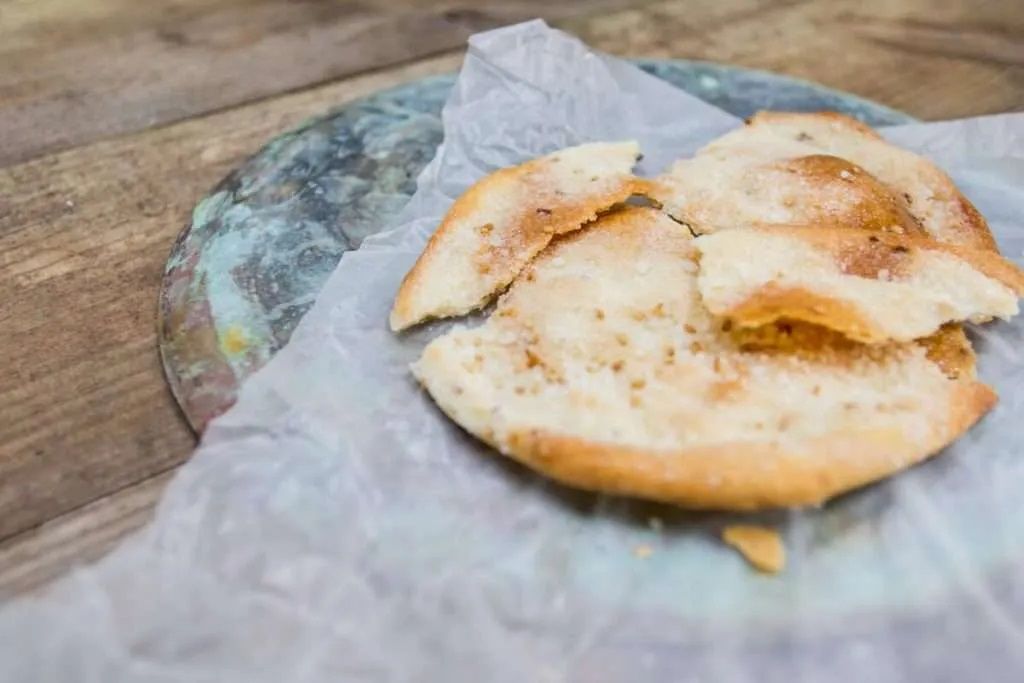 Delicioso have 9 products awards in this year's Great Taste Awards, including 2 stars for Delicioso Tortas de Aceite Sugared Olive Oil Biscuits from Seville (pictured). 
Delicioso is one of the UK's leading importer and distributor of high-quality Spanish food, drink, kitchenware and gift items. They are known for offering delicious and authentic products including award-winning cured meats, pates, seafood, salsas and condiments, sweets and chocolates. All their products are of the highest quality and provenance, and many have won international and UK taste awards.
The company has spent nearly 20 years building relationships with its Spanish suppliers. They search out authentic family-run businesses throughout Spain to bring regional specialities to delicatessens, tapas bars, retailers and distributors throughout the UK.
Stag Bakeries, Stand 1601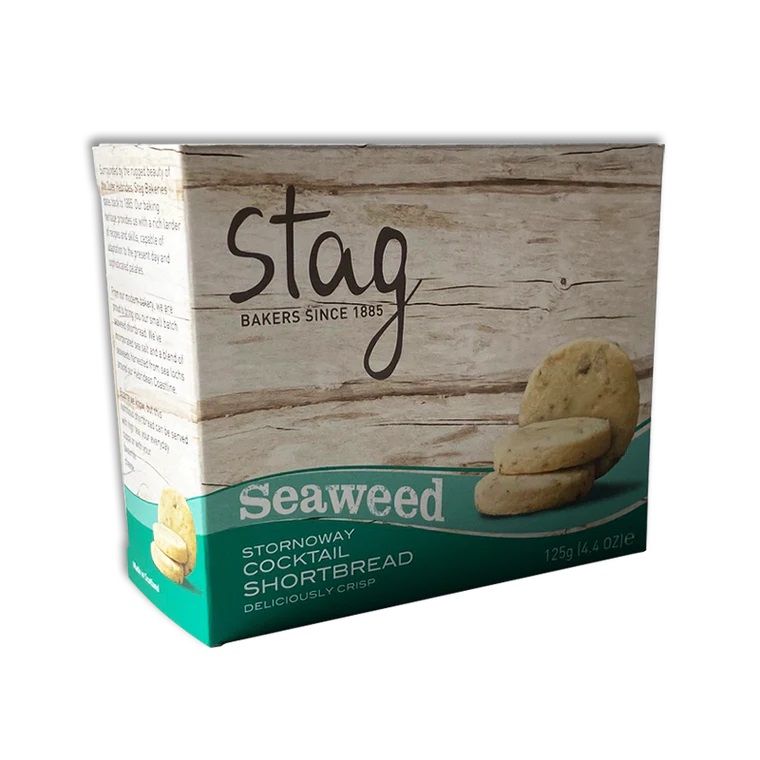 Stag Bakeries have four products awarded this year, including 2 stars for its Seaweed Shortbread. 
In a competitive market where mass production continues to be the dominant force, Stag Bakeries offers its growing number of discerning customers something less ordinary.
Stag Bakeries has been an integral part of Scotland's beautiful Hebridean landscape since 1885. Today as the company grows they remain a family business where their skilled workforce continues to uphold their core values. Attention to detail, pride in their work and a cast-iron commitment to customer satisfaction, are still firmly at the heart of everything they do.
Their state of the art artisan bakery in Stornoway uses traditional methods and only the finest ingredients. Add a healthy measure of creativity and you have a range of award-winning products for every occasion – water biscuits, oatcakes and shortbread – just a small part of their extensive range.
While they will always value the support of their loyal island customers, the company, thanks to an expanding network of stockists, has spread its wings to embrace new business from across the United Kingdom and further afield. Created with love and imagination, packed with character and flavour and baked just for you from original recipes, their products have a known and trusted provenance.
Check out the full list of producers at Speciality & Fine Food Fair 2022.