14 Nov 2023
Meet the award winner: Best New Product - UK Golden Hooves Mature Cheddar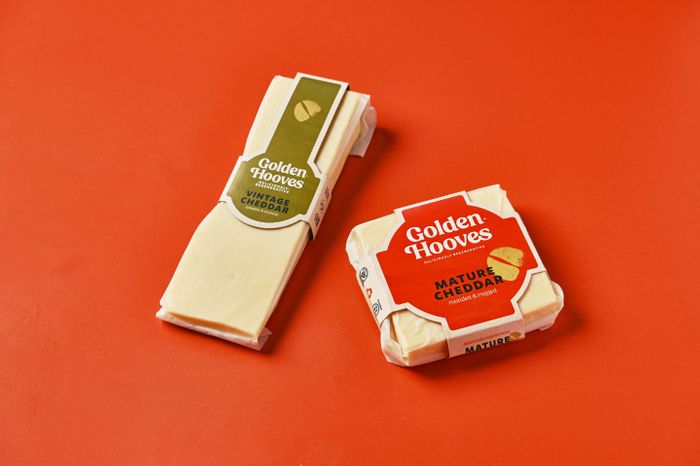 Speciality & Fine Food Fair speaks to Leona McDonald, Director of Golden Hooves, following the company winning Best New Product - UK at the 2023 Speciality & Fine Food Fair Awards for its delicious mature cheddar.
How did it feel for Golden Hooves Mature Cheddar to win Best New Product – UK at the Fair this year?
Winning the Best New Product award was a great moment for the team, to be recognised as the best amongst so many fantastic UK launches was a real honour and it capped off a great show for us. We'd enjoyed a lot of positivity from visitors to our stand; to our regenerative farming story, our cheddar samples, our bright orange, unmissable branding and just by the amount of fun that we were having! We are a happy bunch and I do think that is attractive to buyers, we have a serious message but a fun way of telling it and that is what got through to the judges and voters.
Can you tell us about the Mature Cheddar? Why should independent & speciality retailers stock this product?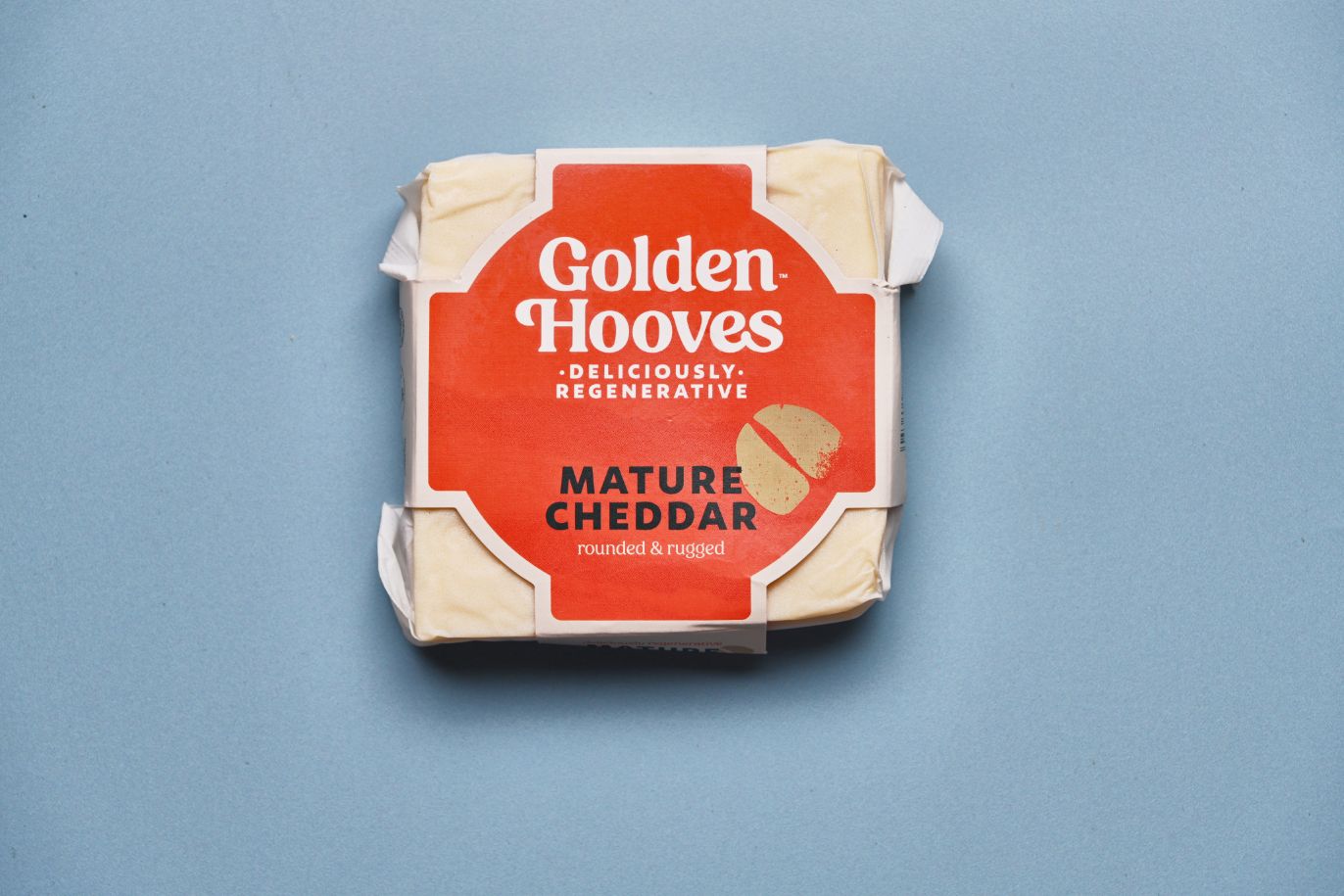 First and foremost, our Mature Cheddar tastes great! It's rounded, rugged and moreish, but it's also made exclusively using fully traceable regeneratively farmed milk. It was created to represent the collective sustainability efforts of our co-op's farms, who are united by a shared commitment to delivering better outcomes for the soil, the cows and the planet – the power of 700 over the power of one.
We believe that people should be able to eat deliciously regenerative food every day and if it looks great and tastes great too, then that is a winning combination! The colourful packaging carries our Stomp of Approval, which we hope one day will be recognised as an industry standard and clearly shows the integrity of the products that we put our stomp onto. People buy with their eyes before they can get to taste it and so getting the look right took lots of consideration.
Golden Hooves itself is a new brand, can you tell us a bit about the launch of the brand and how it's approaching standing out in the UK cheese market?
The launch of Golden Hooves has been focussed on getting people thinking and talking about where their food comes from, and its impact on the environment – with a little bit of fun thrown in too (we don't want to be too serious and worthy). There's so much good going on behind the cheese itself, and if we're going to grow the brand and make regenerative produce an everyday thing in people's homes, then we need to get the message out there quickly and in ways that resonate.
To achieve this, we've been getting on the road for events and tastings, as well as sharing our cheese with journalists and social media influencers. The Golden Hooves story and the scientific research being carried out across our farms GB-wide is what will really set us apart, especially when teamed with an amazing tasting product in bright and appealing packaging.
Can you tell us how Golden Hooves approaches the issue of sustainability?
The Golden Hooves approach to sustainability is centred around our commitment to regenerative agriculture and at the forefront of that, carbon sequestration. Our co-op's 700 members have developed regenerative methods and interventions to suit their own farms across the country, these could include livestock integration, minimising soil disturbance, protecting the soil surface, encouraging plant diversity and maintaining living roots – the five pillars of regenerative farming.
We track these developments and improvements on a farm-by-farm basis via a bespoke app designed especially for us and have a team of "Regen Specialists" within our co-op to help, guide & support the farmers. We then see it as our job, as Golden Hooves, to support our farmers by sharing the good work that they do and by showing how dairy can be better. They have a lot to be proud of!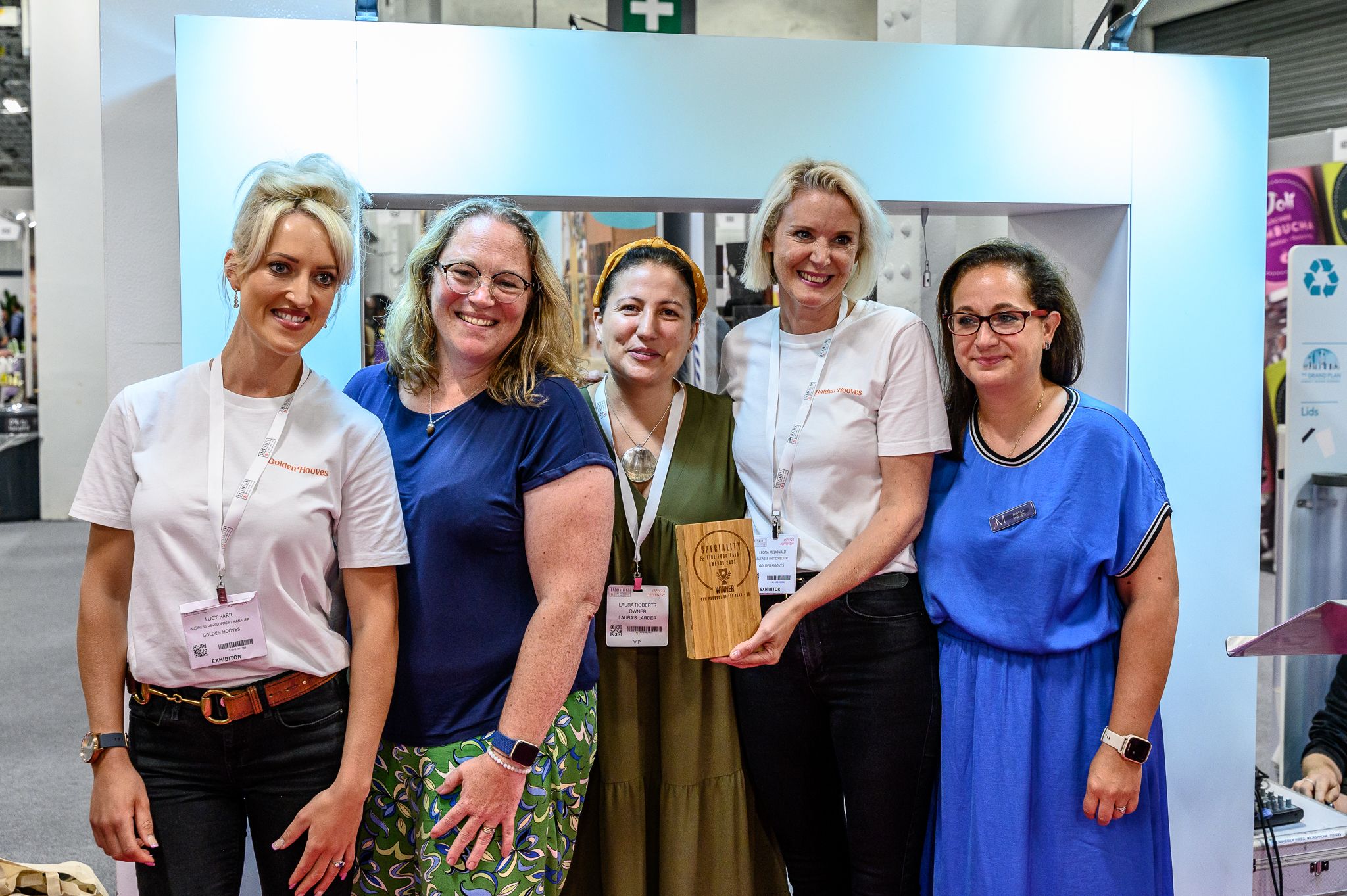 What's next for Golden Hooves, do you have any other new products in shops or launching soon?
We've just launched our Vintage Cheddar - which is complex and well-balanced, with strong savoury and caramel notes, having been aged for 18-24 months. And we have lots of new product ideas in the pipeline, which we'll be sharing in the new year!
Where are Golden Hooves cheeses currently stocked, and where can our audience find out more about the company?
Golden Hooves products are stocked exclusively in independent retailers, and through our partnership with Longman's we're now in many farm shops and delis across the South. We are also available through Castell Howell and Blas ar Fwyd.
Anyone interested in finding out more can visit goldenhooves.co.uk or email us at info@goldenhooves.co.uk.