16 Aug 2023
Jude's ice cream to bring three new products to Speciality & Fine Food Fair 2023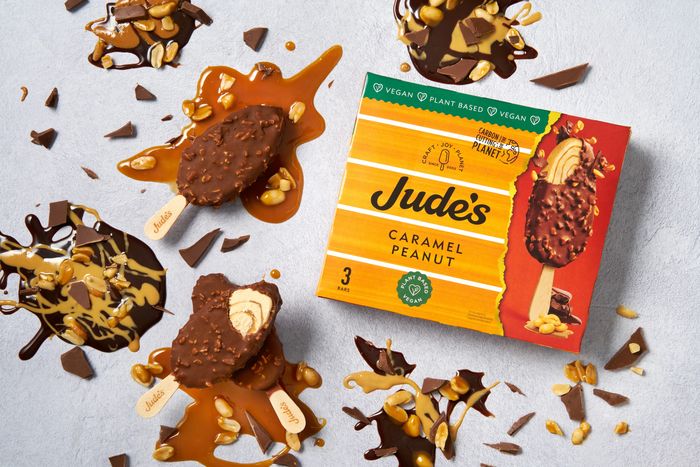 Jude's (Stand 1932), the ice cream brand with two decades of experience dreaming up delicious flavours, will be launching three new products at Speciality & Fine Food Fair this year.
The company's mission is to pioneer radical change in the industry by making the best-tasting ice cream and desserts and treading lightly on the planet.​ Jude's creates unbelievably indulgent products with the lowest possible carbon footprint they can and invest in the highest quality nature-based solutions to support biodiversity in the world around us.​
Caramel Peanut Stickbars
Crafted with the same passion and expertise as all Jude's products, these stickbars have a deliciously creamy caramel ice cream, a smooth peanut sauce and a roasted peanut studded chocolatey shell.
Chow Mezger, Jude's MD, said, "Our new Caramel Peanut Stickbars are a rich, creamy treat that is about all-out indulgence that's better for the planet! They have a wonderful roasted nut flavour sweetened by our velvety vegan caramel ice cream."
The new ice cream stickbars launch as part of Jude's pledge to make 50% of its range plant-based by 2025. Jude's plant-based ice cream has, on average, a 40% lower carbon footprint than its dairy ice cream, so introducing more vegan flavours is a key approach to reaching its stretching carbon reduction targets. Like all Jude's flavours, Plant-Based Caramel Peanut Stickbars are made with the lowest possible environmental impact.
Little Jude's Fruit Twists
The new Little Jude's Fruit Twists have delicious strawberry ice and mango and coconut ice cream swirl wrapped around a zesty apple core for a truly tropical treat! Jude's is on a mission to help kids eat better so the new Fruit Twists are made with real apple, mango and strawberry juices, and only contain 37 calories/twist.
Mezger comments: "At Jude's we're on a mission to help kids eat better. As parents ourselves we know just how hard it can be to find tempting treats made with real ingredients so we created our tropical new Fruit Twists! We hope you'll enjoy treating your own Little Judes!"
Salted Caramel Bars
Jude's Salted Caramel bar is made with its signature salted caramel ice cream rippled with a salted caramel sauce and wrapped with Belgian chocolate studded with crunchy caramel pieces. The Triple Chocolate bar is a chocoholic's dream, with each stick is made with rich chocolate ice cream with a smooth chocolatey sauce enrobed in thick Belgian chocolate with chocolate cookie pieces.
Mezger said: "We are seriously excited about our new Salted Caramel and Triple Chocolate bars, they truly are the most indulgent treat right from the tantalising crack of the first bite! The mix of textures, from the rich, creamy ice cream and velvety sauce, to the chocolate cookie or caramel pieces create a real flavour and texture sensation."