05 Jun 2023
Joe & Seph's Speciality & Fine Food Fair journey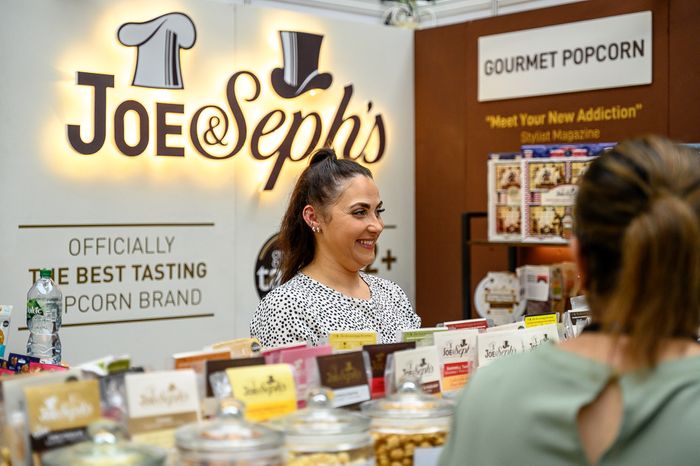 Speciality & Fine Food Fair catches up with long-time exhibitor Joe & Seph's Gourmet Popcorn to hear more about the business' growth at the Fair.
What do Joe & Seph's do?
Joe & Seph's make a wide range of gourmet popcorn and caramel sauces – all handmade by our team of pastry chefs in our London kitchens.
Tell us about your first time at the Fair
We first exhibited at Speciality back in 2011, with a line-up of 10 popcorn flavours to sample, and had an amazing response with so many customers. We love meeting people and seeing reactions to tasting our popcorn first hand! Seeing people become a Joe & Seph's Goats cheese & Black pepper Popcorn convert in person is always a particular highlight.
How has your business evolved since then?
It's been quite the journey since then. Not only have we now got over 50 popcorn flavours, and won over 80 Great Taste Awards, but we relocated into a brand new "Popcorn HQ" in North London, gained a few new J&S team members, and secured some amazing new listings. You can now find Joe & Seph's in most premium independent food stores across the UK as well as in most cinemas and theatres too!
Why is the Fair a good fit for your brand?
Speciality & Fine Food Fair champions all things artisan, and we feel that's a perfect fit for us – a room full of people who not only love food, but actively seek out quality, artisan products is definitely where we want to be!
Do you have any new products that you'll be showcasing at this year's event?
We'll be bringing along some new gourmet popcorn flavours, as well as a sneak peak at our seasonal and festive ranges including our incredibly popular Popcorn Advent Calendar!
Do you have any examples of listings you've gained through taking part in the Fair?
We've met everyone from premium London department stores to amazing farm shops to large supermarkets at Speciality and having the opportunity to meet face to face instead of over email is certain to have contributed to us securing a listing in their stores.
What would you say to a business considering exhibiting for the first time?
If you're just starting out and looking for a way to meet buyers, and network with likeminded people who share the same love of quality products, then definitely give it a try.
Find out more about Joe & Seph's Gourmet Popcorn at joeandsephs.co.uk.