Interview with Jamie Crummie, Too Good To Go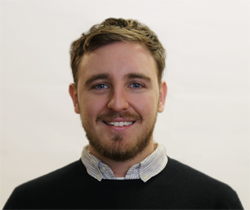 We chatted to Jamie Crummie, Co-Founder of Too Good To Go about the impact of global food waste on our planet, the operators that have gone above and beyond during the pandemic and his tips for businesses starting their food waste journey.
Hi Jamie! Thanks for joining us. Please could you introduce yourself and give a little insight into your background and experience in the world of food and drink?
My first job as a teenager was in a supermarket and this was followed by stints in the hospitality and catering sector where I experienced first hand masses of perfectly good food being thrown away - seemingly with no solution. Having studied and worked in Human Rights Law I have spent some time with various NGOs. It was during this time that I became aware of the wider gravity of the issue of food waste during an event in 2013 that was catered for with food which had been rescued from bins. This got us thinking - how could we rescue food before it hits the bin and what impact could technology have. While coming up with a solution, I connected with like-minded entrepreneurs in Copenhagen and we worked together to create Too Good To Go. The rest is history.
Tell us about the too good to go app, how did it come about?
To get Too Good To Go off the ground, we had to start with building supply and forming relationships with food businesses, so from the beginning we were a boots on the ground operation, knocking on doors and drumming up interest. By speaking to business owners who faced the issue of food waste on a daily basis the problem was clear and solutions were scarce. From the beginning the size of the opportunity to have a positive impact at scale was obvious to us. This fuelled our desire to keep going and very quickly we established partnerships with businesses who bought into the food waste fighting movement. From there we developed the app as a simple, accessible and fun tool that works for both food businesses and consumers. 
The app was founded with a mission to place the lost value back onto food as something that should be eaten and not thrown away. It's a response to the harrowing fact that as a global society, we carelessly throw away over one-third of the food we produce at the same time as watching our planet and livelihoods suffer from the effects of climate change. We're trying to highlight that food is food - our most valuable resource of energy - and not a mere consumer commodity and that by fighting food waste we are fighting climate change.
This is a fantastic solution to eradicate food waste in the industry, how are operators responding to it?
Since the app was launched, Too Good To Go has undergone significant and rapid growth. We are now operating in 14 countries in Europe and have just launched in the US last month - and along with our 60,000 partners and 25 million Waste Warriors, we have saved 45 million meals globally. In that sense, food businesses are hugely receptive to our solution. 
Of course, this is just the tip of the iceberg and we're committed to fighting food waste globally to ensure that we are doing everything we can to prevent perfectly edible food from going to waste. 
'1/3 of all food produced is wasted' – this is an alarming fact you highlight on your website, how can operators work with suppliers to reduce this impact and are there any other tips you'd give the industry to start their food waste reducing journey?
There are two key areas with which operators can work with suppliers to reduce the impact of food waste. Firstly, from a stock management perspective, taking a more agile approach can ensure that supply doesn't outstrip demand. Keep open lines of communication with your suppliers by ordering less, but more often to provide a better indication of what is and isn't selling. This allows your business and your suppliers to respond quickly. Ensure the higher frequency of your ordering habits reflects and caters for busy days such as Saturdays or Thursdays when late night shopping starts. 
The second key point is technology. By integrating technology, you can ensure that fighting food waste is simple, cost-effective and time efficient. There are plenty of tools at your disposal that can easily integrate into day-to-day operations. Food waste apps are a great example here. They can offer a safety net when balancing supply and demand, so that if produce has not sold for one reason or another, it can still find a route to market and go to a good home - whilst recovering otherwise sunk costs for your business. For example, our app works with a broad range of food businesses from hotels and supermarkets to independent bakeries and restaurant chains. As a business, you simply update the app to show the amount of surplus food you have to sell. Rather than listing individual portions of food, you'll fill a 'Magic Bag' with items that haven't sold in time, setting a price that's fair for you and the customer. 
Covid-19 has been destructive to most industries, especially the hospitality sector with a knock-on effect to its suppliers. Tell us about your pivotal role to support artisan producers who found themselves with nowhere to send their products over the past few months?
It is undeniable that Covid-19 put incredible strain on the food and drink industry, especially in respect to the issue of food waste. When the hospitality industry was effectively closed overnight, we saw businesses who previously supplied it with no onward destination for their food. Production continued, so many businesses had large volumes of food at risk of going to waste. When we heard the devastating stories of farmers pouring their milk down the drain, and wholesalers with ambient products rapidly approaching their best-before dates, reducing the potential for it to be sold on whenever the time came, we had to help.
We've connected wholesalers with our networks of retailers that are selling their products on our app, and asked our retailers if they'd be happy to become pick up points for these wholesalers so that customers can buy their food on our app. 
As an example, In Edinburgh, we've been helping Capital Wholesalers sell over 1,000 blocks of their butter which were at risk of going to waste when bakeries reduced their ordering over lockdown. At the beginning of August, we also prevented hundreds of blocks of Cornish Blue Cheese from going to waste by partnering with top South West chefs like Michael Caines in order to showcase the cheese on their menus.
Are there any inspiring operators or suppliers whom you have been most impressed by over the past few months?
During these challenging times we have been amazed, but not surprised, at how responsive and innovative many of our partners have been during the pandemic. With partners offering free or discounted food to NHS and other front line key workers to diversify their business so local residents have been able to purchase basic groceries when supermarket shelves were empty. 
As far as our partners are concerned, we were very happy to see that some of our bakers have reached a 99% or even 100% save ratio over the summer such as Pinkmans Bakery or Joe's Bakery in Bristol - meaning that all their surplus food was rescued from going to waste on our app. The Real Junk Food Project, Wakefield has also saved more than 2,000 meals since July on our app. We are very happy with these success stories. 
Thank you so much for your insights Jamie! As businesses and consumers, we all have a responsibility to help reduce food waste and with solutions such as too good to go, there really is no excuse anymore. If anyone in the industry wants to get in touch, what is the best way to reach you and the team at too good to go?
Thanks for reaching out! If anyone does want to find out more and join the fight against food waste, they can do so by signing up with the online Business Page form, and from there, one of our team members will be in touch! Any questions or concerns you may have, we'll be glad to help with, and we look forward to continuing to grow the Waste Warrior team!