02 Mar 2023
Il Sovrano: An authentic Italian deli in the heart of South London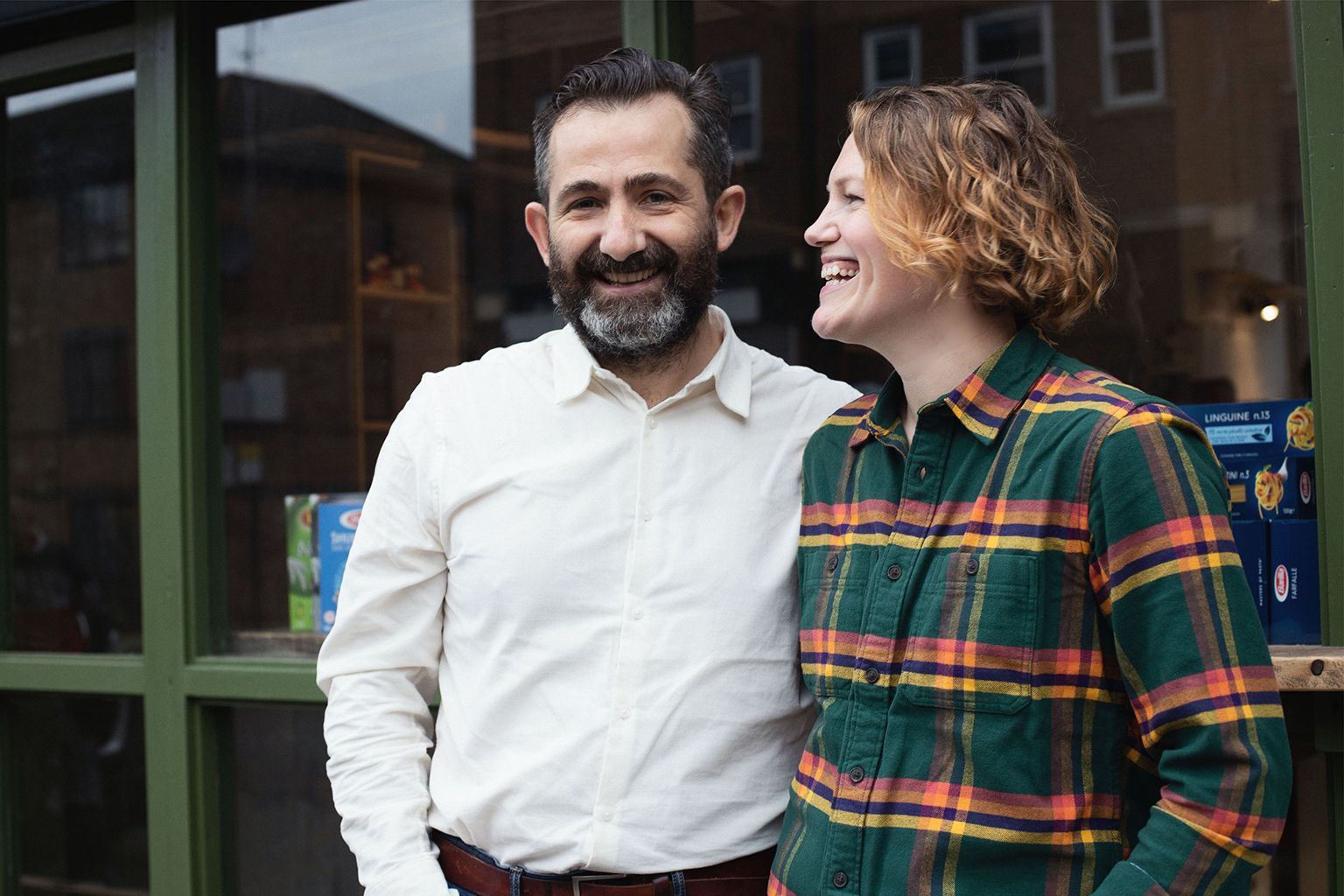 Speciality & Fine Food Fair takes a trip to London's West Dulwich to learn more about Italian deli Il Sovrano, owned by Meghan & Bruno, which puts authentic Italian products at its core. 
Can you tell us a bit about the history of the company? 
We started in May of 2019. We took over an existing coffee shop under a management agreement as our first business of our own. Bruno and I have only ever worked in hospitality.  
It was our first chance to run our own business and test out what we wanted to do. So that was going very well, it became very Italian. We started doing a little bit of retail but not that much. And then COVID happened, and because of the Italian connection, we had a three-weeks-ahead view because of all his family being in northern Italy.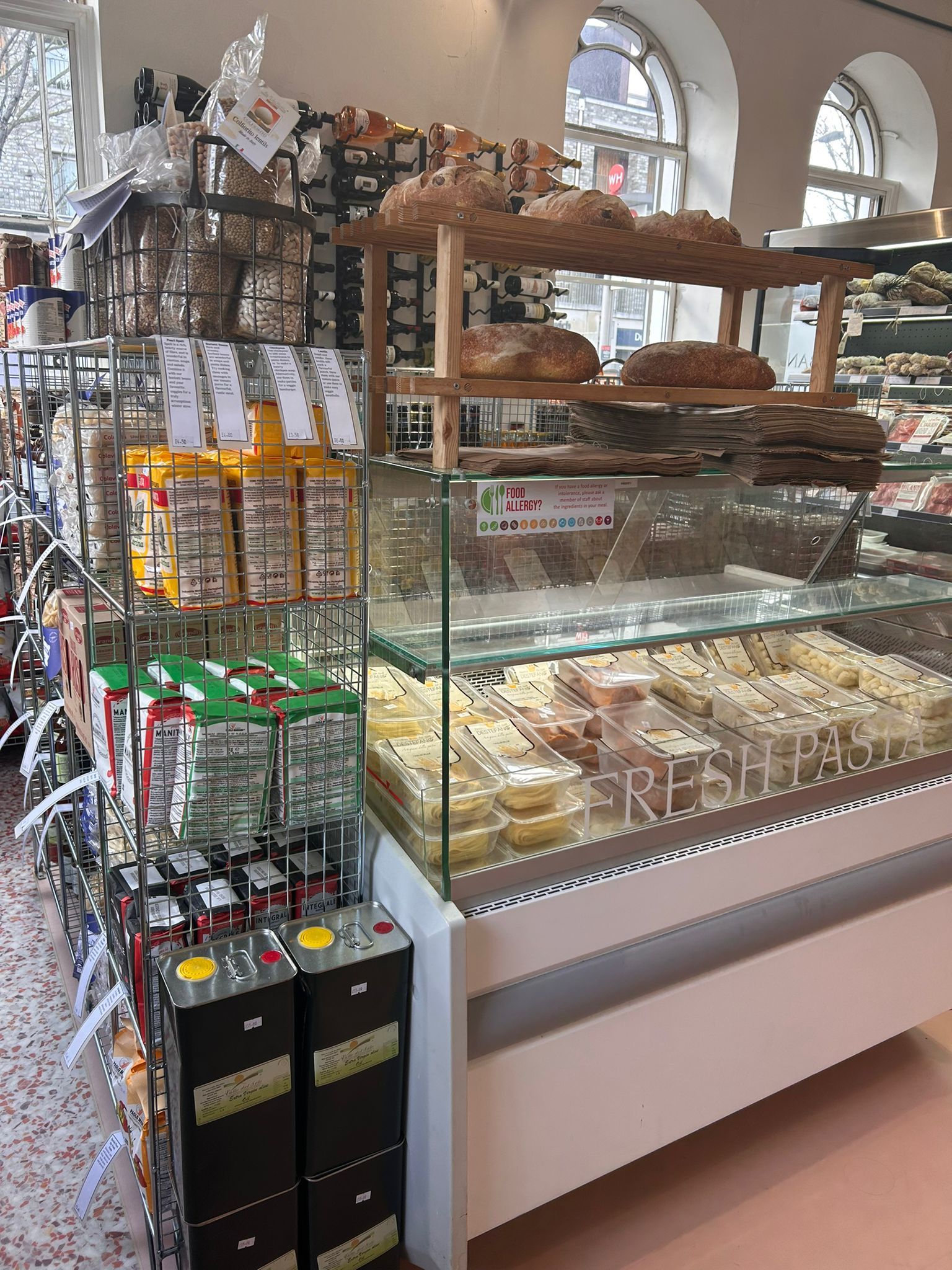 We pivoted really quickly. We turned into a deli and we were doing pre-orders over Excel sheets throughout lockdown. People would come and we'd unlock the door, give customers their big baskets. The lease came up on that and we thought, we love our neighbourhood. We live in the neighbourhood that we were working in, so we found something just up the street and decided it was going to be a purpose-built deli with no sitting in.  
We really love that we've been people's grocer and bringing that little bit of something special to their food shop. They've got a Sainsbury's 50 steps away. But they come for us for the luxury and for the service. It's as much the service as what as what we sell. So that opened in November 2020, that was Il Sovrano [in Brockwell Park] and then we opened this one in January.
This is a way of pushing together everything we do. We've got the deli retail section, we've got the seating area and we've got a central kitchen because the core of our offer is the focaccia that we make.
In the very, very beginning, we were wanting to make sandwiches in our cafe couldn't find the right bread and my partner is very stubborn, so he decided 'well I'll become a focaccia baker and then I can have the bread I want'.
How do you approach your customer experience in the shop? 
We have three priorities and the first is service. I think you can forgive bad food and you can forgive expensive, if you get served really well. I can't forgive bad service ever so number one is always the welcome. We wanted this place to feel very light and airy. It's very different than our other shop. Our other shop is all wood; it's repurposed scaffolding and quite small and cosy.  
This one had to be light and airy. We've got these gorgeous windows. We want there to be an aspect of feeling like you're also at home and we're getting a lot of feedback from that, that our food feels like you've just gone to someone's house and they've cooked for you, which is great.  
And then the retail experience, we try to keep things always looking ample, which is hard to do in this climate where like cash flow is everything. You want it to look full. Nothing worse than an empty shelf.  
You're always constantly playing, moving things around, trying to keep things thematic. I came in for pasta, but oh wait, there's the sauce. There's a cheese, there's a how can we pile on? Make you realise you wanted something that you didn't know you want. That's what we're trying to achieve. 
You're never going to buy something if there are only two left. I'm never going to buy that thing. It could be it's really popular, but psychologically you don't buy the thing when there's only two left. 
How do you find new food and drink trends? 
We're certainly Italian, and my partner's Calabrian. We feel very strongly about introducing more Calabrian producers also because we know how hard it is to make a living in Calabria doing this. We want to support the small artisanal producers.
The last thing we are is trendy. So I don't know that we look for trends exactly but we're constantly pouring over the reports every week. We're going through looking at sales and what's up from last week, what's down, what's trendy for us is what's selling well. And that's just based on what customers want, which changes seasonally. It changes if the sun's out, or if it's raining. So we can start predicting that.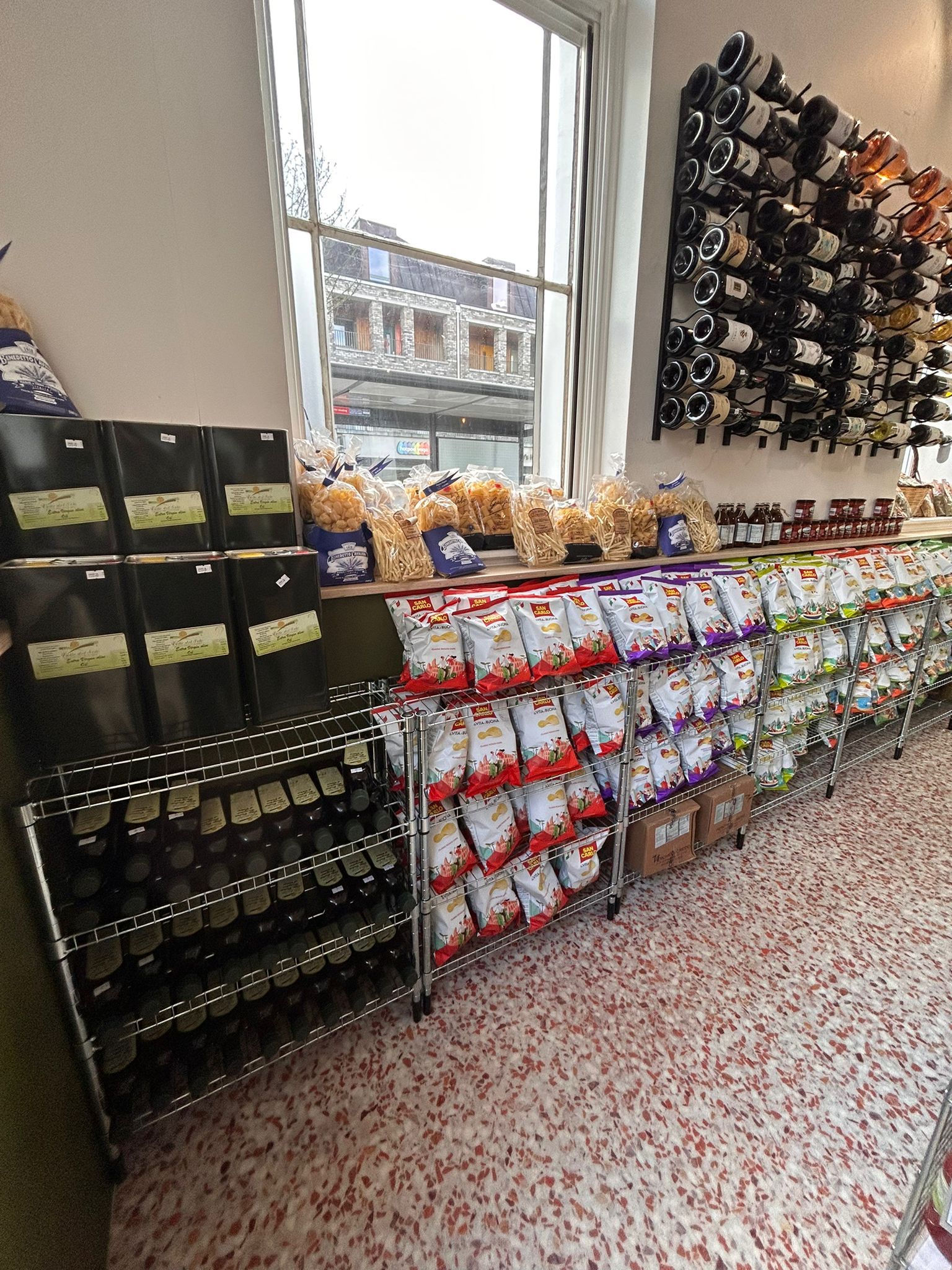 We actually try pretty hard to veer away from the trends because we want to be consistent. We want people to know when they come to us, they know exactly what they're getting and we're going to deliver. So that goes with the sitting in food, but also the produce. We're expanding our pasta range, just because it's fun and it makes it look full. And we talked to our suppliers, finding out what's selling really well for them right now. We just brought in some spices that people can add to their pasta sauces. We listen to what people want and we had lots of people saying they wanted Pan Di Stelle cream, so we got it!
And we've tried to steer clear of anything that's in the grocery stores. We can't compete with Sainsbury's down at the other site and here we have another Italian deli. We made sure with our suppliers to red list anything that they stock. We don't have any crossover, because it's just rude and bad karma. 
That's made it very challenging to source. I'd say 40% of what's on our shelves we import ourselves. 
We import it from Italy ourselves; it arrives in pallets. We go through all the disgusting paperwork and we get it ourselves because these producers are too small to get a distributor here and once they do have a distributor here it makes it too expensive.  
Coming back to our ethos and our three priorities. The first is service, the next is quality and finally it's price. We put everything in that priority and we try to make sure everything's priced fairly, if we have to sell something at a price that we wouldn't pay for it, we won't sell. It's really tricky because people see through that and it makes you seem dishonest, I think. 
We have things that I've seen in Italy, but you can't buy here. That's why we have the Fonzies and lots of products you can only have on holiday in Italy. Those come from a place called Migro which is the biggest cash & carry in Italy and they ship to British companies. Again, it's pallet at a time. 
So you have to buy quite large quantities?
Yes, which makes it easier now that we have two sites. 
We need to attend Speciality & Fine Food Fair, because we started by working with all of the suppliers that we knew from the restaurants we've worked in for decades. Over COVID we had to find out, would you do this retail and then we shifted our gaze instead of ingredients to what's retail ready, and a lot of the suppliers have also shifted that way. 
How do you approach sourcing new suppliers and showcasing them, and are any of your products white labelled?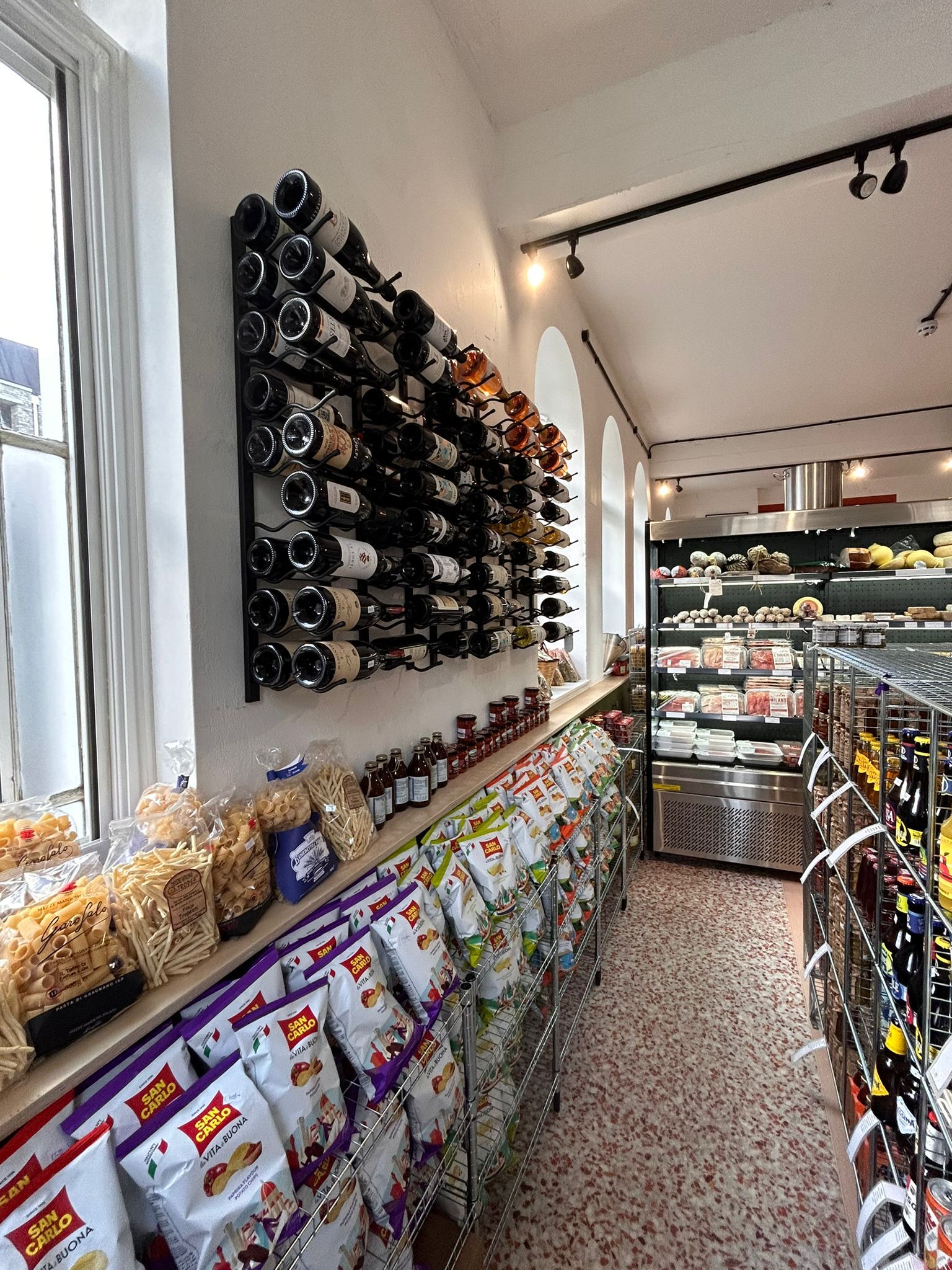 We want to celebrate the people who made the products. The only things that put we will put our name on are the things we make ourselves. Hopefully that will grow because we have a small holding in Calabria, which is part of the reason we're building all these relationships with suppliers, so that at some point we can be supplying our own.  
Through working with these people, what they will then at some point you know help us ship our own.  
We've found in the Italian supplier community everyone knows everyone. They're actually quite generous in sharing the the knowledge and sometimes one distributor imports something that then gets sold through others. You might have three people selling it, but this is the source, so we try to go back to the source because of course you get a better price. 
If we get consistently bad service, we stop using a supplier. We have no patience for it. We work too hard. We try too hard. We care too much. If people mess us around, it's three strikes and you're out. It doesn't cost anything to be nice and to be professional. 
Do you have any products that are particularly popular? 
We're so new that people are still figuring us out, but certainly in winter the wine sales and in the summer, the beer sales are up. Crisp sales are up, cured meats always go really well. The cheeses go really well, but again, we're very careful there. The people that we work with on fresh cheese, we're their only South London source. We try to build relationships where we say, 'we spend this much money with you all year so no, you can't sell at the deli across the street.'
I think that the overarching theme of Il Sovrano is that it's authentic, not in a cheesy way, but everything we import is coming from Calabria. You can taste the sun.
Are there any particular opportunities or challenges you're seeing for speciality retailers? 
Hoping like hell that people start spending money again! It is tough. It's been really tough for two years now, because of both Brexit and COVID. It hit us from both sides, so we lost all of the staff.  
It became an absolute nightmare to get anything from Europe; prices went sky high. People are spending less money, so we try to absorb as many price raises as we can. The price of of British milk went up three times before we put up the price of coffee until we got to the point where, like we couldn't. Wait anymore. I think people are much less willing to spend money, but also the the level of awareness of how we're really being squeezed in every direction. The amount of people who come looking for work, no experience and want £15.00 an hour. They've never made a coffee in their life.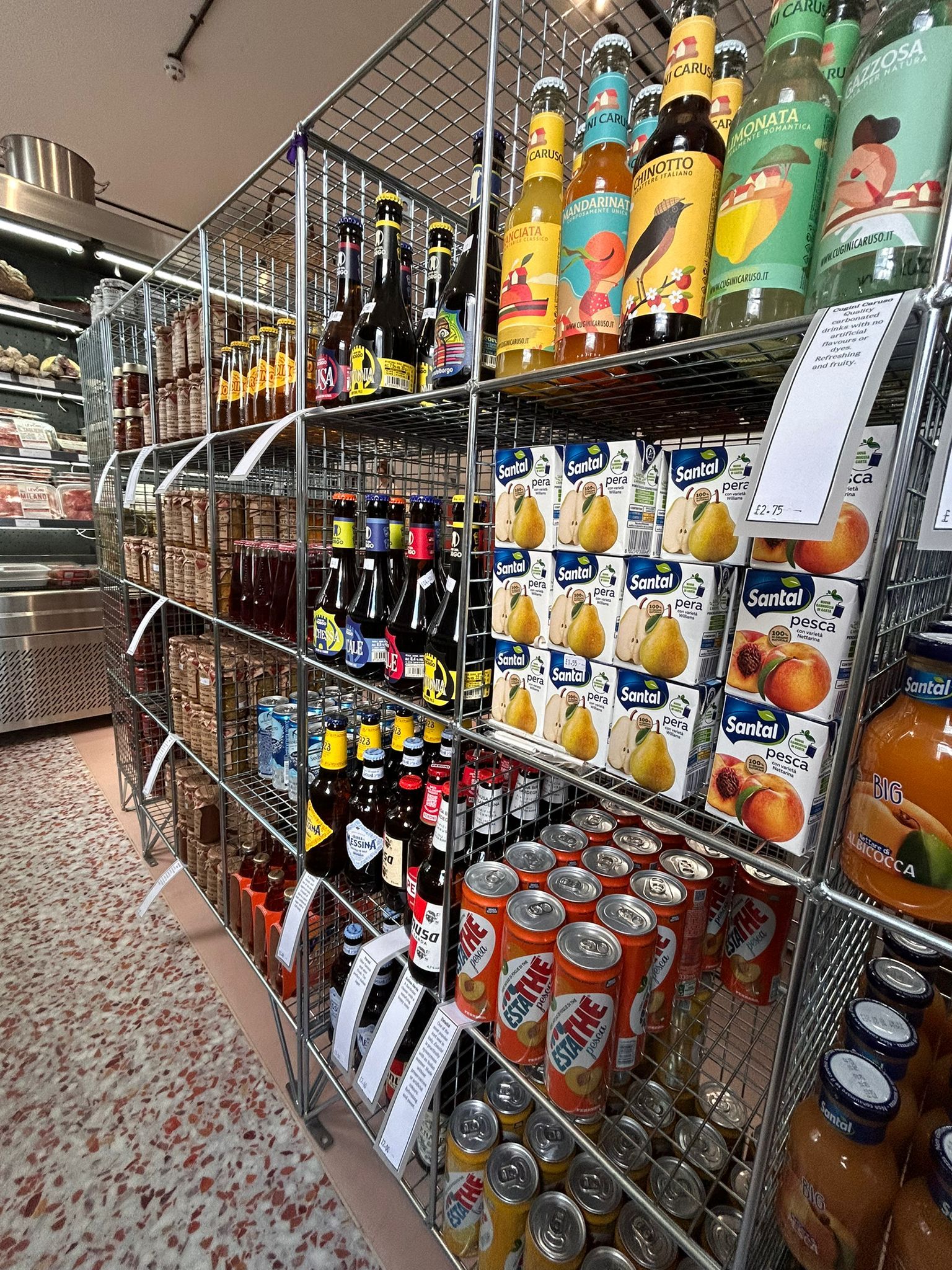 I think it's just a matter of maybe people engaging in a bit of empathy. I really want this place in my community, but unless I support it enough, it's not going to survive.
We won't sell the same things as the deli over there. But people keep trying their hand at opening new businesses, and if there's something up the street that does exactly what you do, maybe I have another idea that's more original. 
I think not being too competitive with each other while the market is so difficult is really important. 
What does it mean to you to be an independent specialty retailer? 
That's kind of what it's all about for us. It's really cheesy, but I'm Canadian, he's Italian. I'm French Canadian which is even more intense! We're from cultures in which it's respected to be in the service industry. And that's one of the tough things about being in Britain is, you know, that doesn't really exist. 
It's a respected profession to be a waiter, to cook, to serve coffees, it's not "cool". Here being a barista is really cool, right? Don't look customers in the eye and don't ever smile. But let's spend four minutes making a coffee.  
The first business that we ever started together, we were trying to import lesser known wines from Italy and we called it The Wine Concierge. We're both sommeliers; we met because of wine. 
We've done every role in restaurants and gastropubs. And that's what I feel very blessed to do. I can curate someone's experience I can introduce you to something that it turns out even you love. I've opened your eyes to it and I've pushed you to have it, knowing full well you'll love.  
For us, this is all about we love this because of what we get back from people. You give them all your positivity, you sell them something that you believe in that. You've priced fairly. And then they come back. And they're happy to see you because they love the thing that you made them buy. 
Find out more about the amazing Il Sovrano here.