05 Sep 2023
Gin from 'smugglers' route and Athurian legend to debut at Speciality & Fine Food Fair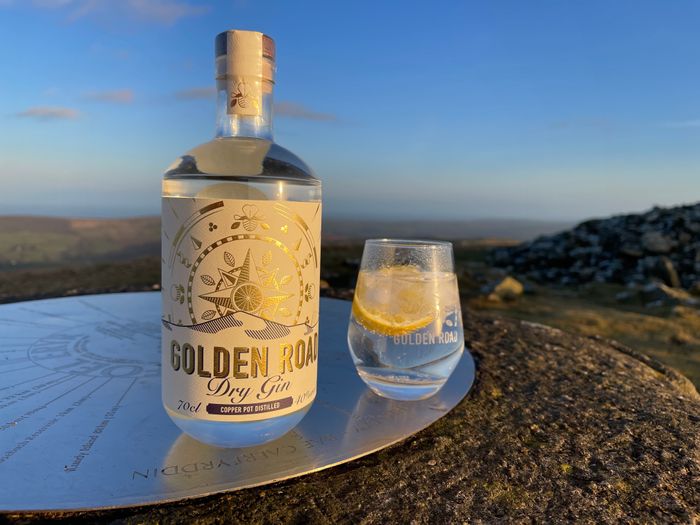 Gin fans looking for a taste of romantic tales with a hint of Athurian legends and side notes of the Neolithic era are in for a treat at this year's Speciality & Fine Food Fair, as "Golden Road Gin" makes its debut.
The copper pot gin, created from 100% natural botanical ingredients, is distilled close to the heart of Pembrokeshire's Preseli Hills and whilst it has only been available for the last 6 months, it has already picked up its own little bit of history, securing a Great Taste Award last month (August).
The gin is the result of 18 months of hard work behind the scenes for husband and wife team Phil and Jennifer Wheeler, who already run a successful luxury self catering business in the area which is just off the historic "Golden Road" route which dates back some 5,000 years.
Since then, the seven-mile moorland route, which has views that reach as far across the waters as Ireland, has been home to bronze age burial mounds, smugglers and if legends are to be believed, the final resting place of the legendary King Arthur.
"Pardon the pun but we are "steeped" in history here,' says Phil Wheeler, who together with former chef Jennifer embarked on their artisan gin journey back in 2022. "We also love a sense of adventure and an unashamed pursuit of fun and freedom, so naming the gin after this incredible trail seemed pretty apt. We've been hugely supported by the amazing team at In The Welsh Wind distillery who have worked with us from the moment we said "wouldn't it be fun if we created our own gin?" so our massive thanks go to them and indeed to our neighbour Sally who introduced us.
"Well that was 18 months ago now and here we are embarking on our journey from rural south Wales to one of the biggest food and drink shows - it is pretty surreal actually."
As for the gin itself, the unmistakable taste of juniper provides that quintessential gin essence, with citrus notes of orange and lemon following, offering a zesty height that invigorates the senses.
The unexpected twist of pink peppercorns introduces a mildly spicy and aromatic nuance which is mellowed by the gentle presence of bay. Finally, an infusion of Japanese cherry tea adds a delicate flavour that adds a layer of complexity with subtle floral notes.
As these flavours begin to meld, the finish is beautifully punctuated by a gentle sweetness, reminiscent of a serene twilight. This lingering sweetness offers a counterbalance to the spice, wrapping the experience in a velvety embrace. The journey of savoring Golden Road Gin remains etched in memory long after the glass is empty.
Former chef and co-founder Jennifer Wheeler concludes: ''We knew what we were aiming at insofar as quality and taste but it took quite some time to design the perfect profile. The goal was to create a craft gin that evokes a feeling of relaxed adventure and refreshing smoothness and I think we've done just that. It has been so exciting to share our gin with people and hear that others really love it too but to go before the panel at the Great Taste Awards was a little nerve wracking.
"Thankfully, they loved it, which we hope many more people will too, whether they are staying with us as guests, just fancy a cheeky G and T which they can buy from our online shop or if they want to pop by our stand 2752 at the Speciality & Fine Food Fair this month."