Discover the Chestnut-Fed Pork Range by Coren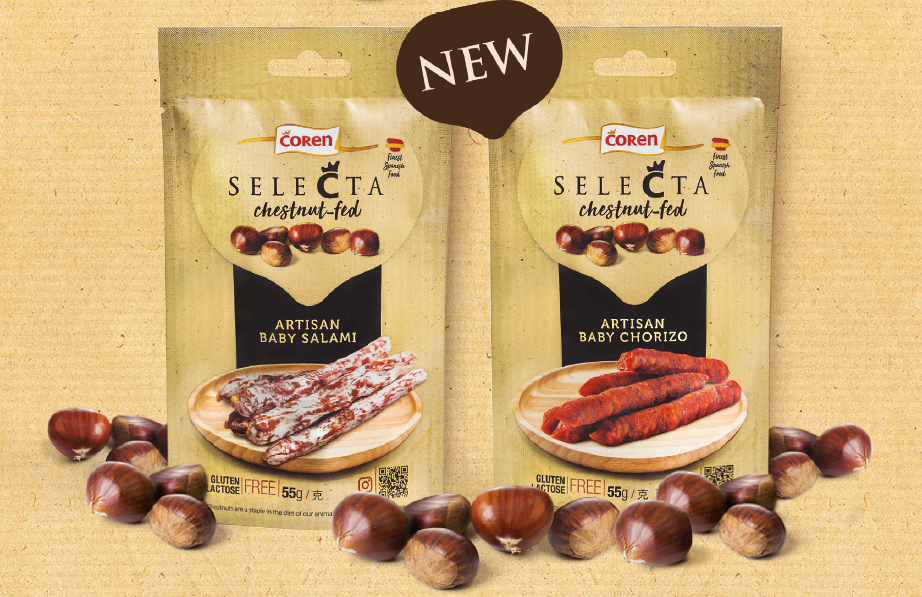 Coren is a Galician cooperative formed by more than 7,000 families with more than 70 years of expertise. Galicia, a verdant corner in the North West of Spain, has long been the ideal land for the production of top-quality food. 
Our caring farmers have chosen to recover the best aspects of our Galician heritage, combining traditional outdoor rearing on picturesque pastures and feeding the pigs on Chestnuts, while complying with the highest standards of Animal Welfare. 
There is a full range of products to enjoy on different occasions. Sliced ham and shoulder (front leg), boneless ham, Bone in whole leg Jamón, chorizo, lacon (oven cooked ham) and the NEW products for 2023, Baby Salami and Baby Chorizo, the scrumptious snacks that are loved by adults and adored by children.
Enjoy the most succulent cured meats, intensely marbled with a nutty flavour and a subtle sweetness, considered to be amongst the best in the world. 
The Chestnut-Fed Pork range from Coren has been awarded with numerous prizes in the most prestigious Taste and Quality contests.
Only the finest hind legs are selected to become Chestnut-Fed Ham. Cured for a minimum of 18 months in state of the art dry rooms, under strictly controlled conditions, the Chestnut
Fed Ham hatches as a unique masterpiece.