14 Oct 2022
A deep dive into life at Harrods with André Lewis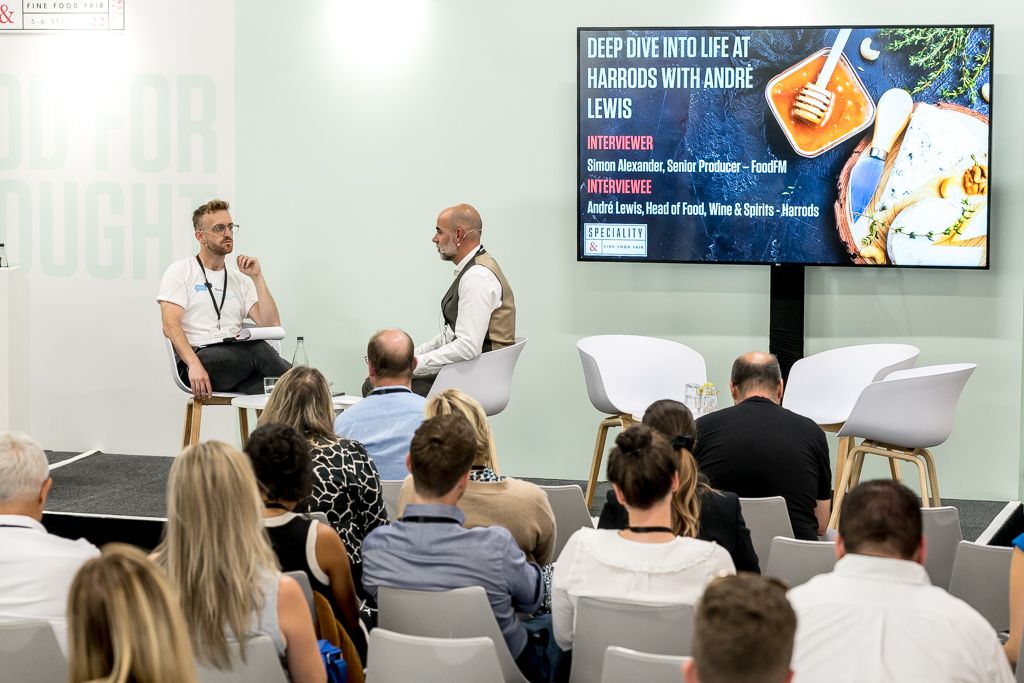 André Lewis, Head of Food, Wine & Spirits at Harrods, sat down with Simon Alexander of FoodFM at Speciality & Fine Food Fair 2022, live on the Food for Thought Stage, to discuss the food & drink ecosystem at the iconic retailer.
Before joining Harrods, Lewis spent around five years organic food delivery brand Abel & Cole, building sustainable supply chains for consumers passionate about the company's organic messaging.
He joined Harrods in 2017, at the beginning of a generational investment in the building's food halls, which include fresh food products, chocolate, ambient, bakery and wine & spirits.
Alexander asks if there was any pressure joining the business at such a historic and impactful moment.
"My career has probably been characterised by taking the next job just before I was ready for it," laughs Lewis. "Maybe I'm being a bit modest, but there was certainly a degree of 'faking it til you make it'. The thing that's made things easy has been connecting with the customer, connecting with the product and that's what I've done in every single role. If you understand where the customer is coming from, what we're really good at, and where the two meet, then you'll have success.
"For me personally, not having been involved in a concept-to-implementation shop fit process before, and doing that with a national treasure, was a bit terrifying in some ways, but exhilarating too. To take these heavily protected, listed food halls that everyone knows so well, with the Edwardian features, the tiling, the marble floors and be told you've got to decide what the overall macro space layout is going to be, what the fixtures are going to look like, how they're going to operate, what products you're going to sell in them now and in five to ten years' time, that was a big challenge but also amazing to do.
Another challenge when Lewis joined the business was taking the passion for organic and ethical food honed at Abel & Cole and implementing it at Harrods.
"There were some legacy supply chains that Harrods had, and having come from an ethical food background I was keen to understand what the opportunities were to improve those," he explains. "Where we've made the biggest difference is in supply chains for meat and fish, and lately tea, coffee and cocoa sourcing. If you're interested to hear more about those it's all on the Harrods website.
"Quite early on we partnered with the Marine Conservation Society, who I'd previously worked with at Abel & Cole, to focus on selling and processing fish that were rated one to three on their sustainability scale. As far as meat goes, we wanted to make sure that all the meat sourced from the UK was in line with the RSPCA Five Freedoms model, so that meant a whole new supply chain for meat at the time. Luckily at the time I'd brought some fantastic contacts from my experience doing that in the organic and ethical world previously."
An iconic own-label
As a unique and iconic retail brand, Harrods has an unusual relationship with own label products compared to other major food & drink retailers in the UK.
"Over 50% of our sales are Harrods own label products," says Lewis. "Our brand partnerships are relatively selective and we're not in the habit of churning through a lot of brands. Having said that, we don't want to miss the innovation that brands bring and offer and it's incredible to see so many brands doing so many interesting things at Speciality & Fine Food Fair.
"There is a big focus on what we make ourselves, and our heritage products that people know and expect of us like tea, biscuits, preserves. I'm definitely on the lookout for biscuits and preserves and potential private label partner brands in those spaces. We're seeing the biggest success at the moment in confectionary, where we've seen massive growth. I think people are ready to treat themselves a bit, and that we did do a good job refurbishing the chocolate hall which reopened in May 2021. We focussed on the categories that people love us for: we have the biggest range of dragees (chocolate covered fruits and nuts) under one private label in the world and that's a huge area of growth for us.
Constant innovation
Is there a pressure to be innovative? Asks Alexander.
"That's an expectation for sure. Harrods is a globally recognised brand and plays a part in the public imagination. We need to make sure we're fulfilling some lofty expectations, as a lot of people came to Harrods for the first time as a child and that engendered a sense of wonder. Often people are coming back to rekindle that wonder, so the question is how we can do that.
"It's not a museum; it needs to be alive and real and the way we've achieved that is having artisan handmade production taking place on the shop floor, whether that's our handmade sourdough baguettes, baked in the in-store bakery open for all to see, or the handmade chocolates.
"There are things you can achieve with those products when they're made fresh and sold straight away from a moisture content perspective that you can't achieve with products on the shelves. Once you connect with customers around those kinds of stories, they're hooked."
Brand partnerships
As one might imagine, Lewis and his colleagues receive a huge volume of messages from food & drink brands eager to partner with the store.
"We receive so many messages every day from brands," he says. "New sales techniques are bubbling up, especially from the younger generation, and social plays a huge role in that. When you're marketing your brand to consumers, you're also marketing it to prospective buyers, which is important to remember.
"We need also to be on the front foot as well. It's fair to say that because of the refurbishment programme that we've been going through for the past five years, we've been fairly inward looking and haven't had the time or headspace to be in forums like Speciality & Fine Food Fair. Having done that project and seen the growth we're now seeing, the time is right for us to be understanding the role brands play in our portfolio.
"The big thing for us is still balancing the priority we have for our own label. People come to Harrods to engage with the brand and take away a piece of Harrods, so own label will always be very important to us for that reason. It's really high priority. The role that brands play is in innovation, discovery, taking risks and connecting with customers in categories where we don't have the ability to do so. You can see that in our fresh food concessions, you have fresh pasta and Michelin star chefs doing Indian food, a pan-Asian offering.
"There's a big role for brands to play in that fresh space and in the ambient world it's more about understanding how you support the the Harrods customers' culinary journey. If they're buying a beautiful cut of beef or some fresh pasta, then it's important to think about what can brands do to augment and build on that experience."
Watch the full session with Andre Lewis at Speciality & Fine Food Fair below.