08 Aug 2022
Crumbs Brewing on transforming 'wonky' bread into delicious beer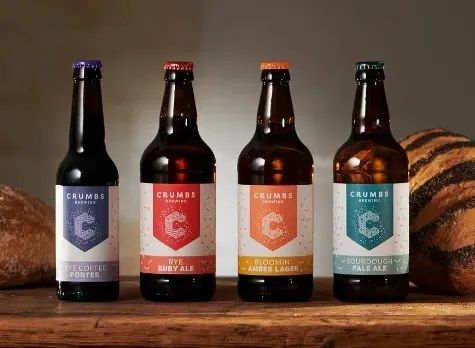 Nestled in the Sustainability Zone at this year's Fair are Crumbs Brewing, a company on a mission to save unwanted bakery loaves and turn them into a range of fantastic beers. We caught up with Co-Founder Morgan Arnell to learn more about the business. 
Tell us how the company launched
My wife, Elaine, and I created Crumbs Brewing. Our brand story began in 2017. Fuelled by a number of things:
 After many years working for brands in the corporate world we wanted to create something for ourselves rather than for a big company.
Wanting to work together again as a husband and wife team, taking more control of our time and ability to be with our young growing family.
Loving our local community and its independent foodie offering. Wanting to create something that enhanced that even further.
A growing interest and passion in the world of beer.
A frustration with the lack of action to address the growing problem of our environment and climate change. Feeling a bit powerless to really affect change and wanting to do something positive, however small.
At the same time we came across a stat that 44% of bread produced in the UK never got eaten. It is the biggest contributor to food waste and in turn food production is one of the biggest contributors to climate change. It was clearly a prominent, and easy to get your head around, environmental factor we could have an impact on. I read about a brewery that was exploring a number of alternative approaches to brewing. One of which was using bread as a key ingredient in the brewing process.
The first conversation we had was with our local bakery, Chalk Hills. At the best, their two shops had unsold loaves everyday that they gave to a local farmer, at worst they had a significant wholesale business where they suspected their customers were putting any unsold bread in black bags and binning. Over a couple of months we got them to track all this waste and it added up to quite a shocking amount.
We built the business from scratch: starting out selling alongside our baker at local markets to now supplying Waitrose, John Lewis, Southern Co-op, the National Trust as well as a wide range of pubs, restaurants, hotels and farm shops. We are passionate that the bread we use in our brews should mean something to our beers quality and flavour. Each beer is made with a single type of loaf, that way the beer reflects the bread that makes it. We believe its the sweet spot of a great purpose and a great product story. Its enabled us to grow by +50% every year and rescue over 30,000 loaves from being wasted. We are a delicious beer, bread differently.
What are some of the products you have on offer?
Each of our beers uses a different loaf in the brew. The bread itself replaces about a quarter of the malt you would normally brew with so it's an important ingredient!
Our range includes:
Bloomin' Amber Lager
Brewed using White Bloomer loaves.  Based on a Vienna lager recipe it's refreshing with a deliciously malty finish. Abv: 4.8%
Sourdough Pale Ale
Brewed using zesty Sourdough loaves. Late hops enhance the aroma but don't overpower with bitterness. A perfect session pale ale. Abv: 4.2%
Rye Ruby Ale
Brewed using the complex flavours of Rye bread, our recipe folds those flavours into a dark, warming ruby ale with real richness. 5.0%
Rye Coffee Porter
Uses spent coffee grounds from Union Hand-Roasted Coffee served in the bakery shop. Doubly good for the fight against food waste!  Strong but with a chocolatey sweet side, this is a porter to savour. Abv: 7.0%
Where are your products currently available, and what has been the feedback from your B2B and B2C customers?
We are sold nationally in Waitrose, John Lewis (where we are the best selling beer gift pack in their stores) and across the southeast by Southern Co-op. We supply the National Trust, several chains of hotels and a growing number of independent pubs, restaurants and farm shops.
Our B2B customers love the fact we bring something with a positive sustainability message to support their own sustainability agenda, we also bring a unique and differentiated story to their shelves which really drives interest.
Our consumer feedback is also great – from our own research 84% of drinkers rate us as excellent or very good and an astonishing 98% say they would buy us again.  Our consumer appeal is driven by our 3P's – our sustainable/ food waste fighting PURPOSE, our great tasting PRODUCTS and our links to a local PLACE (both our brewery and our bakery partner), people love supporting local.
What part does sustainability play in your business?
 Our sustainable purpose is core to our brand identity and our USP within a crowded beer market. As such it couldn't be more embedded in our business.
We have rescued over 30,000 loaves from being wasted (roughly a slice in every pint!)  As well as reducing food waste, it also reduces our need to use as much 'virgin' malt in our brewing, so reducing water and energy usage in our production. We estimate every pint effectively saves 100g of CO2e. That's roughly ten tonnes of CO2e saved every year through our sales.
Beyond food waste, we also partner with two charities. Every beer we sell via our web shop plants a tree with the charity 'Just One Tree' (buy one get one tree) and also makes a contribution to FoodCycle – a charity that takes unsold food from supermarkets and redistributes it to those in need.
We are always trying to champion sustainability in our day-to-day practices. We have removed plastics from our consumer facing products and with a gradual move to canning our beers rather than bottling will hopefully be able to eliminate plastic usage entirely.  We also try to re-use our primary packaging as packing material for our online orders.
Our longer-term vision for the business is to become a nationally (and indeed internationally) recognised brand that MAKES WASTE WONDERFUL
Do you have any awards or certifications that you'd like to mention?
 We have won awards for our product: e.g. Great Taste Awards and Surrey Life Food & Drink Awards.
We have won awards for our purpose: e.g. the CREST Awards 2022 for transforming food, finalists in the 2022 Great British Entrepreneur Awards for Sustainable Entrepreneur of the year.
We have won awards for our place locally: e.g. Reigate & Banstead Awards for start up of the year in 2019 and Sustainable Business of the Year in 2022.
Why have you chosen to take part in Speciality & Fine Food Fair this year?
We were impressed with Speciality & Fine Food Fair making space dedicated to brands that are championing sustainability. We like the diversity of brands exhibiting at the show which hopefully means a great diversity of potential customers visiting. Post-Covid it is also great to get out to trade shows again.
View the full list of producers at Speciality & Fine Food Fair here.