03 Jul 2023
Crafty Brewing: The flexible craft beer partner for your business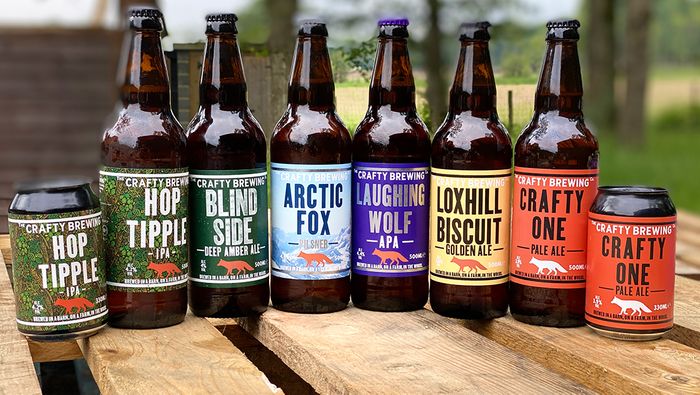 Speciality & Fine Food Fair meets the team behind exhibitor Crafty Brewing to learn more about the business.
Crafty Brewing, an award-winning Surrey-based business, has made a name for itself in the world of specialty and fine craft ales. Located on a farm in the serene Surrey countryside, the brewery has a unique charm that sets it apart from others in the industry.
Established in 2014, Crafty Brewing started its journey in a small stable block, brewing on a modest 100-litre kit. However, fuelled by passion, dedication and quality beers, the operation quickly expanded to a substantial 5,000 litre brewing capacity.
This growth allowed Crafty Brewing to offer a wide range of regular and craft ales, both bottled and canned, with alcohol by volume (ABV) ranging from 0.5% to 5.6%. The company's commitment to excellence has earned it prestigious accolades such as Gold and Silver SIBA Awards, as well as a SALSA plus audited beer brand recognition.
Crafty Brewing's success extends beyond its quality beverages. The business has forged a unique partnership with the British military, producing special craft beers for different regiments. Beers like 'Pin In IPA,' the official craft beer of The Royal Engineers, 'Jimmy IPA,' the official craft beer of The Royal Corps of Signals, and 'Gunner IPA,' the official craft beer of The Royal Artillery, showcasing the ability to build distinct and meaningful collaborations with unique partners. Additionally, it produces the official beers for Bolton Wanderers and Burnley Football clubs.
Like many suppliers in the food & drink sector, Crafty Brewing is committed to sustainable practices. Remaining true to its farming roots, the brewery feeds the spent grain from the brewing process to rare Hungarian Mangalitsa and Old Spot pigs on the farm. This eco-conscious approach highlights the company's dedication to minimising waste and supporting local agriculture.
In addition to its core offerings, Crafty Brewing has established itself as a sought-after private label partner. Its expertise in creating bespoke beer brands has attracted larger restaurant groups and retailers, as well as smaller businesses. The Crafty Brewing team pride themselves on flexibility, catering to a wide range of clientele. Whether it's a wedding venue in search of a themed ale, an Indian restaurant seeking a bespoke ale with an Indian branding twist, an event organiser looking for unique branding opportunities, or a retailer aiming to expand their white-labelled selection, the business welcomes partnerships of all sizes.
To accommodate smaller customers, Crafty Brewing offers the option to store and produce beer in smaller batches, provided the customers pay upfront for 300 cans, and the business has also collaborated with Not On The High Street, where customers can purchase a variety of beers with personalised messaging and designs, with Crafty Brewing fulfilling the orders seamlessly.
To learn more about Crafty Brewing and explore how they can meet your business needs, you can visit their website at craftybrewing.co.uk or reach out to them via email at hello@craftybrewing.co.uk.
Their commitment to quality, sustainability, and exceptional customer service positions them as an ideal partner for businesses seeking outstanding craft ales and private label solutions.