08 Aug 2022
Cocoa Canopy to bring the world of real chocolate to Speciality & Fine Food Fair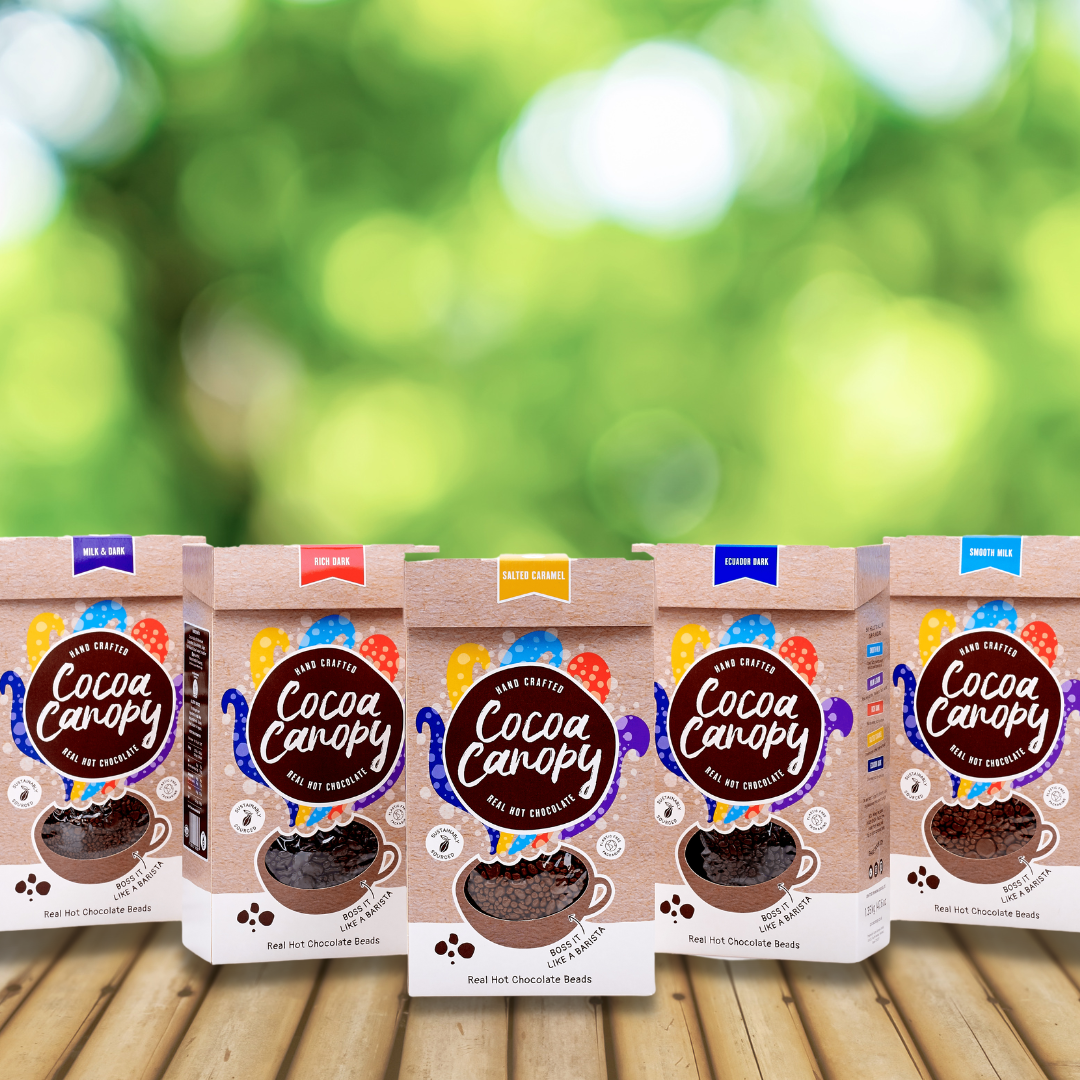 Speciality & Fine Food Fair sits down with Cocoa Canopy, the supplier bringing an unrivalled hot chocolate experience to this year's event. Plus, VIP visitors to the Fair will have the opportunity to sample Cocoa Canopy's range of high quality chocolate products in the exclusive VIP Lounge. 
Tell us about the origins of Cocoa Canopy 
Cocoa Canopy is a 2022 re-stage of Sloane's Hot Chocolate. We have always been passionate about our hand-crafted chocolate beads for chocolate lovers. The company has evolved from a very niche, artisan bean to bar operation crafting super premium confectionery to focussing in on the hero product, hot chocolate. 
The team recognised years ago that chocolate needed putting back into drinking chocolate, with the simple goal of making hot chocolate lovers happy. Our unique blends deliver an unrivalled hot chocolate experience; helping people to discover new ways to find their happy chocolate place. It's exciting to finally see growth and innovation in the hot chocolate category, following in the footsteps of coffee and tea. 
What products will you be showcasing at the Fair this year? 
The full range across our five flavours for all your chocolate needs! This includes our 225g retail packs, 500g gift sets which include vegan marshmallows and a whisk and also our catering Barista Boxes. As part of our re-stage we narrowed our range down to focus on our bestselling flavours, which we have further improved by putting even more cocoa in.
Our newest product launch is our Salted Caramel flavour. We noticed Salted Caramel has become more mainstream in recent years. Having taste tested many products out in the market we felt we could offer a more delicious product with our bespoke natural flavouring. Our mini me single serve packs for sampling only have been going down a storm too and are a perfect introduction to our brand for an on the go chocolate hit!  
Sustainability is top of the agenda for many food & drink businesses, what's your approach to this? 
We have always sourced our chocolate sustainably and packaging was a natural progression in our sustainability journey.  Bean to bar was not economically viable for the business so we carefully selected our suppliers based on our core values of respecting the planet and the people on it, now and in the future. We champion our sustainability values and proudly share our supplier partnerships logos, yet we know that there is no standing still to do our part. We work closely with our packaging suppliers to use plastic free stickers, FSC approved board which is fully recyclable and sustainably made from traceable raw materials. 
Back in 2018 we partnered with Waitrose to help them deliver against their sustainability initiatives for 2019. We were one of the first companies to switch our plastic inner bag and commit to using Natureflex bags which are home compostable, in fact, we cleared our supplier out of stock in the first two months of 2019!  
What has the feedback been to your products from your customers? 
Extremely positive to our new look and formats. Re-designing our packaging to appeal to a wider audience was of key importance and to make real hot chocolate accessible for every generation. Our eye-catching packaging has bags of personality to showcase the product's versatility and shake up a traditionally tired category. It was especially important to take care of our long-standing hospitality customers.
Our customers are at the heart of what we do, so when we receive any feedback we are very open to learn how to improve on offer and value. We only re-launched in Spring, however we are working on some hot leads and anticipating for a very busy hot chocolate season ahead.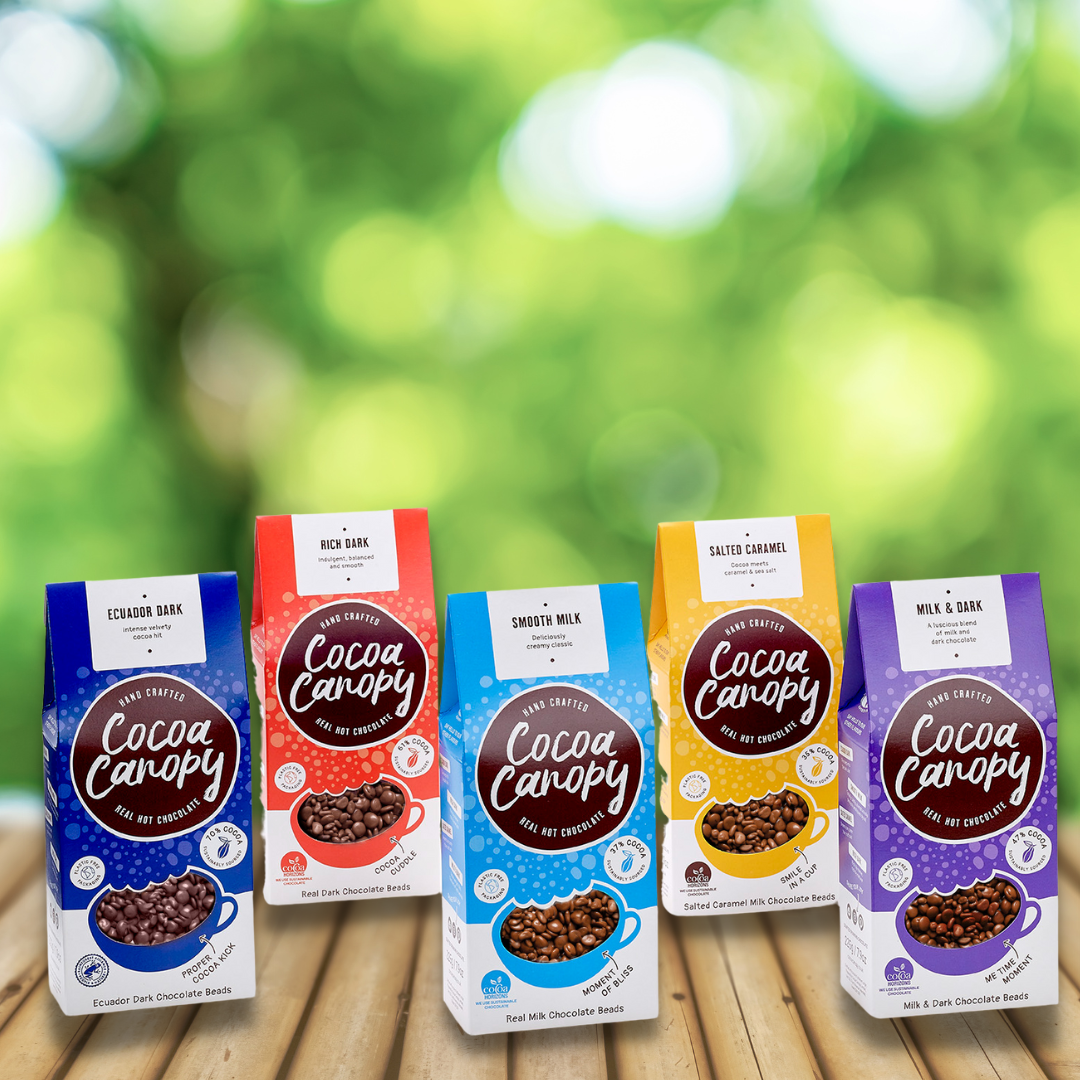 What sets Cocoa Canopy apart from the competition? 
Most consumers think of sugary powder when it comes to hot chocolate and this is what their palettes are used too. Not only do we put more chocolate into our drinking chocolate but our chocolate delivers pure wow factor in appearance and versatility. 'So it's just chocolate?' questions arises often in conversation with our customers when doing tastings and this is a key part of educating and training to ensure customers have the ultimate hot chocolate experience.
With the growth of iced beverages we offer customers a year-round caffeine free, alcohol free drink which can be enjoyed cross generationally.  
Finally, why have you chosen to take part in the Fair this year? 
After visiting last year we were super impressed by the quality and range of fine food and drink suppliers and industry insights especially post pandemic. A friendly, relaxed atmosphere is a great opportunity to meet, network and people to taste your product. No one else does what we do, we are the first to hand craft hot chocolate in this way.
While the hot chocolate category is growing and becoming premiumised, we offer the innovation in the market.  We are a small yet growing team with big ambitions and excited our real hot chocolate is ready to be discovered.  View the full list of producers at Speciality & Fine Food Fair 2022 here.