18 Producers from the Spanish Region of Castilla y León to Showcase Products at Speciality & Fine Food Fair 2023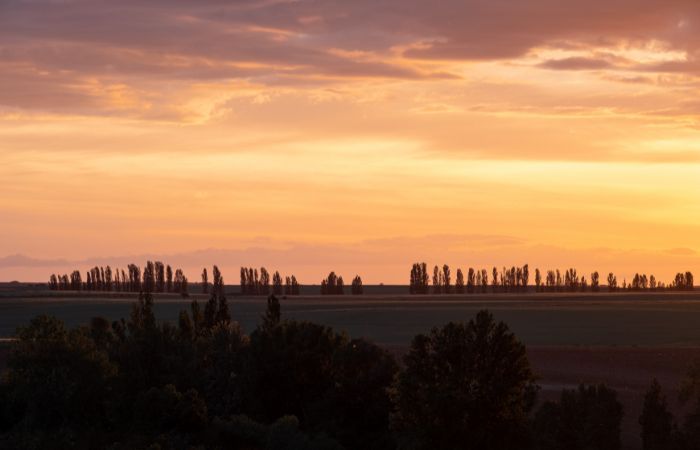 The Institute for Business Competitiveness in Castilla y Leon (ICE) is the instrument of the Castilla y León Regional Government for business development and business services. It is part of the Regional Ministry of Finance and Economics and works mainly in 3 areas: Innovation, Financing, and Internationalization. For more information: https://empresas.jcyl.es/
During Speciality & Fine Food Fair 2023 the REGION OF CASTILLA Y LEóN will be participating with 18 companies:
WINES:
COOPERATIVA CIGALES (DO CIGALES).
BODEGAS MAZAS (DO TORO).
BODEGAS SINFORIANO (DO CIGALES).
JORGE GRANADO FUENTE (DO RIBERA DE DUERO).
LAR DE MAíA (VINOS DE LA TIERRA DE CASTILLA Y LEóN).
FOOD:
YEMAS DE SANTA TERESA (Delicatessen/gourmet)
FISáN (Ibérico Pork products)
REVISáN (Ibérico Pork products)
MARTIRELO (snacks)
MANUEL GUILLéN (Ibérico Pork products)
ONESIMUM (confectionery)
BEHER (Ibérico Pork products)
QUESOS REVILLA (cheesemakers)
CANARD (Delicatessen/gourmet)
MARCIAL CASTRO (Ibérico Pork products)
QUESOS LA ANTIGUA (cheesemakers)
EL GRAN CARDENAL (cheesemakers)

Wine Map of Castilla y León
The autonomous community boasts 14 Designations of Origin, 3 "Vinos de Pago" (single-estate wine), and there is also a specific quality seal for the entire territory: the Vino de la Tierra de Castilla y León Protected Geographical Indication (PGI). Our region comprises a vast agricultural space dotted with vineyards, mainly grouped around the basin of its principal river, the Duero, where some of the world's best-known wines are produced.
Castilla y León is home to red, rosé and white wines made from various grape varieties including tempranillo, tinta de toro, garnacha, godello, malvasía, mencía or rufete. They include a number of autochthonous varieties such as verdejo, Juan García, prieto picudo or bruñal. The autonomous community produces wines of all types: young and aged, reserves, dry, semi-dry, sweet, sparkling or fortified wines. Additionally, wine enthusiasts will be delighted by the region's vast wealth in this sector, which has positioned it at the forefront of wine tourism.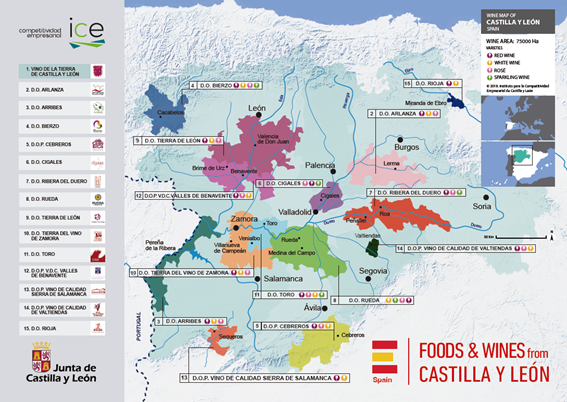 Foods of Castilla y León
The gastronomy of Castilla y León is a treasure trove of cultural and ethnographic heritage. Despite sharing tastes and flavors across its nine provinces, the region is also characterized by its gastronomic diversity. The Castilla y León gastronomy has around 65 quality figures including Denominations of Origin, Protected Geographical Indications, Guarantee Marks and Quality Wines which totals more than 250 listed food and agriculture products.
Pork is one of the region's hallmark meats, with ham produced in Salamanca from Iberian breed pigs holding the PDO Guijuelo quality seal accounting for over 50% of all the cured Iberian ham sold in Spain. Segovia is renowned in particular for its roast suckling pig.
Castilla y León has more beef cattle than any other region in Spain, and it is home to several specifically identified breeds. The region's lands also boast a tradition of ox breeding, producing juicy red meats that are highly valued.
In addition, lamb features prominently in the region's gastronomy, especially its famous suckling lamb. Castilla y León is also Spain's biggest sheep's cheese producer.
Make sure you visit the Castilla y León pavilion at the Fair in September to learn more and taste test some of the products for yourself!