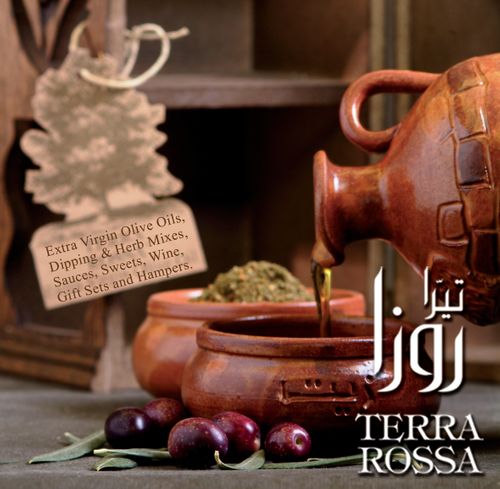 Terra Rossa
Stand: 831
| Design
| Manufacturing
| Manufacturer
| Yogurt
| Other Foodservice
| Vegetarian
| Oils / Fats
| Sugar Confectionery
| Lebanese
| Exporter
| Printing & Labelling
| Gift Food
| Artisan / Speciality / Fine
| Ambient
| Table Sauces
| Cooking Sauces
| Jams / Honey / Spreads
| Importer
| Independent retailer, delicatessen & farm shop
| Flavours / Flavour Enhancers
| Private / White Labelling
| Dry / Canned / Bottled Goods
| Garden centre
| Importer
| British
| Pasta / Rice / Grains
| Instore catering

Winner of 74 Great Taste Awards over 18 years for an exquisite range of delicious Arabian specialties and the 2018 Golden Fork Award for Rashi & Dibis.
We're delighted to announce 3 new sauces for 2023 which are Zaatar & Tomato Ketchup, Taratour Tahini Sauce & Dressing and Plum Tomatoes with Herby Zaatar and EVOO.
The range includes UK-made small batches of Mezze sauces and herb mixes, Jordanian 1st cold pressed and infused olive oils and Lebanese cooking ingredients. All beautifully presented individually or as giftsets, in jute bags, corrugated cartons, dipping kits with hand-made Palestinian and Jordanian bowls and unique bespoke hampers.
Address
10 Burnell Road
Sutton
Surrey
SM1 4EE
United Kingdom
Contact exhibitor or request product samples