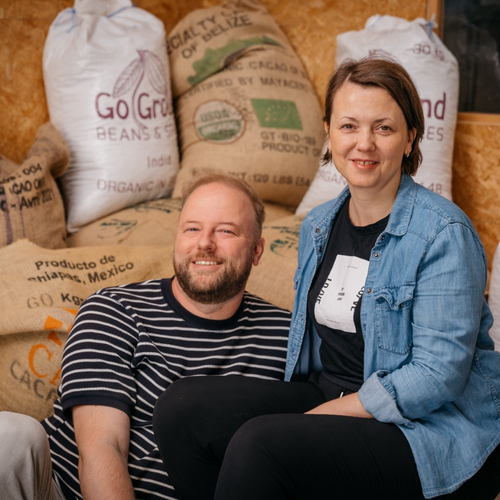 Mike & Becky
Stand: 1530
| Artisan / Speciality / Fine
| Fairtrade
| Christmas
| Easter
| Feel good
| Winter
| Organic
| Sustainable
| Vegan
| Belgian
| Food & Drink (Goods)
| Quick Service / Fast Food / Cafe / Snack Bar / Coffee Shop / Food Hall / Street Food
| Independent Retailer / Delicatessen / Farm Shop
| Other Hot Drinks
| Chocolate
| The Drinks Cabinet
| Convenience store
| Independent retailer, delicatessen & farm shop
| Supermarket & multiple retailer
| Wine, beer & spirit retailer
| Wholesale
| Distribution
| Importer
| Customer Experience
| Demonstration
| Innovation
| Manufacturing
| Operational Efficiency
| Carbon Emissions
| Tasting

At MIKE&BECKY, the cacao is the star: its origin, the terroir, and its farmers. Our partner plantations around the world are free of child labor, eco-responsible, organic, and do properly remunerate their workers for their excellent efforts and cacao.
Here in Brussels, we like to keep things simple: organic cacao beans, organic beet sugar, and a tad of organic cacao butter. That's all there is in our chocolate. All made in our transparent, 100% green-energy workshop.
We are doing every step of our chocolate making ourselves – from cleaning and roasting, to grinding, conching, tempering, and wrapping.
For us, working properly and honestly from Bean-to-Bar, is simply the "future of chocolate".
Address
MIKE&BECKY (Jumbb srl)
Avenue Brugmann
243
Uccle
Brussels
1180
Belgium
Contact exhibitor or request product samples