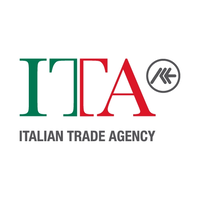 ITALIAN TRADE AGENCY
Stand: 2030
| Other Services
| Tasting
| Other Services
| Demonstration
| Innovation
| Marketing

ITA - Italian Trade Agency is the Governmental agency that supports the business development of our companies abroad and promotes the attraction of foreign investment in Italy.
With a motivated and modern organization and a widespread network of overseas offices, ITA provides information, assistance, consulting, promotion and training to Italian small and medium-sized businesses. Using the most modern multi-channel promotion and communication tools, it acts to assert the excellence of Made in Italy in the world.
The Italian Trade Agency is pleased to introduce you to the Italian companies which joined TrackIT blockchain project.
With TrackIT project Italian companies can track their products and supply chain with blockchain technology.
The use of blockchain technology enables a transparent verification of the product's information. By tracking the supply chain of a product blockchain provides a way to check the product origin, the production process and all the company declarations in terms of sustainability and authenticity of Italian manufacturing.
Blockchain technology for product traceability is a useful tool for information transparency, ensuring the immutability of the recorded data and the certain date of its recording. By its nature, blockchain thus represents an assumption of responsibility from the company recording the product data and a deterrent against the inclusion of untrue information building trust with consumers, who are increasingly interested in knowing where their products come from and how they are produced.
Blockchain-based traceability enhances the product's reputation and appeal creating a competitive advantage.
Foreign companies interested in Italian products tracked with blockchain can find here their business partners, searchable by sector or product.
Address
SACKVILLE HOUSE
40 PICCADILLY
LONDON
W1J 0DR
United Kingdom
Contact exhibitor or request product samples