Fiji Ginger
Stand: 1340
| Retail
| Wholesale / Distribution
| Foodservice
| Manufacturer
| Occasions
| Ingredients
| Gift Food
| Kosher
| Artisan / Speciality / Fine
| Manufacturing
| Nuts
| Trends
| Convenience Store
| Online Retailer
| Independent Retailer / Delicatessen / Farm Shop
| Public Sector Catering – Education, Healthcare, Law Enforcement, Armed Forces
| Vegan
| Organic
| Cheese & Dairy
| Customer Experience
| Prepared Food
| Baked Confectionery
| Design
| Full Service Restaurant
| Private / White Labelling
| Food & Drink (Goods)
| Plant Based
| Pricing
| Other Retailer
| Tasting
| World Cuisine
| Chocolate
| Supermarket / Multiple Retailer
| Instore Catering
| Cash & Carry
| Bakery
| Innovation
| Free-from
| Snacks & Confectionery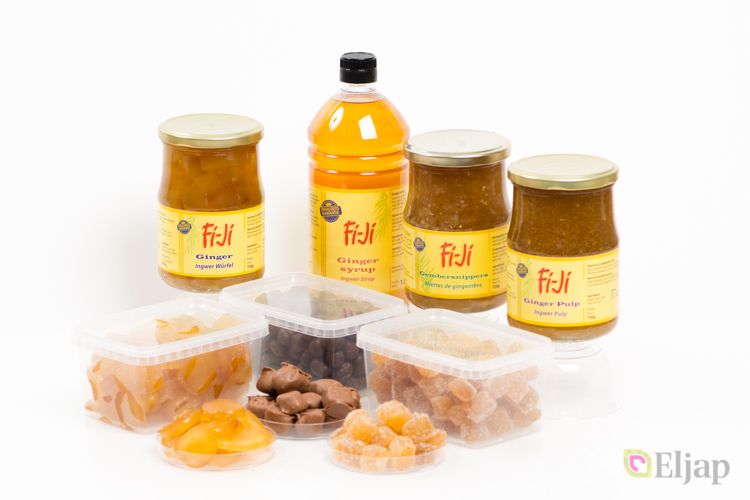 Eljap is specialist in preserved ginger from Fiji Islands. We import en export ginger, on syrup, crystallized and pickeled for sushi.
We pack ginger concepts in our own facility in Holland for Retail, Food Service and Industry. In our big assortiment we can offer several sizes and shapes in several packaging with our brand or your own.
Ginger is a wonderfull ingredient is sauces, bakery, dairy and chocolate industry.
Address
Schuttershoefweg
Chaam
Noord Brabant
4861PV
Netherlands
Contact exhibitor or request product samples