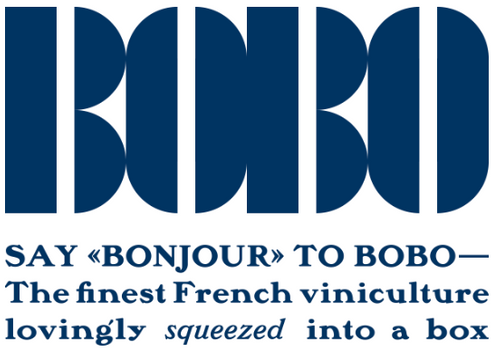 Bobo Wines
Stand: 2756
| Independent retailer, delicatessen & farm shop
| Supermarket & multiple retailer
| Wine, beer & spirit retailer
| Other retailer
| Online retailer
| Wholesale
| Other wholesale & distribution
| Distribution
| Buying groups & consortia
| Hospitality
| Organic
| Subscription
| Vegetarian
| Recyclable
| Start-Up Village
| Long-life
| Carbon Emissions
| Food & Drink (Goods)
| Artisan / Speciality / Fine
| Tasting
| Ambient
| Sustainability
| Importer
| Online Retailer
| French
| Wine, Beer & Spirit Retailer
| Innovation
| Sustainable
| Networking
| Vegan
| Wine

A box that ticks all the right boxes!
At BOBO, our mission is simple: to challenge the perception of boxed wine. This begins with what goes inside. Our delicious, French organic wines are made for us by a hand–picked selection of winemakers, who pour passion, craftsmanship and artistry into every box. That's why we've proudly put their names (and handwriting) on our labels.
Our boxes are marvellous too; lightweight, unbreakable and fully recyclable, they represent a more convenient and sustainable alternative to glass bottles.
Better for your tastebuds. Better for the planet. Santé!