Beckford's Rum c/o Zen Experiential Ltd
Stand: 1420b
| Retail
| Wholesale / Distribution
| Hospitality
| Business Services / Supplier
| Exporter
| Local Tourism
| Mixology
| Drinks
| Demonstration
| Diversity
| Marketing
| Carbon Emissions
| Food & Drink (Goods)
| Tasting
| Ambient
| Sustainability
| Trends
| Online Retailer
| Pitching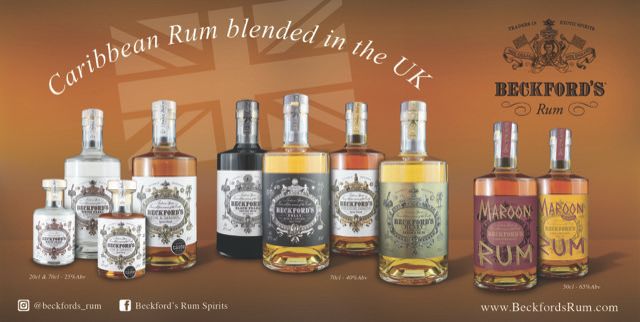 Beckford's are one of the UK's most innovative blenders within the category of flavoured Rums. Established in 2019 the company now sells over 120,000 bottles
Per year in the UK directly to the consumer and via some of the most prestigious outlets such as all the Royal Palaces, the Thames Clipper boats and the
House Of Commons!
The winner of 12 important trade awards the Beckford's range includes Rum blended with fresh caramel, Coconut and 3 different variations of spiced Rums at
25% ABV, 40% ABV and even cask strength at 65% ABV. Blending is an exact science and requires the sourcing of the very best ingredients, time spent in the
Blending tanks and trialling the products to focus groups before bringing them to market. Flavoured Rums is one of the fastest growing categories in the spirits
World and is helping to drive the most amazing innovations in cocktail making both in cocktail bars throughout the UK and in the home as consumers have never
Had access to such complex and balanced flavour combinations. Beckford's are at the forefront of this drinks revolution!
Address
19
Lansdown Crescent
Lansdown
Bath
BANES
BA15EX
United Kingdom
Contact exhibitor or request product samples