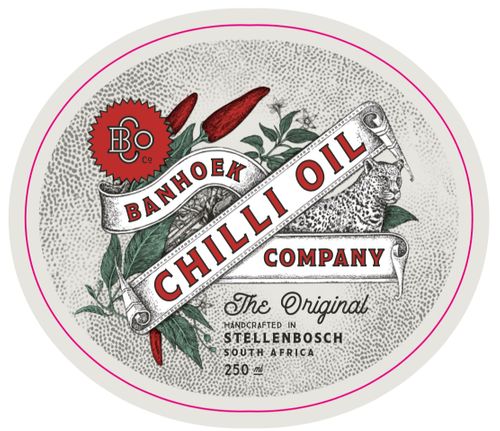 Banhoek Chilli Oil
Stand: 3165
| Ambient
| Halal
| Kosher
| Plant Based
| Vegan
| Vegetarian
| World Cuisine
| Food & Drink (Goods)
| Distribution
| Wholesale
| Grocery
| Retail
| Wholesale / Distribution
| Manufacturing
| Marketing
Banhoek Chilli Oil - A Kitchen Essential For The Spice Connoisseur
Banhoek Chilli Oil is handcrafted in small batches in the beautiful Banhoek Valley near Stellenbosch, South Africa. Using only the highest quality rapeseed oil and Thai Birdseye chillis, Banhoek Chilli Oil delivers the perfect combination of flavour versus heat. No preservatives, 100% natural, GMO free. Deliberately created to act as a complement to a wide range of food ingredients without being overpowering. The oil has a beautiful clear golden colour with a subtle, slightly smoky chilli aroma and consistent level of spiciness.
Winner of multiple international awards, this delicious, golden-hued oil delivers just the right level of spice. Whether your customers like their food fiery hot or just a tickle on the tongue Banhoek Chilli Oil delivers that something special to stir fries, marinades, vegetarian and vegan cuisine, meat, fish, seafood, pasta, pizza, eggs or even chocolate based desserts.
FSCC 22000, Kosher and Halaal certified.
Address
Crows Farm
Belchamp Walter
sudbury
Suffolk
CO107AP
United Kingdom
Contact exhibitor or request product samples