42% Vegan creamy cashew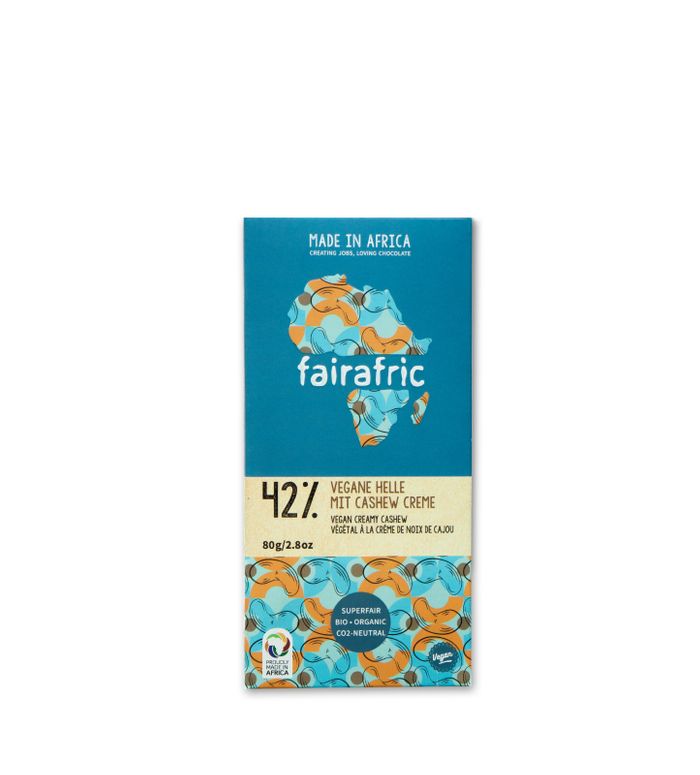 Our 42% vegan creamy cashew chocolate bar is more than just a delicious treat - it's a celebration of high-quality ingredients and sustainability. We carefully source our cocoa beans from sustainable farms, ensuring that our chocolate not only tastes good but also does good for the environment and the communities that produce it. We then roast the beans to perfection to bring out their natural richness and complexity.
But the real magic happens when we blend the cocoa with organic cashew milk. Cashew milk is a great dairy-free alternative, and we use only the best organic cashews to ensure that our chocolate has a creamy texture and a rich, nutty flavor. We extract the cashew milk with care to preserve its natural nutritional value, ensuring that our chocolate is not only delicious but also good for you.
To sweeten the deal, we use only natural sweeteners in our chocolate. We believe that food should be both delicious and healthy, and that's why we choose natural sweeteners that not only enhance the flavor of our chocolate but also provide several health benefits.
But don't just take our word for it - try our 42% vegan creamy cashew chocolate for yourself and taste the difference. It's the perfect guilt-free indulgence for anyone who loves high-quality chocolate and cares about sustainability and health.
Categories
Snacks & Confectionery
Chocolate
Ready-made Packaging
Shelving & Containers
Ambient
Fairtrade Sourced Ingredients
Dessert
Feel good
On the go
Snacking
Organic
Plant Based
Sustainable
Vegan