04 Jul 2023
Shortlist announced for Scotland Food & Drink Excellence Awards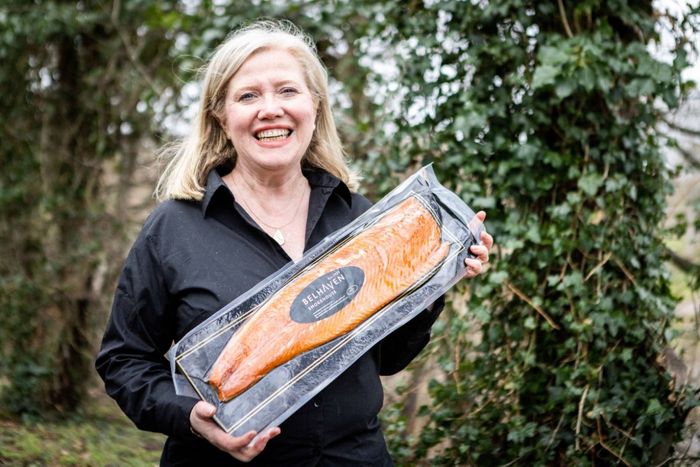 The annual Scotland Food & Drink Excellence awards, which have been running for over 22 years, recognise the highest quality produce as well as leading individuals, suppliers, and companies.
This year, winners will be announced at a black tie award night by TV personality Fred Sirieix on 7 September at the EICC.
Tasted categories in this year's Excellence Awards focus on the standout products driving value and consumer choice in the market.
These categories have all been tasted and judged by an expert panel of industry buyers, chefs, hospitality leaders, and food and drink writers.
Shortlisted businesses and products represent the breadth of Scottish food and drink production, from quality shellfish to craft beer, dairy to tea, and confectionary to Scotch beef.
Showcasing innovation, enterprise and above all else, excellence, in the Scottish food and drink scene, businesses shortlisted include major producers like Graham's, the Family Dairy, Bakkafrost, and Mackie's, as well as smaller artisanal producers like Chocolatia, Scottish Honeyberry Growers, and The Wee Scottish Cider Company.
Iain Baxter, Chief Executive at Scotland Food & Drink, said: "Every year the Excellence Awards attract an incredibly diverse range of entries of seriously impressive quality.
"While tasting each of the products entered into the awards sounds like a dream, in reality, selecting the very best of the best has been extremely difficult for our expert judging panel.
Enchanted Forest 2023: Food and drink menus and prices as the light show returns to Pitlochry
"This year, judges remarked on the exceptional quality, innovation, and diversity of products on show.
"The industry has been through a lot of challenges in recent years but it's fantastic to see our food and drink businesses continue to pursue excellence in terms of their production and their broader business practices.
"This year's Awards will yet again be the premier night in one of Scotland's most valuable and successful industries. Congratulations and good luck to all those shortlisted."
Asda continues its support for the Excellence Awards as headline sponsor.
Ashley Connolly, Local Buying Manager Scotland, Asda, added: "Asda is honoured to support The Excellence Awards again this year, where we get to witness the passion that these Scottish producers have for their craft.
"Judging the tasted categories was a tough feat, but I, and the rest of the judging panel, believe the finalists are the best of the best within the industry."
The full shortlist of finalists:
Taste:
Category
Entry
Product
Artisan Product of the Year
OR-ganic
Premium cold pressed organic rapeseed oil
Belhaven Smokehouse
Charcoal smoked salmon
Brose Oats
Brose Original Style
Angels Dare Cocktails
Secret Orchard
Salar Smokehouse Ltd.
Flaky Smoked Salmon
Bakery Product of the Year
Clootie McToot Ltd
Apple pear and cinnamon clootie dumpling
Stockan's Oatcakes Ltd
Orkney Heritage Bere Barley chilli and cheese oatcakes
Lazy Day Foods
Mini Vic the Vegan Catapillar Cake
Beer & Cider Product of the Year
The Wee Scottish Cider Company
Seidear, Champagne Method cider from Scottish castle gardens
Heather Ale Ltd/ Williams Brothers
Orange Ginger Beer
Six°North
Framboise
Confectionery Product of the Year
Fetcha Chocolates
Campbeltown Distilleries Collection
Ross's of Edinburgh Ltd
Ross's Butter Tablet Highland Cow Gift Box
Chocolatia
Chloe's Signature Collection
Braemar Chocolate Shop
Spirit of Scotland selection
Mademoiselle Macaron
French Macarons
Dairy Product of the Year
Mackie's of Scotland
Strawberry Swirl
Mossgiel Organic Farm
Mossgiel Organic Milk
Graham's The Family Dairy
Skyr Pouches
Graham's The Family Dairy
Kefir Yogurts
Distilling Product of the Year (White Spirits)
North Uist Distillery Co.
Downpour Scottish Dry Gin
Muckle Brig
Lind & Lime Gin
Isle of Barra Distillers Co.
Barra Atlantic Gin
Distilling Product of the Year (Dark Spirits)
Stravaig Spirits
Tri Carragh
Duncan Taylor Scotch Whisky
Black Bull 12-Year-Old blended Scotch whisky
Cabezon Beverage
Ron Cabezon
Fish & Seafood Product of the Year
St. James Smokehouse (Scotland) Ltd.
Smoked Salmon Pure Royal Filet
Belhaven Smokehouse
Belhaven Cure Cold Smoked Salmon
Bakkafrost Scotland
Native Hebridean Scottish Salmon
Campbells Prime Meat (Meat, Fish & Deli)
Orkney Hand Dived Scallops
WeeCOOK
WeeCOOK Fishwife Pie
Free From Award
Beastly Brews
Panther M*lk
Nudie Snacks
Cauliflower Crisps
Tilly Confectionery Ltd
Mrs Tilly's Vegan Original Fudge 150g
Angelic Free From Ltd
Safetylicious Oat Squares
Healthier Choice Product of the Year
Genius Brewing
Gen!us India Pale Ale
Graham's The Family Dairy
Kefir Yogurts
The Prebiotic Company Ltd.
ió fibrewater
Scottish Honeyberry Growers
Freeze Dried Honeyberries
Aye Pickled
Kimchi
Meat Product of the Year
Great Glen Charcuterie
Green Pepper Venison Salami
Simon Howie Foods
Black Label Gastro Burger
Highland Meats a division of Dunbia (UK)
Angus 1808 Dry Aged Cote de Boeuf
East Coast Cured
Black Garlic & Oloroso Sherry Salami
Hugh Black & Sons Ltd
Traditional Haggis
Scotch Brand Product of the Year
Hugh Black & Sons Ltd
Ribeye Fillet Steak
Hugh Black & Sons Ltd
Scotch Lamb Valentine Steak
John Gilmour Butchers
Tweed Valley 35 day dry aged Cote de boeuf
Campbells Prime Meat Ltd
Scotch lamb Valentine Steaks
Soft Drinks Product of the Year
Shibui Tea
Tropical Green
The Prebiotic Company Ltd.
ió fibrewater
Kilduff Farm Kilduff Farm
Sweet Apple Juice
Cruice
Original Lemonaidan
Snacks & Accompaniments Product of the Year
Aye Pickled
Kimchi Hot Sauce
Findlaters Fine Foods
Wilted Spinach and Ricotta Dip with Roasted Cashew nuts
Schoolyard Chillies
Chocolate Chilli Pretzels
The Drinks Bakery
Drinks Biscuits - Mature Cheddar, Smoked Chilli & Almond
Galloway Lodge Ltd
Spicy Pear Chutney
Category
Entry
Best for Scottish (Independent)
Cafe St Honore
John Gilmour Butchers
Mharsanta Restaurant & Bar
Hickory
Best for Scottish (Multiple)
Scotmid Co-Operative
Asda Stores Ltd
Hugh Black & Sons
Aldi
Employer of the Year
Hickory
Aldi
Lazy Day Foods
Clootie McToot Ltd
Primary Producer of the Year
Deer Manor Gourmet Mushrooms
Angus Soft Fruits
Regional Food and Drink Award
Bowhouse
Outer Hebrides Tourism
Eat SW Scotland
Salar Smokehouse Ltd
Highland Food and Drink Trail Ltd
Sustainability Award
Highland Spring Group
Mackie's of Scotland
Albert Bartlett & Sons (Airdrie) Ltd
Angus Soft Fruits
Young Talent
Albert Bartlett- Rebecca Letham
A&D Hunter- Nia Hunter
Quaker- Aimee Scott
Tabrifics Ltd- Johnathan Livingstone Laing