04 Sep 2023
Mahala Botanical Alcohol-Free Spirit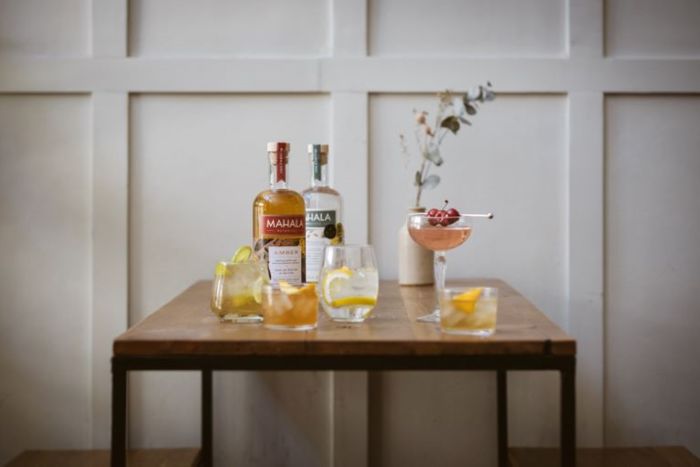 Mahala Botanical extends launch in UK to include new Amber with Chilis, smoke and oak finish
Mahala Botanical Amber is a brand new dark alcohol-free spirit, created to complement award-winning Mahala Botanical Classic, which launched to much acclaim last year
Also free from sugar and artificial flavours and colourings, Mahala Botanical Amber cleverly brings chillies, smoke and oak to its carefully-balanced blend of botanicals
The perfect drink to mix with ginger ale/beer, or use as an alcohol-free base for an alternative version of cocktails such as the 'Old Fashioned', Mahala Botanical Amber is available to purchase now online at cutlerdrinks.co.za, drinknil.co.za and zerodrinks.co.za and through a number of carefully-selected retailers
Mahala Botanical, an award-winning alcohol-free spirit crafted in South Africa by one of its leading female Master Distillers, can today announce the launch of Mahala Botanical Amber: an innovative line extension that complements its core award-winning Mahala Botanical Classic, which launched last year to much acclaim.
Mahala Botanical Amber is an exciting new dark liquid which delivers an innovative and tantalising new offering for the alcohol-free market, delicately balancing a clever combination of chillies, smoke and oak in addition to the nine hand-sourced botanicals* found in the original brand, some of which are foraged from the Master Distiller's own farmland.
Ideal to mix with a premium ginger beer/ale, on opening a bottle of Mahala Botanical Amber the fragrant smoke, spices and oak become apparent, with subtle sweet floral notes of the Honey Bush coming through. On sipping, the blend first tastes of warm spices with chilli and smoke, and is followed by a long, warm and spicy finish.
Created and co-founded by respected Master Distiller Danielle Schoeman at her Donã Distillery in Cape Town, South Africa, Mahala is crafted using a unique, triple-distillation process, achieving a depth of flavour and prestige of finish that is notoriously hard to achieve within an alcohol-free spirit. Danielle comments: "We believe that consumers shouldn't have to compromise on taste or quality when choosing an alcohol-free drink, and we are fortunate to own and oversee our entire production process from 'Farm to Glass', ensuring the highest possible standard every step of the journey.
"Through our Mahala Botanical range, we have created two exciting propositions, each with their own unique and individual appeal. Our original Mahala Botanical is light and refreshing, with a herbaceous and citrus finish, while our new addition, Mahala Botanical Amber, is a warm and spicier offering, perhaps best appealing to those who prefer bolder, darker drinks."
Mahala – meaning "free" in Zulu – also delivers appeal for today's conscious consumer, being free from sugar, gluten, and artificial flavours or colourings, in addition to alcohol. Furthermore, the brand employs previously disadvantaged employees, and carefully considers its partnerships, supporting the likes of the Sparrow Society through its purchase of packaging materials ethically crafted by local South African female sewing co-operatives[AG1] [ps2] .
Co-founder and Managing Director Paul Scanlon adds: "As predicted, the Low-and-No category continued to thrive in 2022, driven by an increasing number of sober curious consumers who are keen to discover fresh, original, new and inventive alternatives to alcohol. Mahala Botanical Amber is a delicious and exciting new line extension which continues to increase the options available for this growing audience."
https://youtu.be/R0L4oH74Mug?si=CEXy0FL1fMFpr2RR