05 Sep 2023
HAPPi Gets Festive with Two New Bars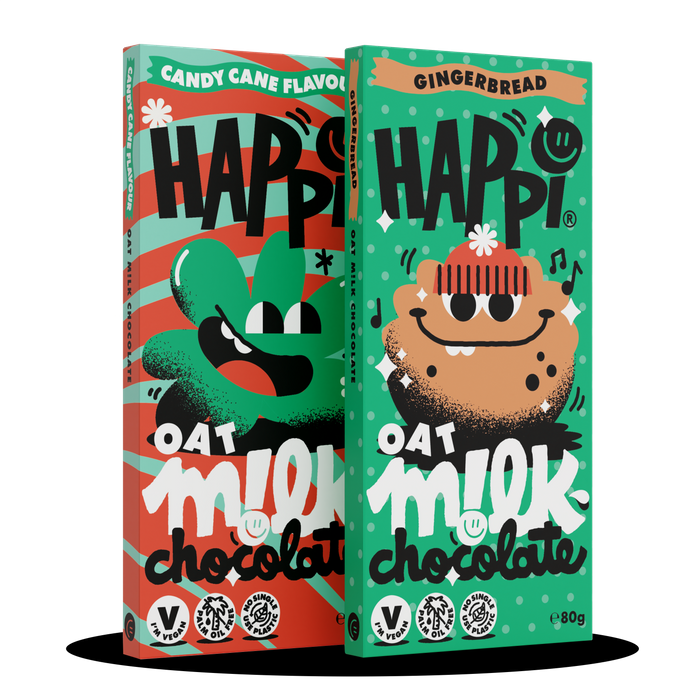 The new Gingerbread and Candy Cane Flavour oat m!lk chocolate bars will be added to HAPPi's range just in time for the celebrations, giving sweet-toothed chocolate lovers the perfect festive treat with a nod to the traditional red and white cane-shaped candy and crunchy gingerbread cookies.
HAPPi's new seasonal bars promise rich and creamy vegan-friendly chocolate that's also sustainable and ethically sourced. Available in 80g bars, the new Candy Cane Flavour is a delicious but subtle blend of peppermint flavouring with oat m!lk chocolate, giving a nod to the festive sweetie favourite, whilst Gingerbread offers a warming, winter combo that has all the spice and sweetness needed to give a real taste of Christmas in every bite.
HAPPi's oat m!lk Chocolate not only tastes great, but is also lower in sugar than other leading milk chocolate brands; and is made using the best sustainable and ethically-sourced cacao from Columbia's Luker Chocolate.
Click here for our latest product deck: https://www.dropbox.com/t/nLNBXvgFfX4mPHcA