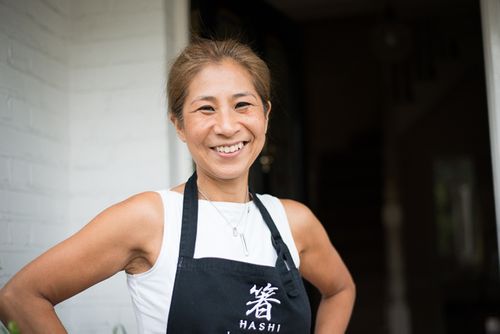 Reiko Hashimoto
Founder
,
Hashi-Japanese Cooking
Reiko was born in Kyoto, the ancient capital of Japan. She grew up in a traditional Japanese family with a food-fanatic mother who has shaped her love of Japanese cooking today.
20 years ago, Reiko Hashimoto set up Hashi Cooking, becoming the first person in the UK to teach the art of sushi. Today, she has set thousands of students on the path to creative and accessible Japanese cooking, coaching a range of talent from raw beginners to professional chefs.
In 2011, Reiko released her first cookbook – 'Hashi, A Japanese Cookery Course' – with Absolute, an imprint of Bloomsbury Publishing Pls and it was such a success amongst beginners and professional chefs alike that she has published a second book 'Cook Japan, Stay Slim, Live Longer'. Published by Bloomsbury in 2017, this book has been motivated by Reiko's recognition that the Japanese diet is one of the healthiest and yet most delicious in the world – offering a sustainable life-long way of eating healthily.
Reiko's third book has published during first lock-down in April 2020. This is a Japanese Vegetarian book taking a part of Bloomsbury's World Vegetarian series. Reiko, Japan was chosen as one of the launch books of this entire series.