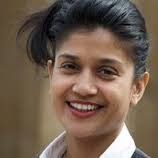 Abbey Short
Venue Catering Manager
,
Olympia London
Abbey Short began her career in the hospitality industry over 20 years ago, and after building her career from the bottom up, she joined Olympia London in 2016 as Venue Catering Manager.
Abbey's tenacity and in-depth knowledge of the service industry has led her to implement food and beverage strategies that enhance customer experience. She has successfully led projects that deliver cost benefits to the business and has analysed and worked to improve the environmental impact of the food and beverage operations.
In 2018, Abbey took the lead on how food waste was managed within the operation at Olympia London. In 2019 she became a Guardians of Grub Ambassador and signed up to The Courtauld Commitment 2030 | WRAP, reducing food waste at Olympia London by 17% within the first 6 months of measuring.
A strong proponent of the Association of Event Venue (AEV) working groups and WRAP, Abbey has championed the eGuide catering guidance and is an active member of Olympia London's Grand Plan committee. She continues to work alongside event organisers and the in house catering team to identify ways they can reduce food waste at events and save costs without compromising on quality or visitor experience.