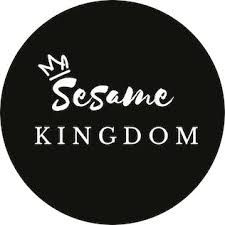 Sesame Kingdom
Stand: 2504
| Manufacturing
| Other Foodservice
| Retail
| Vegetarian
| Pub / Bar / Club
| Hospitality
| Exporter
| Wholesale / Distribution
| Gift Food
| Quick Service / Fast Food / Cafe / Snack Bar / Coffee Shop / Food Hall / Street Food
| Long-life
| Food & Drink (Goods)
| Food & Drink (Foodservice)
| Artisan / Speciality / Fine
| Wholesale
| Snacks & Confectionery
| Hotel / Accommodation
| Foodservice
| Vegan
| Other Hospitality
Step into a realm of unparalleled taste and indulge your senses with the exquisite offerings from Sesame Kingdom.
At Sesame Kingdom, we have mastered the art of creating halva, a timeless confectionery delight enjoyed across cultures for centuries. Our halva boasts a harmonious fusion of traditional craftsmanship and innovative flavors, ensuring every bite is an experience worth savoring. From classic favorites like pistachio and chocolate to intriguing combinations like rose-pistachio and matcha, our diverse range caters to every discerning palate.
In addition to our heavenly halva, Sesame Kingdom is renowned for its high-quality tahini. Whether you require tahini in bulk quantities or conveniently sized portions, we have you covered. Our tahini is meticulously sourced and processed, resulting in a creamy and velvety texture that elevates any culinary creation. From traditional Middle Eastern dishes to modern culinary innovations, our tahini serves as the quintessential ingredient.
To further tantalize your taste buds, we offer an enticing selection of spreads. Indulge in the lusciousness of halva spread, delight in the irresistible combination of tahini and chocolate in our tahini choc spread, or experience the sweet enchantment of tahini date syrup. Each spread is carefully crafted to bring you a burst of flavor and an unrivaled sensory experience.
At Sesame Kingdom, we embrace vegan and gluten-free principles, ensuring that our products are inclusive and suitable for a diverse range of dietary needs.
Address
62
Woodville Road
London
NW119TN
United Kingdom
Contact exhibitor or request product samples