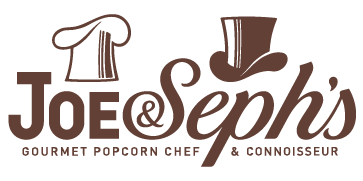 Joe & Seph Gourmet Popcorn
Stand: 2026
| Ambient
| D2C - Direct-to-Consumer
| Plant Based
| Private / White Labelling
| Recyclable
| Sustainable
| Vegan
| Vegetarian
| Other Foodservice
| Pub / Bar / Club
| Quick Service / Fast Food / Cafe / Snack Bar / Coffee Shop / Food Hall / Street Food
| Food & Drink (Goods)
| Other Equipment (Goods)
| Supermarket / Multiple Retailer
| Online Retailer
| Other Services
| Other Services
| Distribution
| Snacks & Confectionery
| Hotel / Accommodation
| Co-Packer / Food & Drink Processing
| Food & Drink
We're Joe & Seph's, a family-run popcorn brand who launched in 2010 on a mission to create the best-tasting popcorn in the world. We now have 75 Great Taste Awards and a range of over 80 innovative flavours of gourmet popcorn and 18 caramel sauces. Ranging from sweet, savoury, vegan and gluten free, we are excited to showcase a whole host of tasty treats at this years' show.
Quality is KEY. Every single one of our products is made by hand in our North London kitchen by our team of skilled pastry chefs. Uniquely, we only use extra-large 'mushroom' kernels, which we air pop (never fry) ensuring a superior taste and texture. We never use artificial flavours or preservatives, and all of our products are made using the highest quality ingredients, locally sourced where possible.
This year, we're popping with excitement to invite you to explore some exclusive products, not yet launched to the public! You can expect, our brand-new Advent Calendar, Festive Chocolate Popcorn Slab, Caramel Truffles and much more! It may not be Chrsitmas just yet, but we're ready to bring delicious sparkle!
So come and see us and enjoy a tasting masterclass!
Address
Joe & Seph's
3 Willen Field Road
LONDON
NW10 7Bq
United Kingdom
Contact exhibitor or request product samples