Yuzucello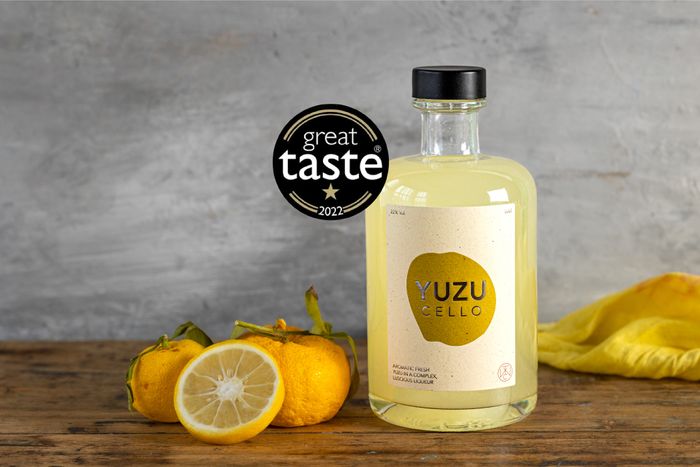 A zesty explosion of fresh mandarin, grapefruit, lemon and lime, with a citrus zing that is balanced with light sugar sweetness. Mouth-watering citrus juice on the nose, with gentle citrus acidity and tingling charisma, followed by a final hit of sweetness and lasting zestiness. This is an innovative approach to citrus. Far more refined than a limoncello, it is zesty and juicy but with all the subtlety of the fruit preserved. Every part of the yuzu is used to capture as wide a range of the complex flavour as possible.
Known as the 'Queen of Citrus' in Japan, yuzu is a cross between a wild citrus and a sour mandarin. It originated, and grows wild, in central China and Tibet. Yuzu delivers a famously aromatic and complex blend of citrus with notes of mandarin, grapefruit and lemon; every part of the fruit is used to capture as wide a range of complex yuzu flavours as possible.
The liqueur starts life as a typically smooth, copper pot distilled potato vodka. This base spirit is distilled separately, then expertly combined with whole yuzu puree. The yuzu is supplemented with fresh lemons to ensure a balanced range of citrus flavour and acidity. Sugar is added, as is customary with liqueurs: this boosts the natural sweetness and highlights the fresh fruit flavours.
Yuzucello is distinct from limoncello, traditionally limoncello is made exclusively with lemon zest (no juice or pith), macerated in high strength alcohol for 4-5 days, then filtered, diluted and sugar added. By contrast, our aim here is to preserve the complex flavour of the whole yuzu fruit, while still producing a highly flavourful product that speaks for itself. It has the two typical hallmarks of a liqueur: it has more sugar and less alcohol than the spirit it started as.
Categories
Spirits & Liquers
Table Sauces
Artisan / Speciality / Fine
Gift Food
Japanese