Wholegrain Teff Cocoa Rings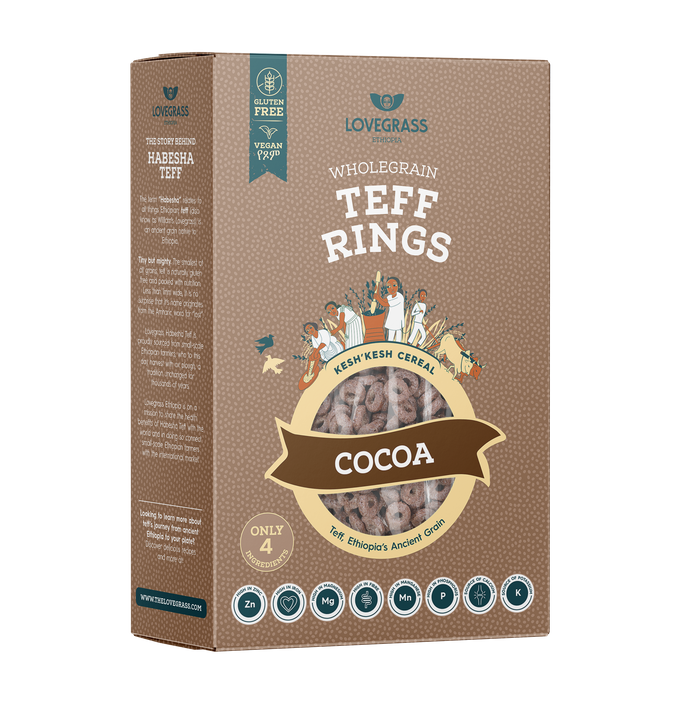 Lovegrass Ethiopia Teff Cocoa Rings are naturally high in iron, fibre, magnesium, manganese, zinc, phosphorus and a good source of calcium and potassium. Back to basics, real food, our cereal can be enjoyed as a part of a healthy and balanced diet.
Our teff cereal are naturally gluten-free and a source of excellent nutrition. We pride ourselves on keeping our cereals back to basics, using only four of less natural ingredients, so you can enjoy the pure, authentic taste of teff and other ancient grains. With every delicious bite, you'll be connected to a mission and brand committed to positive change, opening doors to a world where ethical practices, sustainability and global prosperity is the standard.
Categories
Sweet Goods
Dry / Canned / Bottled Goods
Pasta / Rice / Grains
Other Food & Drink
Crisps
Ambient
Artisan / Speciality / Fine
Free-from
Gut health
Plant Based
Sustainable
Vegan
Vegetarian
African