Terra Rossa Sauce Jute Gift Bags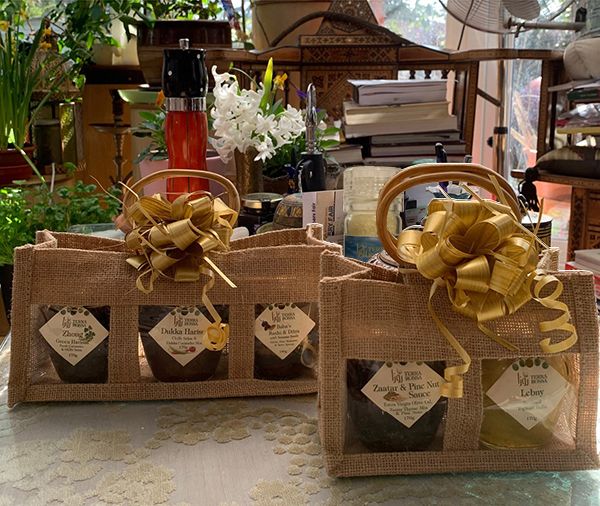 These Arabian sauces, relishes and spreads are hand-made in the UK in small batches using the finest natural Levantine ingredients and the best of fresh UK produce.
There are infused with a wide range of Jordanian, Palestinian and Lebanese ingredients and include:
☻ Olive & Tomato Relish with Sweet Red Peppers
☻ Dukka Harissa Salsa
☻ Aubergine and Tomato Relish with Chickpeas
☻ Zhoug Green Harissa Salsa
☻ Lebny Strained Yoghurt Balls
☻ Zaatar & Pine Nuts Sauce (with & without Crispy Onions)
☻ Baba's Rashi & Dibis Sweet Spread
New for 2023 are:

☻ Zaatar & Tomato Ketchup
☻ Taratour Tahini Sauce & Dressing
☻ Plum Tomatoes with Herby Zaatar and EVOO

These versatile sauces simply transform the taste of anything they touch. They are ready to eat straight from the jar with fresh bread or crudité, as a stir-through rice or pasta or marinade, as toppings for any fresh dip and shared with friends as part of a Mezze.
And for those with a sweet tooth, you should try the 2015 and 2018 3-Star Great Taste Awarded Baba's Rashi & Dibis with Sesame Seeds - the Arabian equivalent of peanut butter and chocolate spread - which won the 2018 Golden Fork Winner for London & South East.
They liven up and add real flavour to our Mini and Grand hampers and are also available in a 2-jar and 3-jars jute bags which come ready to gift with a beautiful bow, tag and information cards on how to use.
What goes in each of the jute bags is up to you so the below combination is what we recommend and their prices are as follows:
2-Jar Sauce Jute Bag Gift Set:
3-Jar Sauce Jute Bag Gift Set:
Categories
Yogurt
Cooking Sauces
Jams / Honey / Spreads
Table Sauces
Ambient
Artisan / Speciality / Fine
Gift Food
BBQ - Barbeque
Celebration
Christmas
Easter
New Year
Summer
Private / White Labelling
Vegetarian