Terra Rossa Jordanian Sweets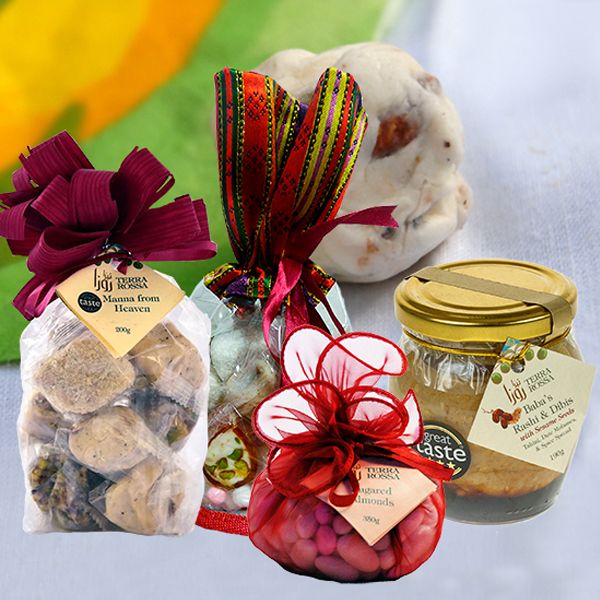 Great gifts for Christmas, Easter, Weddings, Christenings, Birthdays and Corporate Gifts.
They also make excellent stocking fillers for Christmas and add a real sweet treat to the grand hampers.
They are sold on their own or all three can be fitted in hand-made Jordanian bag.
Manna from Heaven
This very special and unique sweet is made from the resin of trees that grow in Mosel, Northern Iraq. Flavoured with cardamom and mixed with almonds, pistachios, sesame seeds and coconuts, these mouth-watering treats are not only good for Christmas and Easter festivities as they are often enjoyed with Arabic or Espresso coffee as an after dinner sweet.
Sugar Coated Almonds in Organza bags
Often referred to as Arabian Almonds, these sugar coated almonds have been given as wedding favours for over 3,000 years to represent the bittersweet nature of married life - the bitterness of the almonds combined with a fragrant sugar coating. However, you don't need to get married to enjoy them as they're perfect for all occasions and delicious poured into a glass of champagne.
200g Sugar Almonds in organza bag
200g Manna in clear bag
Both sweets in a hand-made Jordanian Bag
Baba's Rashi & Dibis with Sesame Seeds in jar
And for those with a extra sweet tooth, you should try the 2015 and 2018 3-Star Great Taste Awarded Baba's Rashi & Dibis with Sesame Seeds - the Arabian equivalent of peanut butter and chocolate spread - which won the 2018 Golden Fork Winner for London & South East.
Categories
Jams / Honey / Spreads
Sugar Confectionery
Ambient
Artisan / Speciality / Fine
Gift Food
Celebration
Christmas
Easter
New Year
Private / White Labelling
Vegetarian