Terra Rossa Herb Tins Gift Stacks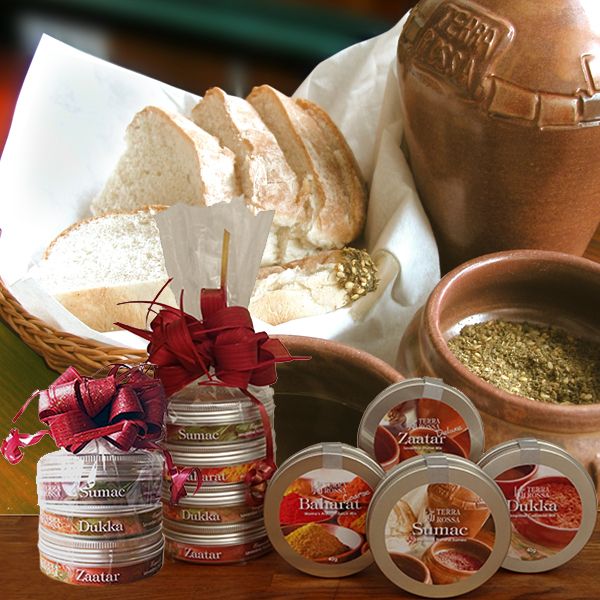 Zait & Zaatar, Arabic for Oil & Thyme is what all Levantine people are accustomed to having for breakfast, lunch and dinner by simply dunking a piece of bread into olive oil and then into a the Zaatar thyme mix. We believe in the goodness that this simple way of eating that our ancestors have long since survived on - especially now that every day a new research is emerging highlighting the benefits of eating extra virgin olive oil in this way.
We also believe that Zaatar in particular helps improve one's memory, which is why until today Levantine kids still eat Zait & Zaatar the night before the exam! And in addition to Zaatar, we have 2 more fragrant herb and spices: Spicy Dukka coriander mix and Sumac citrus berry that are just as delightfully tasty and popularly dipped into with any of our olive oils.
Aside from being dipped into with olive oil, these herb mixes are also used in daily cooking either as seasoning or combined with olive oils to create a delicious dressings, marinades or rubs to transform the flavours of any meal. In fact all of Terra Rossa's savoury relishes and sauces are flavoured with these oils and herb mixes.
Terra Rossa offers all the herb tins individually as 3-tin or 4-tin stack gift sets from following types of herb mixes:
☻
Herby Zaatar thyme mix
Although the word Zaatar means Thyme in Arabic, it is also the common name given to a fragrant mixture of Thyme, Sesame Seeds and Sumac herb mix. Zaatar is the most popular herb mix in the Levantine world and is traditionally eaten by dunking a piece of bread into olive oil and then into the Zaatar either for breakfast, as a snack or as pre-starter for mezze. It is the main flavouring ingredient for making Zaatar & Pine Nuts Sauce used for making manaqeesh - the ubiquitous Levantine street food pizza.
☻
Fiery Dukka coriander Mix
Dukka comes from the Arabic verb 'dug', which means to pound, and Terra Rossa's Spicy Dukka which won 2 Stars Great Taste Award in 2020, is a delicious blend of herbs and spices including Coriander, Chilli, Sesame Seeds, Sumac and roasted almonds for a good crunch.
☻
Zesty Sumac citrus berry
Sumac is an essential ingredient in Arabic cooking relished for its sourness and astringency. Made from a citrus red berry, Sumac adds a delicious tangy and intense lemony flavour to any dish from vegetables, salads to Kebabs be they made of meat, poultry or fish and used whenever a citrus flavour is sought after without the need to adding liquid.
☻
Baharat - Mama's Arabian Spice Mix
Baharat in Arabic means mixed spice and this mix is based on Hanan's mother's recipe for everyday cooking. In order to preserve its flavour, Baharat comes in coarse format. So all you need do is to simply dry fry it until its aroma is released, then crush it in a mortar and pestle. Use it as seasoning for rice, bulgur, stews, tagines, sprinkle over soups, vegetables, and as a rub or marinade for lamb, chicken or fish.
3 Herb Tin Gift stacks:
4 Herb Tin Gift stacks:
Categories
Dry / Canned / Bottled Goods
Ambient
Artisan / Speciality / Fine
Gift Food
Celebration
Christmas
Easter
New Year
Summer
Vegetarian