Sansho Spiced Rum - 3 Great Taste Star Award Winner 2023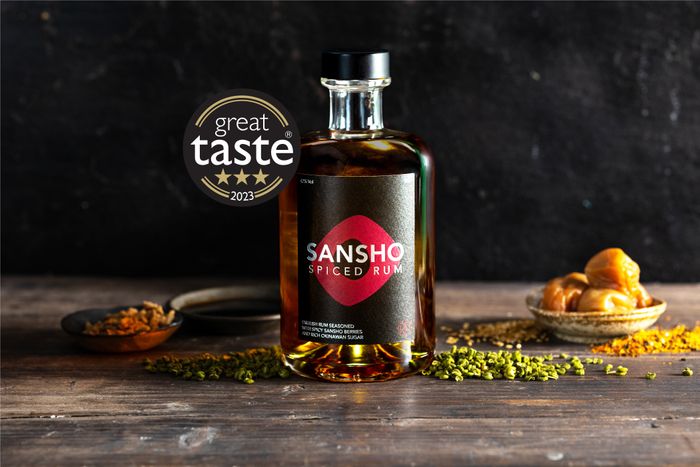 A combination of unique Japanese flavours presented like never before on the base of a superb quality, refined English rum made with 100% sugar cane molasses. Sansho is delicious in its own right, but also enhances the accompanying flavours of ume plum, soy and black sugar. The smoky soy and sesame provide light oak & tobacco flavours typically found in an aged rum, whilst the sansho berries offer a mouth-watering peppery citrus which is complemented by the rich Christmas-cake sweetness from the base rum and Okinawan sugar. The rum is rich with treacly layers of sour citrus, rich umami and tingling spice which linger on the palate for a sublime finish.
Distilled from scratch in England, this is a rarity among English rums and a sure sign of quality. English Spirit were the first to make rum in Britain, back in 2012 - they are undoubtedly the leaders in the field in Britain.
Sansho Berries have been used in Japan to season food for thousands of years. They have a citrus flavour with a warm pepper finish and an incredible tongue tingling sensation. A natural flavour enhancer, they stimulate the taste receptors in the brain, increasing the flavour and aromas of foods in general. Okinawan Sugar has intense, complex flavours of molasses, smoke and spice with a bitterness that balances the sweetness. Togarashi Shichimi is a traditional blend of seven Japanese spices, noted for its depth of flavour and a warm, slow-burning heat. Umeboshi are pickled Japanese apricots (often referred to as plums) with an overall sour flavour that increases as they ripen. Our Smoked Soy Sauce is infused with the smoke of cherry wood, it has a powerful smoky umami flavour. White Sesame paste adds rich roasted nutty notes.
Categories
Spirits & Liquers
Table Sauces
Artisan / Speciality / Fine
Gift Food
Japanese