Organic Paccheri Gluten Free, Pastificio Morelli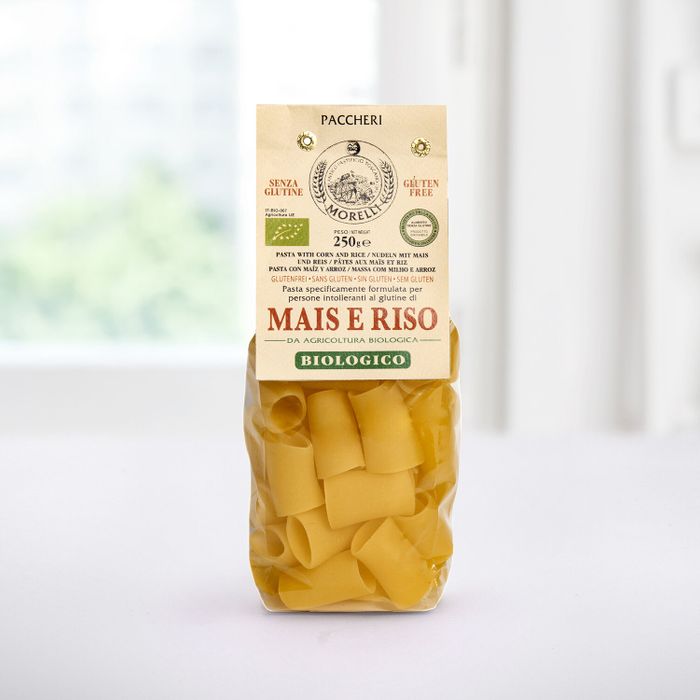 A subtle but tasty corn flavoured Paccheri made from corn and rice dough that is naturally gluten free. A perfect protein fix for vegans too! The name "Paccheri" derives from the Greek word meaning "full hand", a name linked to the size of the pasta. Free from preservatives and colouring agents, it's a versatile pasta that can be accompanied by a great variety of sauces.
Family tradition has spanned five generations at Antico Pastificio Morelli. Their use of wheat germ has succeeded in obtaining a pasta with a unique and delicious taste, which releases a wonderful aroma on cooking. A vast range of specialities are now produced based on traditional craft techniques.
VEGAN, GLUTEN FREE
Content: 250g
Ingredients: Organic yellow cornflour, organic white cornflour, organic rice, water
How to enjoy: A perfect match for sardines & wild fennel sauce, tomato sauce with olives or served with a drizzle of extra virgin olive oil.
Categories
Bakery
Cheese & Dairy
Drinks
Grocery
Ingredients
Meat & Seafood
Other Food & Drink
Snacks & Confectionery
Ambient
Artisan / Speciality / Fine
Frozen & Chilled
Gift Food
Organic
Private / White Labelling
Vegan
French
Italian
Spanish