Juniper Juice - Non Alcoholic Spirit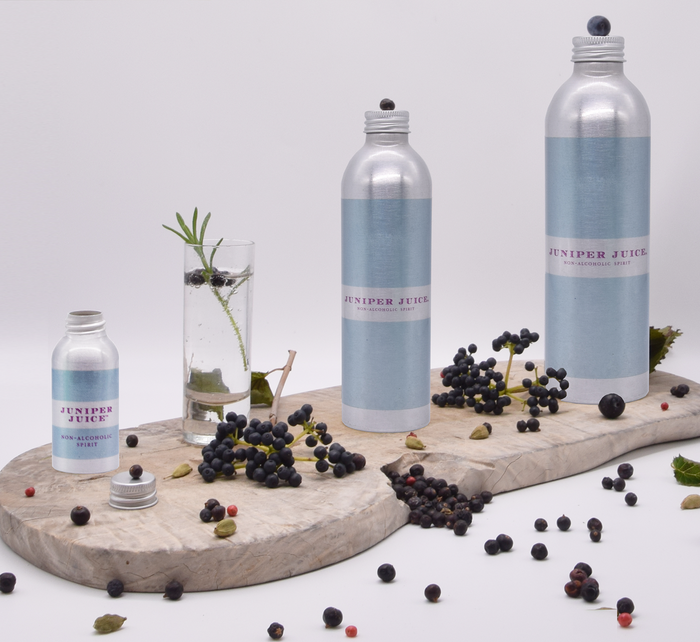 A new, unique and exciting member to your drink's cabinet!
It is relatively easy to make gin, however making delicious gin requires great skill, patience, and craft. The same applies to alcohol free spirits.
We go to extraordinary lengths to craft the finest possible liquids, and Juniper Juice is no exception. It has taken us two years to perfect this one!
We experimented with 158 prototypes and over 80 ingredients to create the ultimate non-alcoholic spirit; one that doesn't compromise on quality or flavour.
Botanicals are perfectly balanced to give a complex and refreshing taste with the juniper and citrus flair.
It has no artificial flavourings, and no added sugars, yet it houses all the wonderful aromas and tastes of our classic, no-nonsense, London Dry Gin – Gin No.2.
It has distinctive notes of coriander, lemon peel and cardamom, as well as many other botanicals centred around juniper berries to create the ultimate refreshing taste.
Juniper Juice allows you to discover the definitive experience from our renowned best-selling Gin No.2, just without the alcohol.
Packaged in our distinctive tins it stands out form the crowd even before consumption!
Categories
Drinks
Mixers & Adult Soft Drinks
Ambient
Artisan / Speciality / Fine
Gift Food
No / Lo Alcohol
Autumn
BBQ - Barbeque
Celebration
Christmas
Dessert
Easter
Feel good
Halloween
New Year
Spring
Summer
Winter
Recyclable
Sustainable