Goldstone Rum range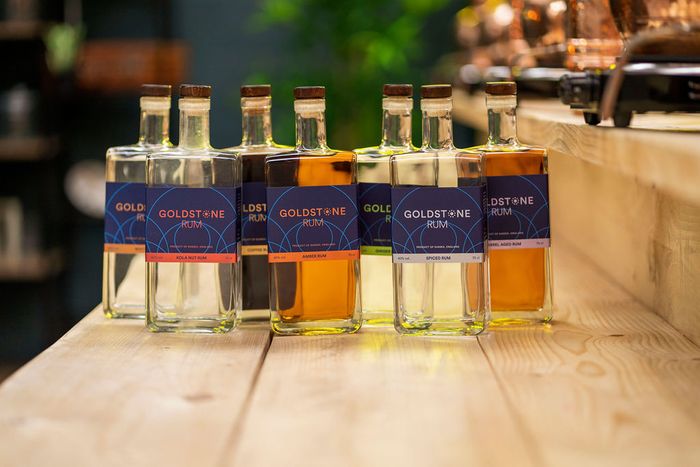 Their range features five flavours, which have all been created using natural ingredients with no additives.
White - classic white rum blends molasses and raw cane sugars from jaggery, panela and cane juice to make a truly unique white rum unlike anything else on the market today.
Amber - Double distilled using Nelmar our copper pot still and a single run through their vapour infusion column to create a smooth, earthy rum with a hint of sweetness on the back end, great for a Dark & Stormy or on its own over ice with a twist of lime.
Spiced - their take on spiced rum but at Goldstone they like to do things differently, their spiced rum has no added sugar or overpowering vanilla flavour. Instead they've uses nine spices to bring a pleasant full spice flavour to the palette, vanilla bean and orange peel to bring a natural sweetness to the drink.
Ginger and Lime - The dark and stormy has been given a twist with this infusion. They've taken fresh lime peel and freshly grated ginger and distilled the flavours into the rum, giving a great cocktail boosting rum or delicious on the rocks.
Coffee - Infused with 100% fair trade arabica beans from Honduras and Colombia that creates an elegant coffee which is blended with their white rum. Works well with all the classic coffee cocktails, like espresso Rumtini, black or white Russian. It's also great as a sipping rum, enjoy!
Categories
Drinks
Spirits & Liquers
Rum
Artisan / Speciality / Fine
Occasions
Celebration
Spring
Summer
Winter
Plant Based
Vegan
Vegetarian