Delicario Zucchini and Courgette Flower Risotto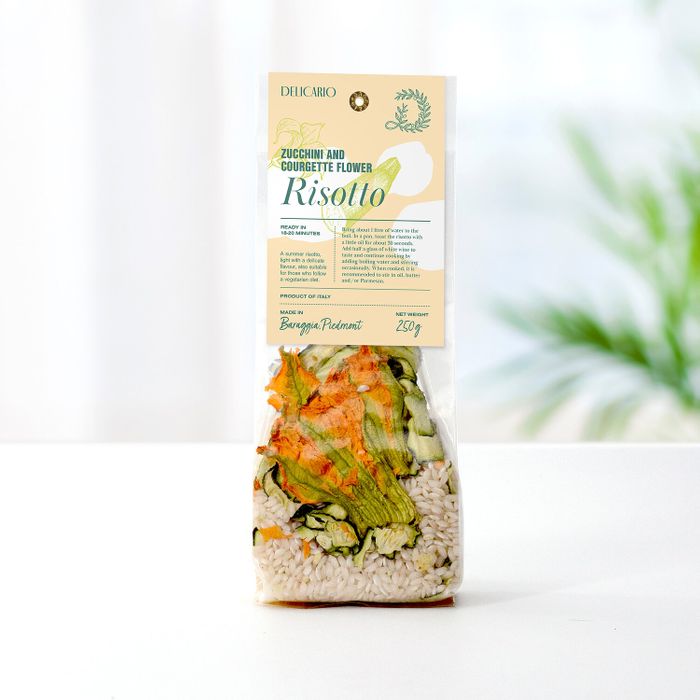 Ready in minutes, a simple yet delicious base of Carnaroli rice with tasty chunks of zucchini and delicate courgette flowers in dried vegetable stock and just a dash of salt. This innovative light and delicate risotto with authentic homemade taste is made with Carnaroli rice grown in the rice growing region of La Baraggia in Piedmont with closed cycle production ensuring perfection in every grain.
From a farmhouse in the rice growing region of La Baraggia in Piedmont, the full supply chain from rice cultivation to husking and packaging takes place, controlling the quality of rice at every step. It is documented that rice has been cultivated here since 1500, always with outstanding results. Nowadays tradition meets with modern technology to comply with sustainability and quality criteria. A selection of vegetable risottos is an innovative expansion of the product range made from Carnaroli rice and dried locally sourced vegetables with just a dash of salt.
VEGAN, GLUTEN FREE
Content: 250g
Ingredients: Carnaroli rice (93%), vegetable broth (dehydrated vegetables in varying proportions including celery), dried zucchini 3,6%, dried courgettes 0,8 %, salt
How to enjoy: Ready in under 20 minutes, lightly toast, simmer with a litre of water and a half glass of wine then add parmesan shavings or butter.
Categories
Bakery
Cheese & Dairy
Drinks
Grocery
Ingredients
Meat & Seafood
Other Food & Drink
Snacks & Confectionery
Ambient
Artisan / Speciality / Fine
Frozen & Chilled
Gift Food
Organic
Private / White Labelling
Vegan
French
Italian
Spanish