Delicario Vegan Basil Pesto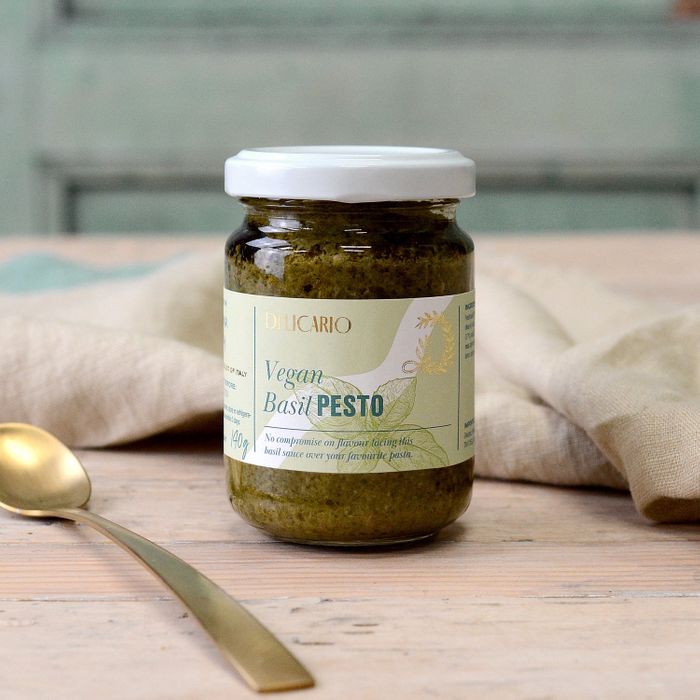 Imagine all the flavour of a true pesto sauce without the parmesan, making it suitable for vegan diets. Plentiful basil leaves blend with Treviso almonds and pine nuts and the best extra virgin olive oil to bring you an outstanding authentic pesto sauce.
From garden to table, the rich food and wine heritage of the Veneto region is captured in the carefully prepared traditional and artisanal specialities of this Treviso producer. Genuine flavours are reflected in the organic production and highest quality ingredients with no artificial colours or preservatives added.
VEGAN, GLUTEN FREE
Content: 140g
Ingredients: Fresh basil (78%), extra virgin olive oil (14.8%), almonds (2.7%), nuts (2.7%), pine nuts, apple cider vinegar, lemon, pepper, salt.
How to enjoy: No compromise on flavour lacing this basil sauce over your favourite pasta.
Categories
Bakery
Cheese & Dairy
Drinks
Grocery
Ingredients
Meat & Seafood
Other Food & Drink
Snacks & Confectionery
Ambient
Artisan / Speciality / Fine
Frozen & Chilled
Gift Food
Organic
Private / White Labelling
Vegan
French
Italian
Spanish